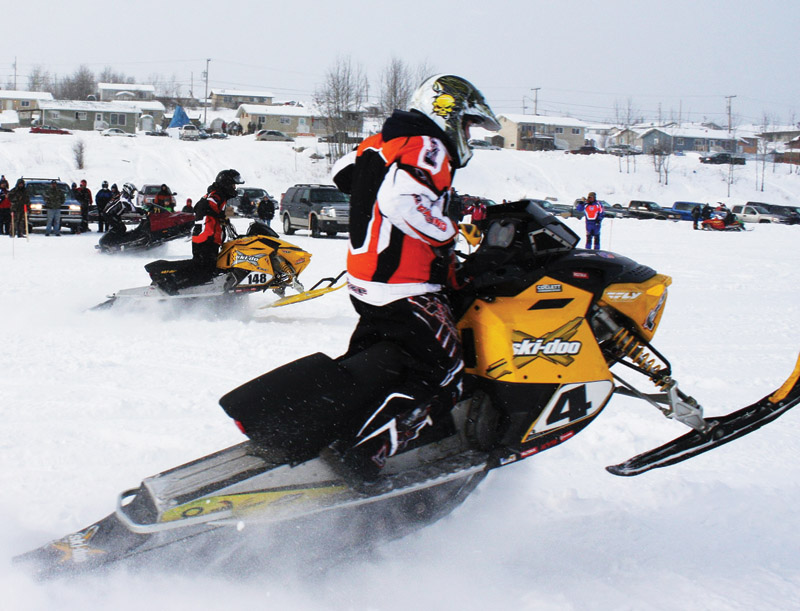 This year's Winter Festival is revving its sled engine. Snowmobile drag races are coming.
"We're looking to provide an exciting, safe event for Valemount in the wintertime," says Curtis Pawliuk who is helping to organize the event on behalf of VARDA.
It may just infuse a little adrenaline in competitors too.
The Lamborghini Gallardo accelerates from 0 to 60 mph in approximately 4 seconds on dry asphalt whereas a well tuned Improved Stock snowmobile will accomplish 0 to 60 in under 3 seconds, according to the Saskatchewan Snowmobile Racing Association (SSRA) which is putting on the event in Valemount. The most powerful muscle cars of the 60's, Hemi 'Cuda's and big block Chevelles, would speed to a little over 100 mph in the quarter mile (1320 feet). A pro-stock snowmobile will exceed 100 mph in half that distance, according to the SSRA.
Make no mistake, says Dale Roger of the SSRA, snowmobiles dedicated to drag racing are not just fast, they are extremely fast. And these speeds are accomplished on some of the most unpredictable surfaces available, with no high back seats or seat belts for support, no enclosed roll cages, and no cockpit of any kind. Just the rider with his feet on the running boards and hanging on to the handlebars.
Pawliuk says hill climbs in the alpine are hard to control, whereas the races will happen on flat ground at the Canoe Mountain Rodeo Grounds.
Local people as well as out-of-towners will compete in several contests during the weekend. Pawliuk says you don't need a drag sled to compete in the events, anyone with a mountain sled is welcome to compete as there will be mountain sled-only divisions.
"We're all going to be racing our mountain sleds and having a good time," Pawliuk says.
The track is 660 feet, the standard track length under the International Snowmobile Racing Association.
As for rules – there aren't many. You will be disqualified if you jump the start. You will also be disqualified if you fail to remain in your assigned lane before crossing the finish line. There are several classes for different levels of snowmobiles to compete in. The most recognized of those are the ones set out by International Snowmobile Racing, Inc. (ISR).
The ISR uses an established class structure to promote fair competition, Roger says. There are technical rules for snowmobiles competing in each class.
Roger says there hasn't been a SSRA race in BC for several years. They are in discussions to host another race close to Valemount – in an as-yet-undisclosed location.
The Valemount event will be a partnership between VARDA, Tourism Valemount and the SSRA.
The Winter Festival will also host a Poker Run, an awards banquet and dance and will happen this February.