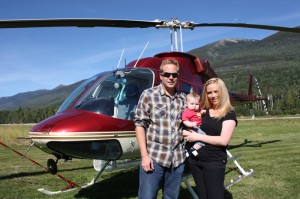 Forestry, mining tours, wildlife surveys, rescues and tourism are just some of the jobs Corey and Shannon Mercer hope to swing with their Bell 206 L3 helicopter.
The couple recently moved to McBride to start a wing of Peregrine Helicopters, a small flight company based in Hinton. They hope being based in McBride will give them a local advantage since there will be no ferry time from Valemount or Prince George. It's about half an hour from Valemount and an hour form Prince George.
"If someone is hurt and needs a medevac, now they're waiting for someone to fly an hour from Prince George and an hour back," Corey says.
"Now we can get them to Prince George an hour earlier."
Corey flew for Canadian Mountain Holidays (CMH) near McBride for four years. He thinks the biggest part of their business will be tourism, and they hope to target sledders for tours in the winter.
Mercer says companies like CMH may contract them if they need extra support, since their craft is lighter and cheaper – $1500 an hour plus tax and fuel.
Corey has been flying 19 years and will be the sole pilot permanently based in McBride.
"The community has been really great so far," Corey says. "We already have a little bit of work lined up."
Shannon Mercer (nee Monroe) grew up in McBride and the couple says they look forward to settling into the community with their infant son Tanner in the home they just bought.
They won't be hiring any people right away, but they will be doing some community helicopter rides sometime in the future, Shannon says.
In terms of the flight market, It's unclear just how big it would be in McBride, says Jacob Forman, operations manager of Yellowhead Helicopters, based in Valemount. Yellowhead operates 16 helicopters, and two are used regularly in the Valley.
"It's not like we're in Arizona where you can bank on every day being blue sky and gorgeous with full tours of the Grand Canyon."
He says usually in order to sustain a base, a helicopter company needs 300 hours in the air each year.
Most of the tenures in the Valley are now controlled by Carrier, Canfor or Dunkley which have their own helicopters, Forman says. The RCMP also have their own helicopters based in Kamloops.
"20 years ago, that was probably work that somebody based in McBride or Valemount would do," Forman says.
While the market for those uses may have shrunk since that time, Corey says he expects the majority of their business to come from recreational flights, but be used for anything needed by a helicopter.