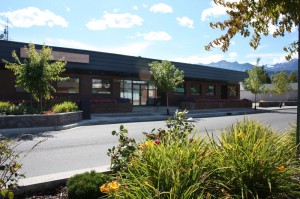 The Learning Centre is now offering wheelchair accessible public washrooms to anyone on 5th Avenue in Valemount.
The centre moved into the Government Services building on 5th Avenue at the end of August. The washrooms are installed in the entryway which is shared with the Robson Valley Internet Corp. Until now the only other public washrooms were located at the park west of Dogwood, near the courthouse. The park washrooms are officially open from May long weekend to October long weekend, according to the Village. People who have tried using the washrooms have complained that they are often locked, says Sherral Shaw, owner of The Gathering Tree.
"People go to Fields to ask for a washroom and they get sent here," she says. "Not everyone buys something, and supplies cost money."
Learning Centre Director Wendy Dyson says they hope the washrooms will draw in potential clients.
"It brings people in the door. It makes this a welcoming place. Anyone is a potential client."
She says people may come in to use the washroom and check out the job board or see upcoming conferences or workshops they want to attend.
The Learning Centre will pay for supplies and maintenance of the washrooms. They will be open only during regular business hours of the Learning Centre. The Learning Centre washrooms used to be available to the public, but have not been for at least six years.
Former Kiwa Coffeehouse owner Shona Thorne says people from the park used to come to Kiwa Coffeehouse, but now that the cafe is closed, children have to find an alternative if the public washrooms are locked. She says because it's a small town no one has ever turned her away when she has asked if her daughter can use the washrooms but sometimes store employees roll their eyes.