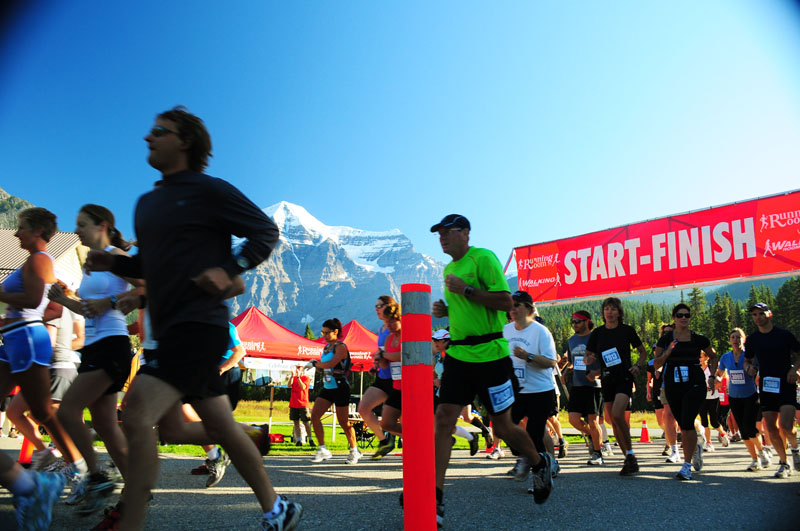 Mount Robson Park hosted its first Marathon last Saturday and the weather was perfect. More than 100 runners participated in the four events they had.
The first event was the full marathon which was 42.2 km long. Martin Girruri a runner that came all the way from France managed to finish first with a blazing time of three hours and 11 minutes.
"It was a beautiful run on a beautiful day," said Valemount local Reiner Thoni, who finished a close third.
The full marathon started on time at 7:30am with about 75 runners and Reiner was able to keep the lead until the last portion of the race.
"As soon as I started running on the road, I just lost my energy, that's when the first guy passed me," recounts Thoni.
The second man came out of nowhere close to the finish line and managed to sprint ahead.
Valemount Local Lorelei Schneider and Bogdan Wasaznik also ran and finished the full marathon.
For the next event, the half marathon, there were about the same number of participants. Some, however, got creative with the marathon. Two young ladies had packed up a bottle of wine and at the turnaround point, opened it, and shared it with anyone interested.
Locals Ross McKirdy and Rudy and Patricia Thoni also ran on the weekend and finished top five in their categories.
While there was a large competitive aspect to the marathon, there was also camaraderie. At the end of the race, four women made sure they crossed the line together.
After the half marathon was another small race up to the top of the lookout which was a total of five to six kilometers. This race was smaller but it had a lot of young children running with their parents.
"It's great to see children so young already taking an interest in these kinds of activities," said Patricia Thoni.
The races where finished off with a children's run around the Information center.
Jerry the Moose was there for the entire event handing out antler headphones and posing for photos with almost everyone. Jerry also ran the first few hundred meters of each race with the other runners and was waiting at the finish line to offer high fives to the runners that finished.
At 3pm, everyone that was still around headed over to the amphitheater. There, awards were given out, the fastest women and men runners received a pair of new shoes. Door prizes were given out to volunteers as well as participants.