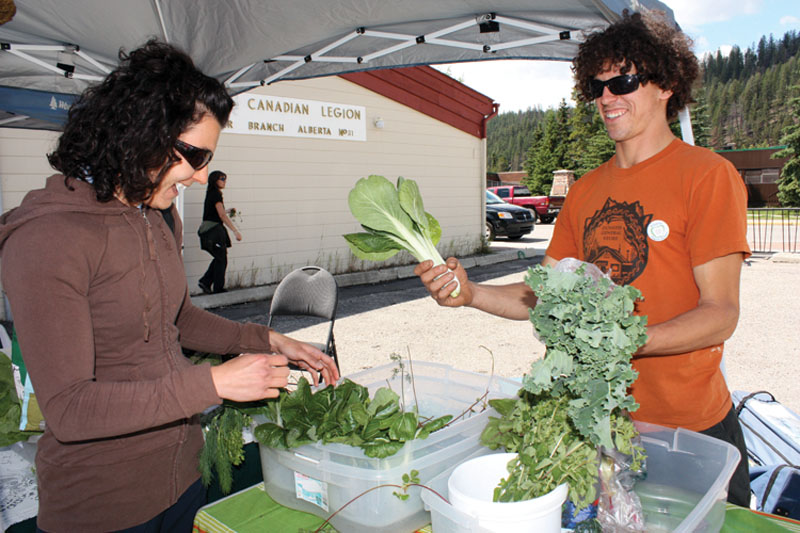 By Raphael Jamin
Farmers markets have been steadily gaining popularity in Canada over the last few decades. With the growth in popularity of buying locally grown products and meats, four smaller markets have sprung up in Dunster, McBride, Jasper, and until a few years ago, in Valemount.
Even though it is a market and the vendors do want to sell, a lot of people come for the communal atmosphere, organizers say.
The farmers market in Dunster is the oldest of the farmers markets in the Valley and has been operational since 1980.
"The idea for the market began at my table" says Pete Amyoony, a local gardener.
Locals Barry and Cathy Chunick, Margret Fyten, and Betty Haan were also at that table that night and together they began to plan what would become the very successful tradition. But Amyoony says at first it was a lot more modest.
"The first year we just had a swap meet, like a garage sale, and it wasn't till the next year that we decided to change it to a farmers market".
While some weeks the farmers market went down to only two or so vendors, they have managed to survive and thrive.
A few years later the McBride farmers market came to life. Even though the markets first proposal fell through, locals Dorothy Stewart and Anne Schwartz, with the help of Amyoony, made McBride's second proposal for a farmers market. The proposal was accepted and in 1997, McBride hosted its first farmers market. Since then the market has seen volunteers come and go but it has been steadily growing over the years.
Shortly after, Jasper came on to the farmers market scene. Kathy Bell along with a committee of five began drafting their rules and regulations in March 2000. With the help of a sponsorship from Master Gardeners of Pickens County and the go ahead from the council, Jasper hosted its first farmers market in July 2000. Since then the market has expanded from one day to two days a week to accommodate the amount of produce that was being harvested.
The last market to open up in the Valley was the Valemount community market in 2005. The idea came froma group called Three Valleys Community Development Co-op. The co-op was interested in sustainability issues in the Valley and wanted to start up a farmers market in town. With a one-year grant, the group hired a coordinator to get the market up and running. Since then Rashmi Narayan, who is a part of the co-op, was the unofficial head of the market until its end in 2007.
There were multiple theories as to why the market ceased such as a lack of demographic, a bad location, and too few vendors.