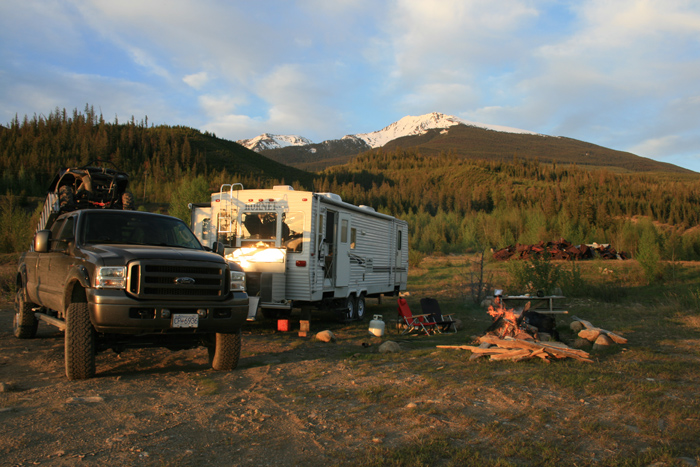 By Radka Zitkova
Rusty scrap metal, cement foundations, nails and a wrecked boat that used to salvage wood from the water. Those are just some of the things that have been lying around an old mill site on the shore of Kinbasket Lake for more than 20 years. One of the prettiest peninsulas on the lake has never been cleaned up.
Karen and Will Wyness from Kamloops are some of the few out-of-town people who decided to spend their night here despite the clutter. They came to the area to hunt.
"It is gorgeous here, I've been raving about since I got here," Karen says. "But then you turn around and this is ugly and there is some more junk over there."
The couple originally wanted to camp on the flattest spot in the area but when they saw all the sharp thin steel around it they parked on the cleanest one instead.
Karen says it is irresponsible for people to leave this behind and believes more tourists would head this way if it were gone. She says they even saw steel scattered on the now-empty part of the lake.
The mill and the owners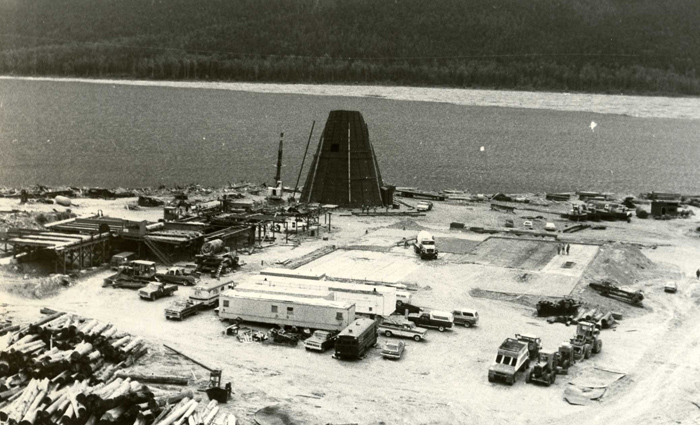 The mill was originally built in 1978 by Selkirk Forest Products. It was used to salvage trees and pieces of wood that were floating in the lake after the Mica Dam was built in 1973.
Paul Blackman of Valemount was just a teenager when he started to haul logs there.
"All that timber was just floating in the lake and it was a heck of a mess," he says.
"They built a mill there, hired all these people and planned to clean it up."
But that didn't last long. The white wood from the water was cracking and was losing quality after several icy winters. The mill started to cost more to run than it was worth and eventually the company went under, Blackman says.
After couple years of deteriorating, there was a new game plan for the mill. Kevin McKinney, the owner of Canadian International Timber Corporation bought the mill from the bank and operated it for about three years in mid 1980's. His vision was a cedar mill.
Among the 30-some people who worked on the new mill was Valemount local Richard James. He would be off to Edmonton with loads of shakes and shingles that were produced at the mill two or three times a week.
He says that under McKinney the mill was a nice little operation that was making money, at least in the beginning.
There were a lot of rumors flying around about why the mill shut down the second time. James blames the change in management that happened when McKinney employed his father at the mill. Blackman says people's cheques simply started to bounce and suppliers didn't want to deal with the mill anymore. And according to McKinney, the mill was simply a nightmare and would need far more money than he had at the time to keep it up and running.
At one point in 1980's, McKinney's company operated five different mills. But he says that Valemount mill made a lot of mess in all his other projects and he lost a lot of business and contacts.
"It was the most pleasurable feeling to see Valemount disappearing in my rear window," McKinney says. "As soon as I got in my car and left, I already felt better."
McKinney was the last person who ever owned and operated this mill.
Why was the metal never cleaned?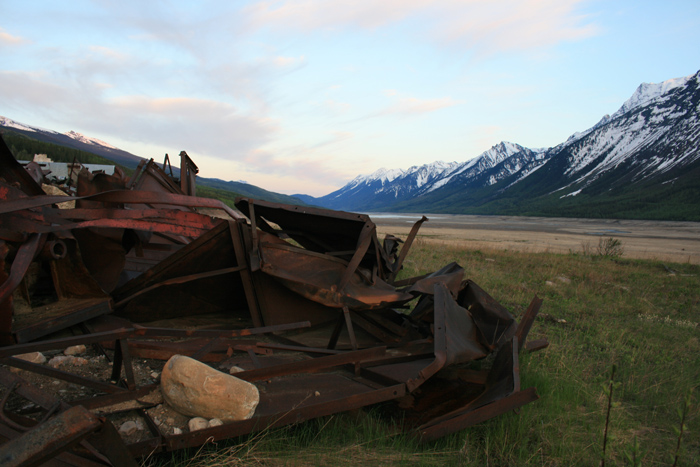 After the mill shut down and went into receivership for the second time in late 1980's, McKinney says he had no responsibility for cleaning the place up. And James agrees.
"When you go broke, you just walk away. So they walked away and that's it," James says. "There is no company, there is nothing. It's the same thing as if you die."
He says that for some time there were watchmen looking after the property, but valuable material and machinery began to slowly disappear. Finally there was a big auction, where James bought himself a computer. After that, the buildings were torn down.
A lot of the lake wood clean-up in the Kinbasket Lake area was financed by BC Hydro. But not this part.
BC Hydro's Jen Walker-Larsen was travelling along the shore of Kinbasket Lake a couple weeks ago and was wondering what the cement foundations and metal scrap were doing down there.
She says that BC Hydro was mostly responsible for cleaning up the area below the water level and had no responsibility for the old mill site.
We have contacted the ministry and their staff is currently looking into their files to see if there was any effort made to clean up the property and if it indeed really is their responsibility.
Update: On June 20, the Ministry of Forests, Lands and Natural Resource Operations informed us that the old mill site falls under their jurisdiction. They said it will take some time to go through the old reports but they will inform us about their findings.
Photo Gallery: