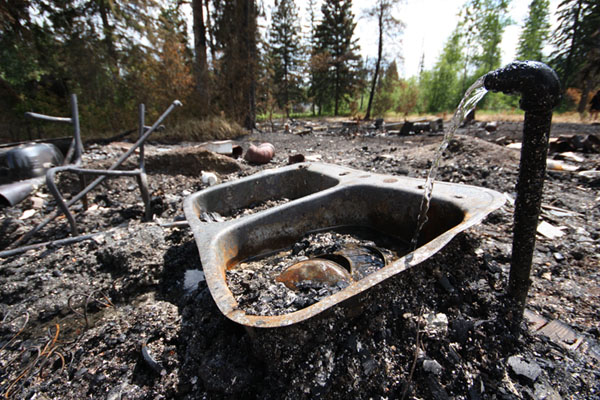 By Radka Zitkova
Kitchen stoves lying on their sides right next to smoky mattress frames, melted glass and lots of ashes. That's all that is left of 21 houses that burnt down at the old Lamming Mills town site near McBride last Sunday.
All of the houses that burnt down were abandoned but right next to them were two houses of the last tenants living in the area. Those stayed untouched and no one was injured.
Debra Jeppesen lived in on of them. She was in her kitchen when she heard a crackling noise and looked outside of the window.
"It was really freaky," Jeppesen says. "I look out and there were two buildings already up in flames."
She called 911 and 10 to 15 minutes later when the firemen and police arrived, nine buildings were already gone.
David Hruby, McBride's fire chief says the fire was all around them and as they were fighting one set of flames, new buildings were catching on fire.
They focused on protecting the inhabited properties and made sure everyone was safe by containing the fires until it was just ash.
The old town site was recently bought by a Seattle-based company ecoTech Energy which is planning to turn it into an eco-industrial park and a heat and power electricity station. In February they gave the tenants living on the property a first eviction notice with a final move out date of June 10, 2011, two days before the fire. The company was not available for a comment.
Jeppesen says she was in the process of moving but the tough winter slowed it down.
"I couldn't get in or out of my place by a vehicle, so I had to walk everywhere," she says. "I had to hang in there, wait for the spring to come and the snow to be gone.
She and her 9-year-old dog Bear are currently staying at a hotel in McBride waiting for their new apartment to be available. She says she still can't wrap her head around what exactly happened.
"This is completely senseless. Why would anyone do something like that? It doesn't make any sense to me," Jeppesen says.
The RCMP is treating the fire as arson and called in the fire investigators from Prince George who are looking for evidence.
Corporal Barry Kennedy says that there are a lot of rumors and theories about what happened but so far they haven't identified any suspects or a motive.
"It is all really suspicious," Kennedy says when asked why among all the burned houses some are still standing.
The arson specialists are currently looking into the history of the houses to see who used to live in them. They are also looking into the structures of the buildings to see if there was any effort to burn them down or if they were any people squatting in them.
The area of Lamming Mills is one of the oldest settlements in the Robson Valley. In the 1950s, 250 people called it home. They had a local school, post office and store. According to Jeppesen a lot of the people who now live in the area of McBride grew up there.
She says that during those six years she lived there, every once in a while there were people touring the old town site and looking at the places they grew up.
At her house, she still has things she needs to pack. She only came back for couple personal belongings and some packing when the RCMP and fire department told her it was safe.
On Monday she and Bear will be moving to a new apartment in McBride.