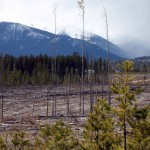 The Valemount Community Forest (VCF) is gearing up this spring for a major planting season, with more than 600,000 seedlings on order, more than three times the 180,000 trees planted last year.
Community Forest General Manager Shane Bressette says the expanded planting reflects their increased logging and a similar planting season is planned for next year.
The first shipment of spruce, cedar, douglas fir and lodgepole pine trees on order from nurseries in the interior and the Okanagan will arrive mid-May. Three local contractors will carry out the tree planting, Bressette said. He adds the new plantations open up a whole new sector of local employment. Each contractor will likely use six to 12 workers on and off throughout the season.
The trees will be planted everywhere the community forest has logged, as mandated by the government. Cut blocks at higher elevations will be planted later in the season.
Bressette said the community forest is still focussed on thinning dead pine, and will continue to do so until at least 2012. In 2010, the government increased the VCF's allowable cut to 580,000 from 200,000 cubic metres, but that agreement expires in 2012, at which point a new allowable cut will have to be negotiated, Bressette said.
"We're not running out to take care of non-pine volume yet."
The VCF is not sure yet what the season will hold in terms of volume, since it all depends on the buyers. If the market supports higher levels of logging, that is what the community forest will do, he said.
In terms of the saplings, it will likely be 80 years before the saplings planted today are harvested, he said.
"It's like a big garden basically," he said. "You got to make sure you have trees growing so you're ready for what comes down the tube."
Local sort yard up in use
Bressette said the specialty lumber sort yard created this winter has been well-used. While the majority of wood cut by the community forest heads towards Prince George because the large volume cannot be processed locally, some of the wood is set aside in a sort yard and purchased locally by small mills such as Hauer Brothers Ltd.
"(The sort yard) is not a big money maker but it's used to create more local manufacturing. At least on the surface, it appears to be doing that," Bressette said.
He said "clustering" is one way local manufacturers may be able to fill markets – in other words teaming up with similar businesses to meet a larger quota.
The sort yard has fulfilled one of the suggestions from the stakeholder meeting they held in October with local manufacturers.
The VCF is also doing updated market research for forestry-related businesses, as well as applying for a grant-writer position to help any business who may not have time to do the paperwork, but is eligible for government grants.