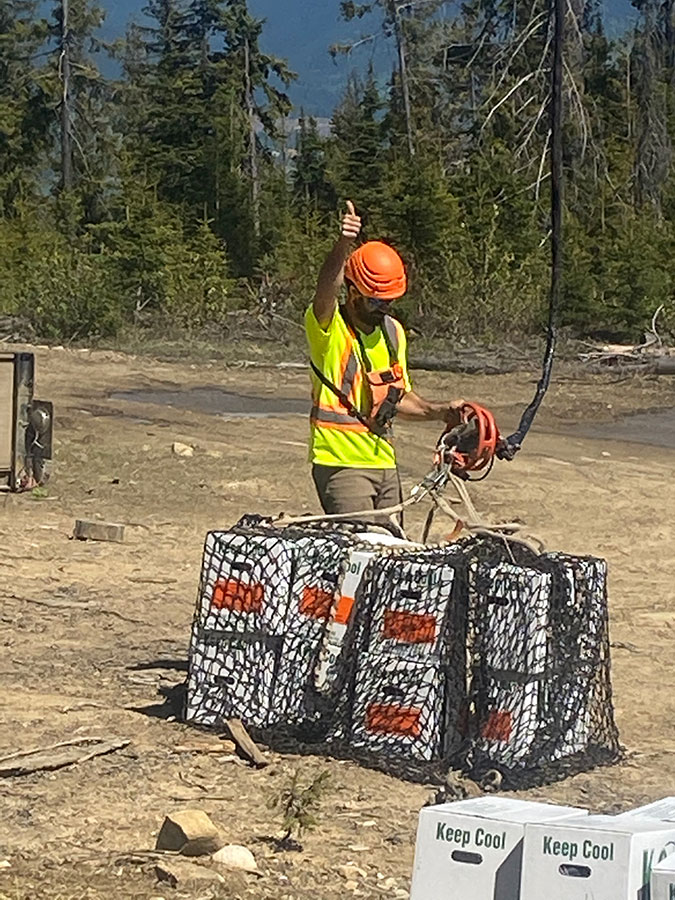 By Laura Keil
The Goat caught up with Valemount Community Forest manager Craig Pryor last week to talk about the community forest's plans for the upcoming season.
Tree planting
Pryor says they are about 2/3rds done planting this season.
Between late-April and now they have planted trees on the fire-preparedness blocks they did in the past couple years including the ones on Blackman Road. They've planted spruce on Westridge, spruce, fir, cedar, pine on West Canoe, and spruce, cedar and fir on Swift Mountain and above town.
"We're trying to mix it up more and more, just because it's good for the forest, climate and that kind of stuff," Pryor said.
He said in the old days you'd plant all pine or all spruce, but they know that's putting all their eggs in one basket. "You run into problems. But if you mix it up, there's a better chance of success."
The planting is being done by Integrity Contracting run by Seth Macdonald out of Dunster, which employs a number of locals.
"We keep going back to them because it's locally-owned and the rates are competitive and they do a good job."
Inventory and surveys
They are also doing some region surveys and in July or August they'll complete some free-growing surveys which are usually done 8-10 years after planting.
"The trees get to a certain height above the brush and then you can do a survey and if there's enough trees and they're tall enough you can say that the block is free-growing and your liability goes away," Pryor says. "But we're an area base so we intend to look after them right through. It's in our best interest to make sure they continue to grow and not stagnate."
Herbicide spraying
The Community Forest has 100 hectares of manual brushing to do (removing deciduous trees and other brush from planted stands) using local contractors.
"Herbicide we don't do very much," Pryor says. "We didn't do any last year. We keep the herbicide to the worst of the worst. If you have a really, really heavy aspen block (where) you brush it and three years later it will look exactly the same, and then you have to brush it again and again, it's too much."
He said there's a rule where you can spray up to 20ha a year without a major permit.
"We tie into that sometimes. We've only done that maybe four times since I've been here."
He said they hire a professional company to do the spraying and they are required to put up signage on the site.
Summer harvesting / road building
With the road bans off now, the community forest is beginning with road work and logging a small block on the West Canoe FSR at 11-12km. They are also building a road nearby to get to another area where they'll target spruce, cedar and hemlock. Mickelson Investments is carrying out the work. Following that, Mickelson will move down to 46km on West Canoe where they'll spend about a month cutting a fir, cedar, hemlock stand.
Pryor says two other regular VCF contractors—Spaz Logging and Plummer Logging—are both logging for private individuals for the next month.
Once that other work is completed, Spaz Logging will be working on cedar right-of-way wood (cedar taken from a new road right-of-way) that would go to Cedar Valley Specialty Cuts mill.
"We're trying to build a whole bunch of roads—get him volume—and then we'll have a whole bunch of blocks with pre-built roads waiting for them," Pryor says.
Those cedar blocks are scattered between 6km and 54km on the West Canoe.
"The West Canoe is the main area we have cedar."
He said they've caught up with their inventories and Lidar for both Community Forest licenses and their woodlot (the Community Forest acquired a second license from Carrier Lumber). The woodlot is split into two 300ha areas—one is near Crystal Ridge south of Valemount, and the other part is near Castle Creek. The community forest also has a separate Forest License that allows them to cut 2300 cubic metres a year anywhere in Carrier's operating area. This can allow them to target stands in the McBride area for wood for Valemount's mills.
They are also building an access road into the Yellowjacket drainage in case the area gets hit by spruce beetle.
Pryor says the disastrous wildfire up the Hugh Allen three years ago that destroyed millions of dollars worth of logging equipment was due in large part due to spruce beetle.
"The main reason for the fire is that the whole valley was dead—years dead. So it was dry, it was ready to burn."
Pryor said VCF doesn't have any access to Yellowjacket drainage right now because it's brushed in, the road is washed out in a few spots and the bridges aren't in good shape, so improving that access is their first priority.
"We want to have access in case the bugs do come in there so we can get on it quick." he said. "We want to avoid what happened up the Hugh Allen where the whole valley is hit and there's nothing you can do."
VCF Mill update
Pryor said they are holding back on any harvesting plans too far into the future to see what happens with the community forest's new mill, which is nearing completion.
"It's supposed to get power within a month, and then we'll start turning things on and playing with it, and just see how it goes."
The mill will be one of the closest B.C. mills to Alberta, which will likely be a big market for them.
The target for the new mill is oversize spruce and hemlock and possibly some fir.
"We may need to go into a specific stand type for different markets so I'm trying to hold back on long-term planning for the summer just to see how things go."
The community forest has two employees already working on constructing the mill who are meant to stay on as regular staff once it's operational. Once completed, they hope to have 7-10 people working five days a week, year-round and to emulate the business model of the former Hauer Brothers Mill, creating products like cants and timbers.
Pryor said a 6×6 Hemlock piece is very popular in industry, but the saw logs are hard to sell prior to being milled.
"Last year we were selling all that beautiful Hemlock sawlog for pulp, cause no one wanted it."
VCF has already purchased 30 loads of Hemlock from Carrier Lumber for the mill at a good price.
Fir Beetle Traps
The community forest has been tackling a fir beetle problem in stands close to Valemount, specifically from Swift Creek to the Selwyn.
They have felled trap trees that attract beetles, and that together with traps and a specific pheromone lures them in and won't let them back out.
"You put the trap trees and the traps together and it works really well—scary well," Pryor says. "You get so many. All the trees that we fell are just littered. And then you get boatloads of bugs from this pheromone."
"We've done some really good things these last two years and we're hoping the numbers have fallen."
A meeting with the Valemount Community Forest and Industrial Park Co. Ltd. for June 22, 2021 at 7:00pm, prior to the regular council meeting. This semi-annual meeting open to the public.