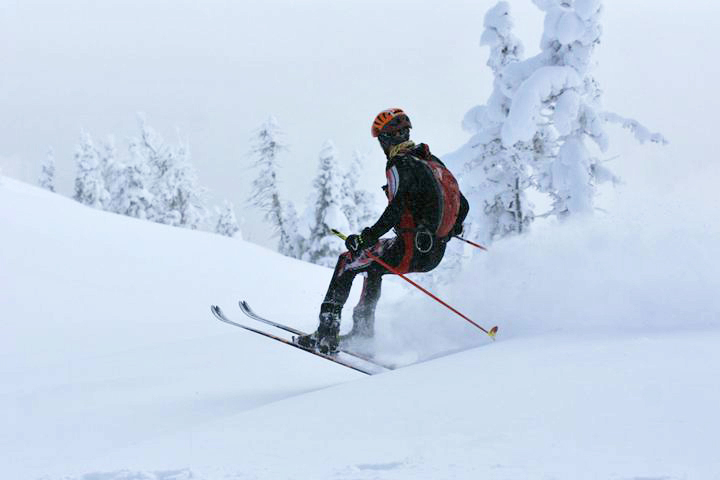 The wind was gusting wildly at the top of the mountain, but Valemount's Reiner Thoni, 26, powered through to the end of the 8,000 foot elevation course at the US Ski Mountaineering National Championships in Wyoming Jan. 13th.
He came out on top with a time of 2:39:14, just seconds after the second and third place winners skidded across the finish line after him.
"It brought together the deepest field we have seen so far in North America," he writes in an email. "With 8,000 feet of climbing and technical sections like Corbett's couloir, it made for a great race."
Thoni is currently Canada's top male national team member. The U.S. national championships doubled as a U.S. qualifying race for the World Championship in Claut Italy, where he'll race Feb. 18-26.
In late November, Thoni topped the field at the Vert180 in Calgary by accumulating more vertical feet than anyone in the competition. At the Selkirk Classic in early December, he beat out two American competitors to score the fastest time on the multi-peak course.
David Dornian, chairman of the Alpine Club Of Canada's mountain sports committee has high hopes for Thoni.
"Not only is he strong and in a good place," Dornian says, "he's got good ski skills and he's focused."
Thoni says he will likely skip the European Championships in Austria in 2012 and take a year to race just in North America to build up for Worlds in 2013.
To keep up with Reiner's races, visit his blog: http://theoutsideout.blogspot.com
In Reiner's Words
"I found myself standing in spandex with 100 other racers getting ready to race up the southern flanks of Yellowstone's caldera in Jackson Hole Wy. Although scientists have measured the earths gravitational forces to be weaker in and around Yellowstone it didn't seem to help on the first climb. Greg Ruckman, an Olympic rower and top notch Nordic skier, set a cracking pace that had us all wondering if this could go on for 8,000 feet … Once on top all I could think of was how the heck I could get off this mountain as fast as possible. I knew 4,000 feet of variable skiing was going to take its toll but at this point in the race the first to the last assent was going to have a very valuable edge … I just put my head down trying not to think of the terminator hot on my heals. Maybe out of fear of having to race the last descent I found myself with just enough of a cushion to take the win."