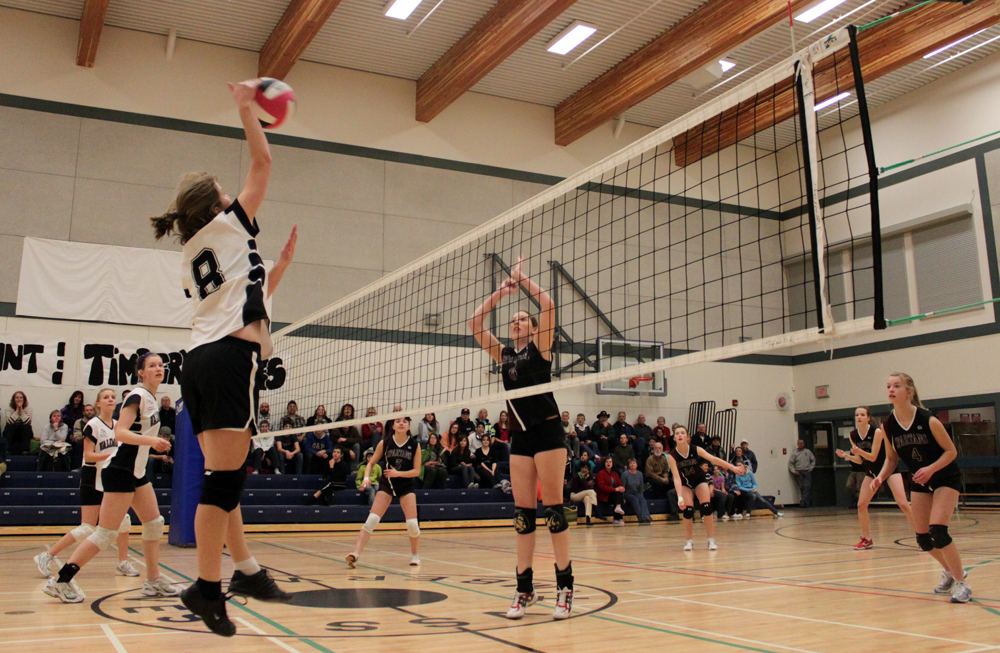 It was a tense home game and the season was on the line for both teams, but on Nov. 23, Valemount's senior girls volleyball team pulled through, winning three of five rounds against Hazelton.
"They totally fell apart in the third and fourth round, but we pulled through for the fifth," says Coach Cheri Dehnke.
Valemount capitalized on home court advantage taking an early lead right from the beginning. The first round ended by a comfortable margin of 25-17 in favour of Valemount.  Round two was closer, ending 25-23 in favour of Valemount. Hazelton pulled off their first win during the third round 23-25. The fourth round brought Valemount's fear out and ended with a score of 25-27. Hazelton had tied the match! With a home crowd buzzing, Valemount pulled through with a final round score of 15-13, much to the delight of over 80 local fans who showed up to enjoy the high stakes game.
Coach Dehnke says that because both teams placed second in their respective zones, they were required to play the one-time game for the third and final position in the provincial tournament which will be held in Abbotsford starting Dec. 2. Dehnke says that the first place finish in the Northwest and North-Central zones both automatically qualify for provincials, but every year the second place finishers battle it out for the third seating.
"There is always a wildcard battle like this. It bounces back and forth. We had the wildcard this year, so they had to come here to challenge us," she explains.
According to Hazelton coaching staff, eight of 10 players made the one-game trip leaving Hazelton at 7:30am in order to make the game in Valemount at 5:30pm. They returned to Prince George on the same night.
Dehnke says that the team will be leaving for Provincials on Dec.1. She says all but one of her remaining 15 senior girls will be making the trip to compete.