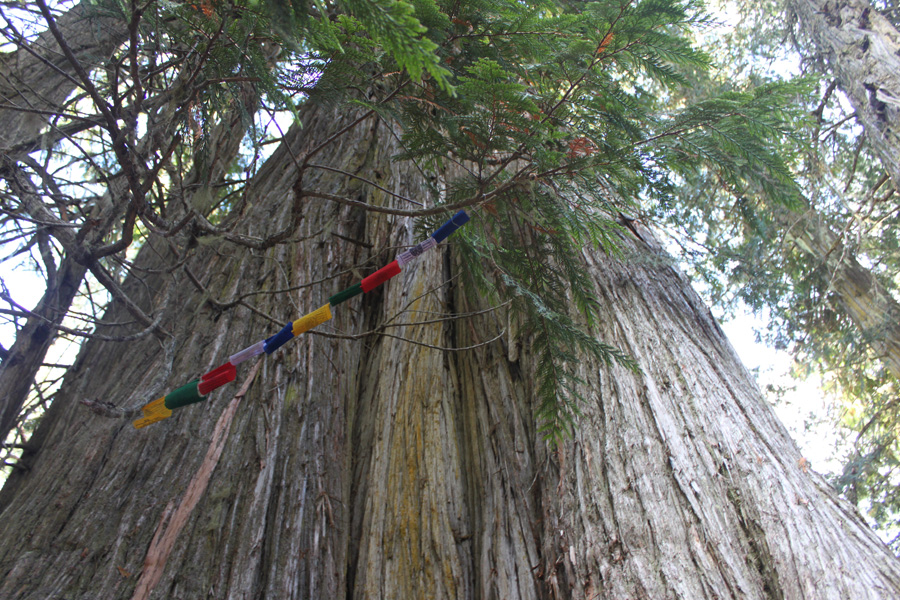 "Some of the researchers at the University of Northern British Columbia think that this forest is 2,000 years old. It is a very unique eco system. It has been at least 2,000 years since disturbance. You will have ongoing small levels of disturbance, the odd tree blowing down or falling out, but the main remnants of the stand have carried on,"  opened Marc von der Gonna, General Manager of the McBride Community Forest, as he played host on Sunday to a group of PhD candidate students from the Swedish University of Agricultural Sciences (SLU).
The group, comprised of more than twenty aspiring forestry academics from Sweden, China, Finland, Germany, Poland, Estonia and Latvia, took time to stop at the recreational site located eight km west of Slim Creek on Highway 16 as part of their province-wide tour.
Ken Day manages the Alex Fraser Research Forest in Williams Lake for the University of British Columbia. He is the main organizer of the whirlwind tour of B.C. as well as the tour guide and host.
"The students are actually going to do a seminar about the differences between Swedish and British Columbian forest management when they get back to Maple Ridge, but it will take us all afternoon," Day laughs.
"I was in Sweden last year and I had a discussion with one of the professors from SLU. A year and a half later, here we are."
Day says that the goal is to get some UBC students to go to Sweden next year.
"Their land area is smaller than B.C., but it is very large in European standards. To go over and see the results of over three hundred years of forest management is pretty stunning. Their industry is focused on quality and a breadth of products that we do not have here at this time."
Liy Ing is a graduate student at SLU from China. She says in the northeast of China there are significant forest of Pine and Larch, but the majority of wood harvesting in China is of deciduous trees further south.
Ing says that the main use for wood in China is pulp and furniture.
"In the mountains where you have temples, or where history has taken place, the trees do have spiritual value in Chinese culture," she says.
According to Ing, while deforestation is an issue in China, most management is planned by the government through the local forest bureau. In addition to a tradition of forest management (which, like in Sweden, falls under national agricultural agencies) local people do get some input.
"We have a lot of forestry schools in China. Almost in every province there is a forestry school, or a specialized agricultural university for this."
As local host, von der Gonna found himself answering many questions regarding local forest harvest practices.
"We're are trying to work within much more of a natural type of a system, within a natural disturbance, that is where a lot of our partial retention harvest comes in. It is not a clear cut managed, even age regime at all."
Students were quick to note the biodiversity of B.C.'s forests.
"In Sweden, 90 per cent of the forests are pine and spruce. There is some birch too. It is easy to be a forester in Sweden because you have to know only long needles or short needles, prickly or smooth," laughs Larse Carlson, a graduate student from Sweden.
"There are no cedars at all, just in the gardens."
Samuael Egbäck, also a SLU PhD candidate, notes differences in how logs are transported in Sweden.
"In the northern part, it is quite similar; transportation is directed to the coast. In the interior it is similar, but the distances are not as long as in Canada. Trucks in Sweden range from 22 tonnes to 60 tonnes in the north. We will ship up to 200 km by truck, but for distances over 100 km, Sweden is now starting to encourage shipping logs on trains. They are even testing 80 tonne trucks now for further distances."
Egbäck says that it took government encouragement to achieve accommodations enabling companies to ship logs on trains.
Professor Erik Valinger from the Swedish University of Agricultural Science is the organiser from the Swedish end of the tour. He says he also hopes to help with a similar tour for
Canadian students to go over to Sweden and Europe.
Valinger says that in Sweden, most of the forests are in their third generation of management. He says that in ancient days, tress were cut, but mostly single trees, out in the forest. In the mid-twentieth century, Sweden started implementing clear cut strategies.
"Wood is one of the most important parts of our economy," he says.
Like B.C., Sweden is now having to compete with nations such as Russia and Chile, however Valinger says that unlike B.C., they have not affected Swedish industry to a great degree.
"Our industries are not built on volume. We focus on much more quality of sawn timber, for example. They can not compete with us in this yet. But in paper and pulp, we definitely are feeling these pressures as are you."
He says that while in Sweden, value added constitutes the majority of their forest industry, in Finland value added is even more developed.
"They have a longer chain of producing high quality goods from the timber. They are also using spruce and pine."
Mats Varik is a SLU PhD candidate from Estonia. "Fifty percent of our land is still forest, pine, spruce and silver birch.  Forestry is a very important part of Estonia's economy, Even during Soviet times, forestry was very important to us," he states.
"We have always produced mainly timber for building. During Soviet times, matches were made in Estonia for all of the Soviet Union. Also dowling has always been manufactured in Estonia, however plastics have put these wood products out of business recently."
Varik says that Estonia's wood industry has always been shifting to accommodate changes in geo-politics.
"In January we joined the European Union, so we are making products for them now. First our commands came from Moscow, now our commands come from Brussels," he laughs.
Mattias Berglund, was the only member of the tour who was not a professor or PhD candidate. He works as a forester for Skogssällskapet, a Swedish timber company. For Berglund the details and operations of the McBride Community Forest were of keen interest.
"The Community Forest is about 60,000 hecatres but our actual harvesting land base is only 23-24,000 hectares. Our annual allowable cut is 50,000 cubic metres," states von der Gonna.
"I manage about 25,000 ha, over twenty-six different estates but we cut about 100,000 cu metres per year. On average, we probably have about 75 years between rotations," counters Berglund.
"We have about an 80-100 year rotation for spruce and pine in our Community Forest," replies von der Gonna.
"We may have 700 cubic metres  per hectare, but we will only get 300 merchantable cubic metres out of that. As we slowly get more management in place, we should be able to increase that."
Berglund, says that his company mainly sells round-wood into markets, similar to the McBride Community Forest. They also do timber trading for other companies, but wood is sold as bush sort to different companies for products at different prices.
"I think one of the biggest differences is also that the ownership structure is so different than what is in Sweden. In Sweden, more of the forests are privately owned. So the driving forces are completely different," says Berglund.
Berglund says that his company does all kinds of different sales from a kind of off the stump sale, similar to BC Timber sales, to well-sorted and marketed timber sales more akin to bush sort practices or even sort yard marketing.
"One big difference here is that a lot of volume per hectare is left as dead wood. We are restricted by law that we can not leave more than five cubic metres per hectare of fresh fallen wood over a diameter of about 10cm."
Berglund notes another big difference is that in Sweden a lot of waste wood is used as bio fuels.
According to Berglund, artificial diversification of Sweden's forests has already started.
"In the southern part of Sweden there is a big interest for Douglas Fir and it has been  introduced. There is also half a million hectares of lodgepole pine that has been planted in the north of Sweden. Back in the 1960's or 70's, they were worried about a lack of timber supply, so they decided to plant something that grows faster. The seeds were all taken fromdifferent regions of Canada. It took a while to figure out which seeds from which region works best, but they are now growing on average fifty percent faster than Sweden's native Scots pine."
After a morning of revelling in the Ancient Forest, the group was taken to a block within the McBride Community Forest for some more examples of local forest harvesting methods.
In 2005, the Ancient Forest was set aside after a logging plan for the site was presented to the public. In a whirlwind of activity including citizens' groups and NGO's, the forest was taken off of the logger's list and the trails and forest has now been protected with recreation site status. It has also been given old growth management status.