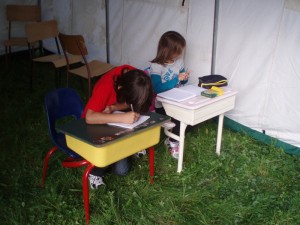 A sense of pride seemed to sweep through the small crowd of protesters as Dunster Fine Arts School parent Terry Cinnamon peeled off the covers of black vinyl lettering on the new bus. "Dunster Fine Arts School" the crowd read aloud, with approval and hope beaming from their faces.
While the bus will continue to deliver determined Dunster students to the school site they are accustomed to, a new building facility is putting a new spin on the definition of a "rural choice school".
"Right now we have an electric heater. The plan is to set up a little wood stove," says volunteer teacher Sharon Stearns. Stearns says she is one of about six community volunteers who are taking turns teaching and assisting about nine students on their new home school curriculum. Dunster Fine Arts School had an enrolment of 27 students last year before the school district ruled to shut it down.
The walls are white and made of canvas. While it is certainly not the first wall tent school, the new floor space for the Dunster Fine Arts School is considerably smaller than the boarded up facility lying just 50 feet away.
"We set up the tent on the General Store property as close to the old school as we could," says Stearns.
Reactions from eager students are filled with excitement.
"I thought it was going to be fun," says student Carrie Marlowe.
"I thought it would be really exciting, even before I knew it was going to be a tent," says student Saeda Rose. "But I hope we get the school back before it snows."
Meanwhile outside the entrance for the Dunster Fine Arts School property, parents have erected another tent as an info booth.
"At the meetings in March, they suggested that we would do well with the 'Wells Model'. It was their suggestion. The Wells school was purchased for $1. We offered them $10. They came back with an offer for an enormous amount of money, and we hear that they were just going to bulldoze the building anyway," says Dave Macdonald.
The information tent is strategically placed only six inches from the school property line. It is also a drive-through tent so as not to block vehicle access to the school.
"We notified the School Board that we would be back for September," says parent Seth Macdonald.
The highlight of the first day of school was not in the classroom however. A fair collection of community members also gathered for potluck lunch, and to hear Rural School Activist Will VanOsch give some advice. VanOsch drove up from Forest Grove, near 100 Mile House, specifically to support the Dunster cause.
"You're going to get your school back, that's a viable thing," says VanOsch. The crowd applauds this remark.
"During the Great Depression they ran rural schools. Centralized schools do not work. You can't see the Christmas concert; you can't volunteer in the classroom."
VanOsch is not just a man of words. He is now a school board trustee with School District 27. But in 2004 he was one of several Forest Grove residents who defied a School Board decision to close their school. Civil disobedience followed in the form of a sit in. Eventually, VanOsch says the protest turned into a legal and procedural battle. When parties agreed to negotiate, Forest Grove parents bought the school for one dollar, and for a while ran the school themselves. But when school board elections came around, voter apathy was not even a word in Forest Grove, and VanOsch found himself in a Trustee's position. Soon after, Forest Grove Elementary once again became a fully-funded public school. While VanOsch says he sees the re-opening of Dunster's school as possible with persistence, he can note one major difference between districts.
"In School District 27, school trusties are elected by zones. In, School District 57 elections are general."
The result is schools are not necessarily represented by someone from their area.
Dunster parents have offered the school district $10 as a token with the hope of having the chance to run their own school as Forest Grove did initially. The offer has been countered by the school board, asking for around $40,000.
In Forest Grove, the battle took about two and a half years; the school was occupied for about six weeks. It cost $380,000 to close the school. Forest Grove bought their school back for one dollar, says VanOsch.
Both sides now feel that they are at an impasse. However, an in-camera meeting on Sept. 16 with Brian Mix, School Board Secretary Treasurer, in McBride has some Dunster parents hopeful, although guarded.
At a meeting Monday night, the Dunster Fine Arts School Society decided to stick to the game plan, and prepare for whatever might come of Thursday's meeting.
"A lot of parents are sending their children to McBride and Valemount out of duress," says Sharon Stearns, a volunteer teacher. "They would like to be sending their students here, but circumstances are preventing them."
"The School has been here for 94 years," says Cam Swets, a Dunster resident for over 30 years. "We are looking forward to our centennial in six."