Newscast on the Harp Colony in McBride (after the mud bog footage).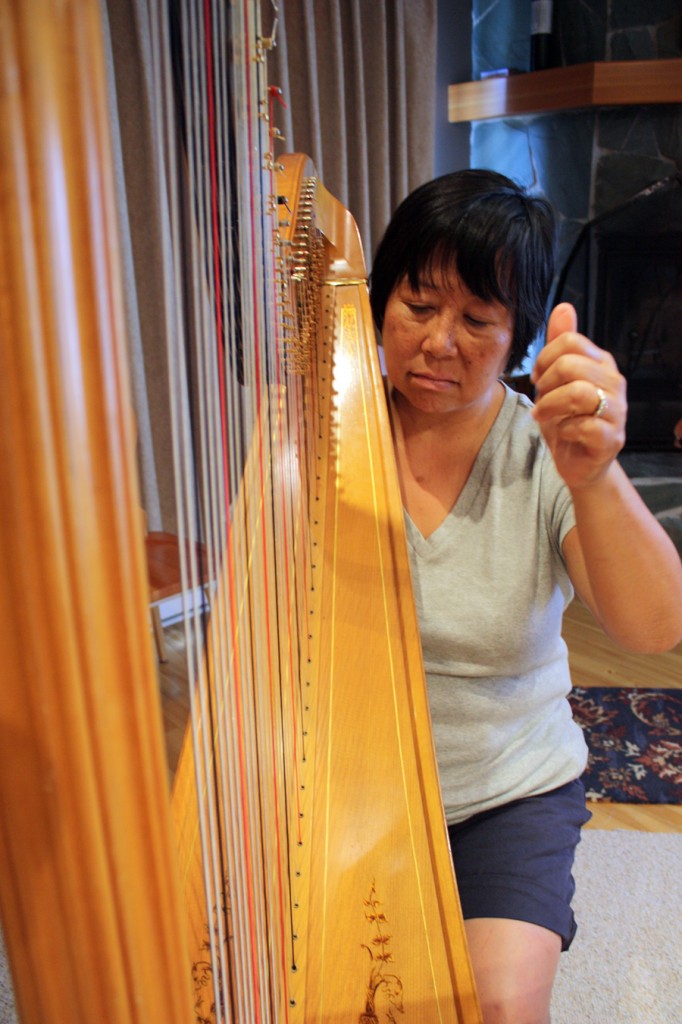 A dozen harpists sit in a circle, arms reaching across the strings of their instruments. On a cue they begin to play, and their music fills the room with vibration.
It's the first annual harp colony in McBride, far from the heat and noise of the city where many of the participants are from.
"Everyone is enjoying McBride so much," says Regina Timmins, who co-founded the event. "The Indy 500 is going on in Calgary right now, so all over the city you hear 'raaaayyyr!'"
A dozen harpists from across western Canada, including some from McBride, joined the colony which ran the last week of July. It's a week-long retreat where participants can have one-on-one lessons, get their harp fine-tuned by a harp technician, or learn a duet with a new partner.
Roberta Froese, 19, of McBride, was one of the locals who took part in the retreat. She has been playing the harp for four years.
"I like it because it's different and I like to be different," she says.
She ordered her harp through a catalogue and built it with the help of her brother.
Last week she sat in the cool rehearsal room at the North Country Lodge for her private lesson with Gianetta Baril, as Baril explained the finger motions of a new song.
Froese has already played at two weddings, including her brother's this July.
Giving young harpists a chance to expand their skills is part of the idea behind the colony Baril says. As a teacher, she is learning too.
"I'm really enjoying it," she says. "I'm going from room to room, whereas at home I'll teach seven hours straight though."
She says her goal is to pick out how she can help the student within the week they have. It's different approach to teaching, she says, especially for the students she will only see this week.
"It's nice to teach some students that aren't necessarily my own."
Next summer harpists from around the world will travel to Vancouver for the World Harp Congress. Timmins says they will promote the McBride gathering there with the hope that many more people will come to pluck strings in the Robson Valley.
She says they will hold the McBride colony either right before or right after the Vancouver Congress. They may also extend the colony for 2 weeks.
McBride is the perfect setting for the event, she says.
"In Vancouver, even though there may be more students, for people to come in it's too expensive."
She said participants were able to stay in McBride for $900 for the entire week.
Next year there will once again be performances for non-harpists, private lessons, and a chance for beginners to test their playing.