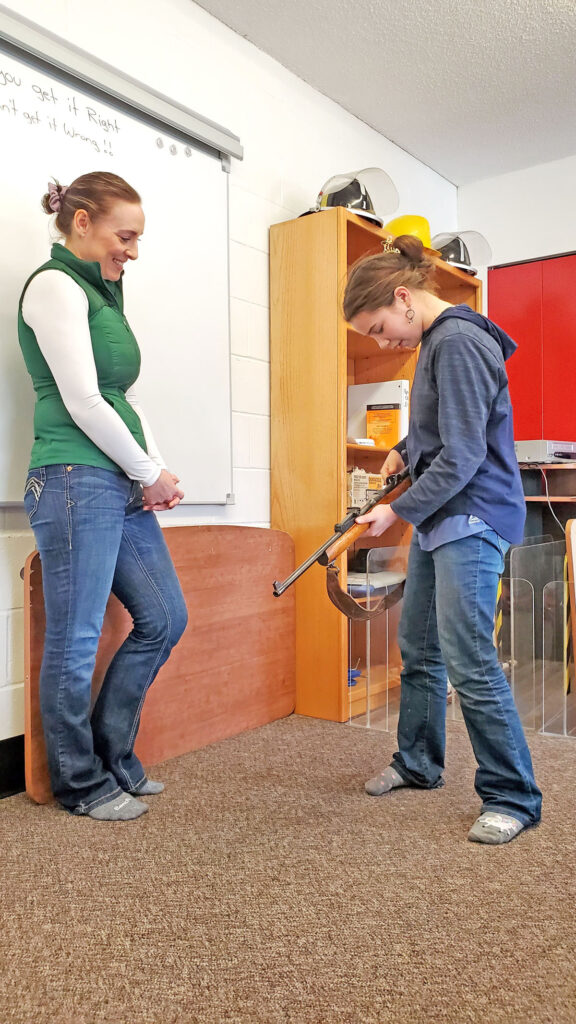 By Andrea Arnold
Former valley resident Julie Munroe returned to town as an instructor and examiner for the CORE (Conservation and Outdoor Recreation Education) program during the week of March 20th. Some 25 individuals attended the 18-hour course, and 100 per cent passed. The course, held during Spring Break, was mostly younger students with 80 per cent of the students under the age of 20.
The successful completion of the CORE program is required for BC residents 10 years or older who want a BC Fish and Wildlife ID and hunting credentials, both needed for a hunting licence. The course is available both through in-person instruction as well as online. It consists of a practical firearms handling test, and a written exam covering conservation, ethics, law & regulations, first aid & survival, firearms safety, animal identification, bird identification and Indigenous People & Hunting in BC.
Munroe explained that once a person has completed the CORE course and has successfully passed both a written and a practical exam they have to submit the documentation to BC Wildlide Federation to obtain their CORE graduation certificate in the mail. Once they have received their certificate they can go to any Service BC desk to acquire their Fish and Wildlife ID. From there they can purchase their licenses, etc, and they do not need to recertify.
Munroe became an instructor/examiner almost 10 years ago.
"My kids, as well as friends' kids, were showing interest in continuing the hunting traditions and I saw a need for a local instructor," she said.
She started teaching in McBride, and has continued since her move to the Okanagan. However, she holds fast to her valley roots and is happy to provide instruction to interested parties.
"I am proud of all my successful students, especially the women and children who are keen to learn about the outdoors and what they have to offer," she said. "It's really rewarding as an instructor to see your students show an enthusiastic yearning to learn, and share with others, a skill that essentially can be, in simplest form, a survival technique.
"Conservation really is an important aspect of our future, and I'm very happy to be able to aid in the learning of its importance," she said.