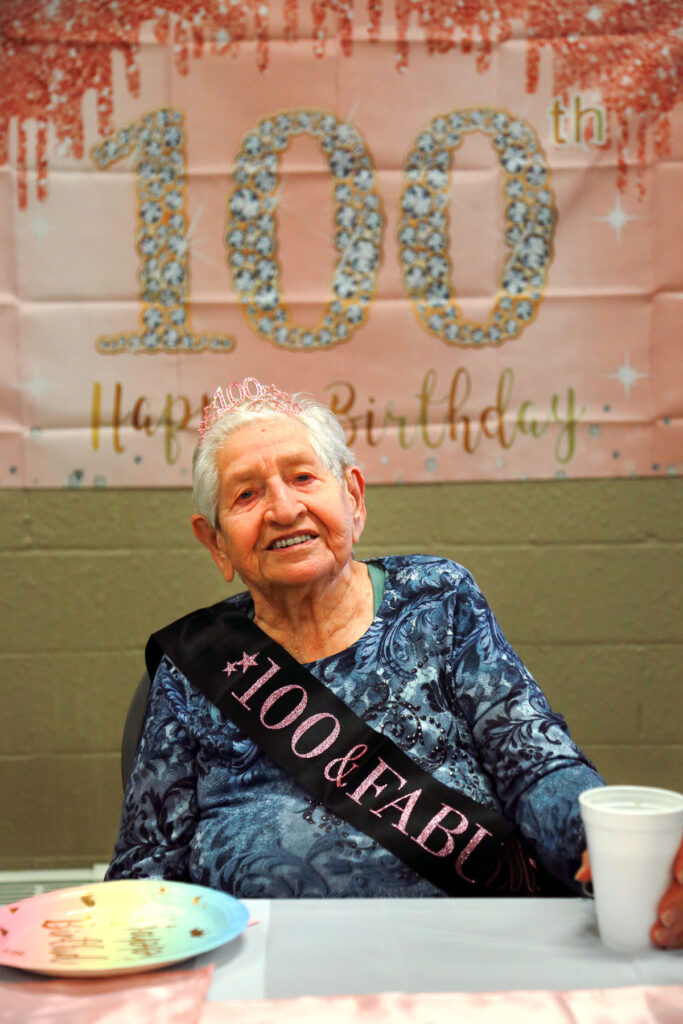 By Laura Keil
The Robson Valley's oldest resident, Alice Olson, turned 100 last weekend and was celebrated in style by many generations of her family and her community. Olson, a Second World War veteran, was honoured by the Prime Minister, the BC Premier, the Royal Canadian Legion, and MLA Shirley Bond, among others. Bond, who was in attendance, said it's clear by the packed community hall just how loved Olson is. Olson's eldest granddaughter Dana Hudema said family travelled from all over B.C. and Alberta to be with her. During Hudema's speech, she relayed how Olson was an avid participant in Terry Fox runs into the 80s, and walked from Tete Jaune to Valemount on one of the runs. She would also bake 12 or more loaves of bread for the legion auctions, and would often volunteer in the legion's kitchen.
"As you all probably know, my grandma is a bingo fanatic," she said. "The older grandchildren all have fond memories of playing bingo in Valemount with grandma."
COVID lockdowns were tough for her. After a year, she finally arranged a bingo game with her family. She woke up early to make sure her dabbers still worked.
"They haven't been used in over a year!" she exclaimed, when her granddaughter told her they'd be fine.
Hudema also recalls how welcoming and warm her grandmother was and still is: nobody had to call ahead or make an appointment. If someone arrived at dinner, another plate would be set on the table, no questions asked.
"To this day I've never heard my grandma talk down about people," she said. "She treats everyone with dignity and respect — just don't be loud or talk too much at bingo."
Olson was born in Alberta in 1923. She joined the army in 1943 and served in Red Deer and Calgary. She moved to Valemount with her husband and five oldest children in 1956 (she had 11 children total). They soon purchased two village lots for $50 apiece and six months later moved into the house she still inhabits today on 6th ave. In the beginning, their water came via hand pump from a well located under the covered porch. Alice's husband Pete worked in logging camps and local mills.
Olson now has 19 grandchildren, 33 great-grandchildren, and 15 great-great-grandchildren, for a total of 67 grandchildren.