By Jane Shaw
---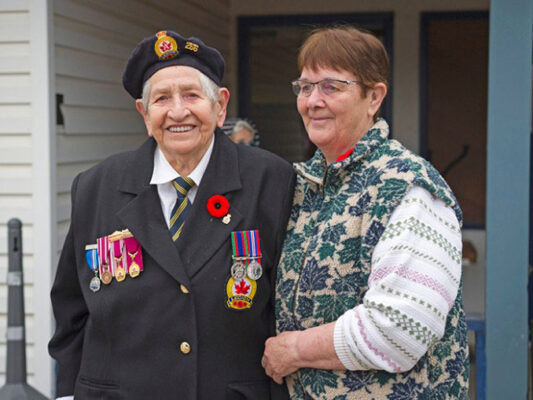 Alice Olson was born in Sunnynook, Alberta on April 8, 1923. At age 20, she travelled to Edmonton in search of employment but found none. She joined the Canadian Women's Army Corp (CWAC) signing on for general duty. "I was paid $1.50 a day. I didn't work for wages but I got free room and board and army issued clothes. So I didn't need much money."
Over the next two years, Alice completed her basic training and also six weeks of life skills education through CWAC in Quebec. She was discharged from duty in 1945. Three years later Alice met and married Pete Olson. The couple moved to Valemount in May, 1956, for work in the local logging industry.
When the Royal Canadian Legion, Branch #266, was built in 1965/66 Alice became a chartered member of the Ladies Auxiliary and over the years, took on many executive roles. As such, she was vital to all activities: fundraising, education bursaries, cribbage and dart tournaments, catering for weddings and funerals, special events, and dances.
Alice proudly wears her legion uniform every Remembrance Day, and her CWAC uniform and military photos are on display at the Valemount Royal Canadian Legion Museum.
Veteran's Voices is published in partnership with our local legions.