By Andru McCracken
---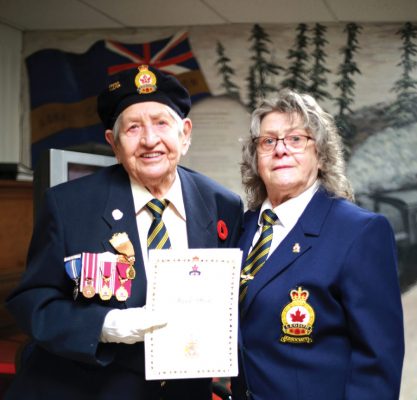 On Sunday morning, 96-year-old Valemount resident Alice Olson received her lifetime membership to the Royal Canadian Legion Valemount, Branch 266.
Alice came to Valemount in 1956 with her family after serving with the Canadian Army Corps from 1943 to 1945. She served in the Royal Canadian Legion Ladies Auxiliary from its inception in 1965 until it retired its charter in 2012, a total of 47 years.
"Alice has served her Branch continuously and continues to help with baking and such for Branch events," said Branch 266 President Marie Birkbeck.
"On top of the countless years Alice spent at the Legion, she also raised 11 children, looked after her neighbors' countless children, campaigned for the Canadian National Institute for the Blind, and always answered the call if the Branch of a neighbor needed assistance."