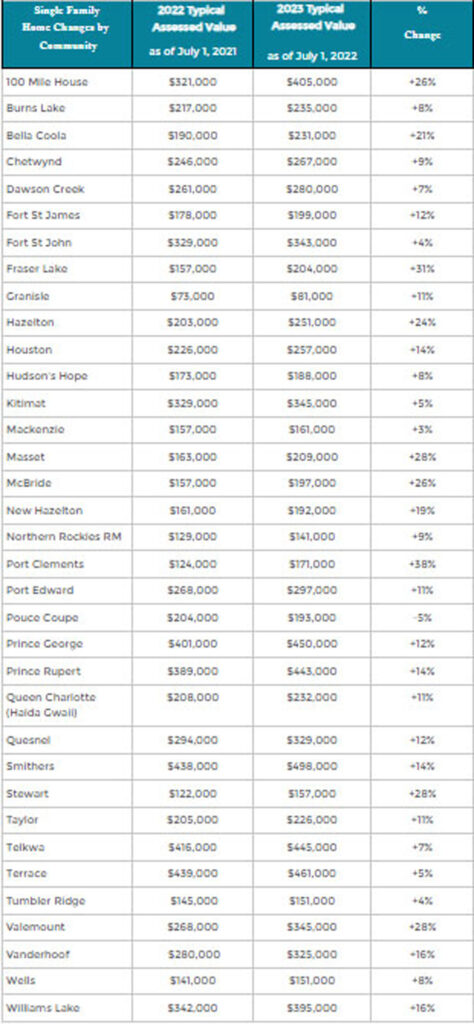 Valemount home ranks 84th most costly in Northern B.C.
By Laura Keil
The average increase in residential property values for Valemount and McBride are 28 and 26 per cent respectively this year. Blue River does not have community-level stats, but rural residential properties north of Kamloops rose 10.9 per cent (single family dwellings).
A single family home in Valemount now costs, on average, $345,000. In McBride, a similar home would cost $197,000.
Some Valemount property owners have complained that their assessment increased more than 80 per cent, after already large increases in previous years.
A property on Cranberry Lake Road registered as the 84th most expensive residential property in Northern B.C. this year. The 34-acre property and 6-bedroom home built in 2008 were assessed at $1.5 million.
Province-wide assessments for all property classes (including commercial and industrial) rose an average of 12 per cent, a smaller gain than last year.
"Most northern home owners can generally expect to see a rise of five to 20 per cent in their assessments when they receive their notices in early January, but with some exceptions depending on the community," says Northern BC Deputy Assessor Teria Penner.
"Since July 1, we know that the real estate market has changed as interest rates continue to rise and overall sales volume has declined," adds Assessor Bryan Murao. "As a result, your next property assessment will likely be higher than what the current market value might be, but that will be the same for everyone."
Overall, Northern BC's total assessments increased from about $81.5 billion in 2022 to over $90.6 billion this year. A total of about $1.06 billion of the region's updated assessments is from new construction, subdivisions and the rezoning of properties. ​
BC Assessment stresses that an increase in assessment value does not necessarily result in an increase in property taxes.
"Taxes are typically only affected if you are above the average value change for your community."
Rural single family properties in the Valemount rural "neighbourhood area" saw a smaller increase of 12 per cent this year compared to last year's 27 per cent.
In the Dome Creek – Robson Valley "neighbourhood area," single family properties went up 16.8 per cent.
BC Assessment's website at bcassessment.ca includes more details about 2023 assessments, property information and trends such as lists of 2023's top valued residential properties across the province.
The website also allows anyone to search, check and compare 2023 property assessments for anywhere in the province. Property owners can unlock additional property search features by registering for a free BC Assessment custom account to check a property's 10-year value history, store/access favourites, create comparisons, monitor neighbourhood sales, and use our interactive map.
"Property owners can find a lot of valuable information on our website including answers to many assessment-related questions, and those who feel that their property assessment does not reflect market value as of July 1, 2022 or see incorrect information on their notice, should contact BC Assessment as indicated on their notice as soon as possible in January," says Penner.
"If a property owner is still concerned about their assessment after speaking to one of our appraisers, they may submit a Notice of Complaint (Appeal) by January 31st, for an independent review by a Property Assessment Review Panel," she says.