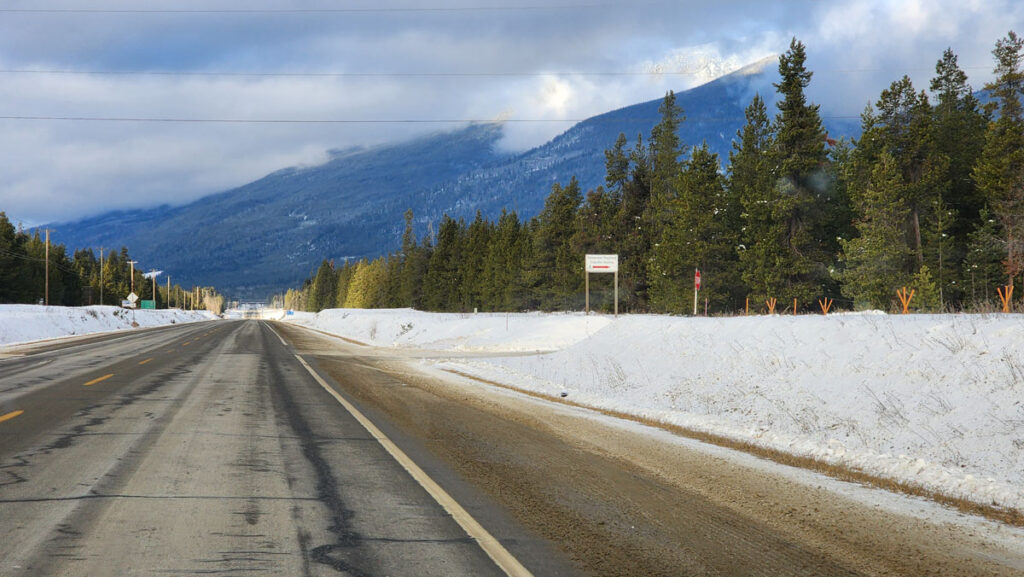 By Laura Keil
After several near-accidents at the turn-off to Valemount's transfer station and hearing other people's similar stories, Michelle Burstrom decided it was time to do something.
The Tete Jaune-area resident is a frequent user of the transfer station to drop off her family's garbage and recycling. The transfer station is located off a short access road off Hwy 5 just north of Valemount. Over the years Burstrom has noticed many problems with the access: poor signage that is hardly noticeable from the highway (often leading to people overshooting and needing to turn around), potholes on the shoulder, poor access road quality, and no turning lanes from the 90km/h highway.
For her, the biggest issue was the lack of turning lanes. When driving northbound to make a right-hand turn, a vehicle is forced to pull over onto the shoulder of the road, which is gravel and usually filled with ominous potholes. If a vehicle making a right-hand turn stayed on the pavement, they risk being hit from behind by fast moving cars or even transport trucks, she says. Making a left-hand turn from the middle of the highway there's an even greater risk.
"I was almost rear-ended by a semi truck as I sat stationary on the highway making a left-hand turn into the dump," she said. "I looked into my rear view mirror and realized the driver was distracted, not slowing down, and was going to crash into my rear end at full speed. I quickly pulled over to the right side of the road and watched the truck speed by without slowing down a bit. Sitting on a busy highway without a left hand turn lane is a very dangerous place to be in during good driving conditions let alone without adding snow or ice to the mix."
She said the increase in traffic due to the area's pipeline construction has not helped the situation.
"We are up an additional two thousand in population with our pipeline people here in Valemount. Tourism seems to be keeping our town and highway booming as well. The highway is quite busy with local traffic, tourists, pipeliners, and the usual multitude of transport trucks."
She was told by workers at the Transfer Station that the number varies, but up to two hundred vehicles a day sometimes visit the transfer station. She says the surrounding rural area boasts about a thousand residents all of whom use the Transfer Station to regularly drop off their garbage.
"This spot is seeing a high volume of traffic with absolutely no safety protocol in place to handle the risks of an entryway to a garbage dump that comes off of a high-speed highway," she says. "It's dangerous and is truly a disaster waiting to happen if left unaddressed."
She says the sheer number of skid marks on the pavement directly in front of the entrance to the Transfer Station can attest to this fact.
She would like to see a proper paved right-hand turn lane for northbound traffic and believes a left-hand turning lane for southbound traffic is warranted as well, despite being a larger project. She started a petition about six years ago and gave it to the existing Council to deliver to the Minister of Transportation, but she never heard back.
Recently, she decided to give it another shot and eventually got the name of Kevin Lutz, District Program Manager.
"Our conversations were held close to six months ago and I've not been privy to any information on progress being made for turning lanes at the transfer station north of Valemount," Burstrom said. "I'm sure that these matters move slowly and get tangled up in piles of red tape along the way, but I'm soon going to send him another email to nudge him in the direction of considering this safety issue seriously on behalf of all who use the transfer station here in the valley."
She suggests that anyone else who shares her concerns also send Kevin Lutz an email to express their thoughts on turning lanes. His email address is: [email protected].