By Andrea Arnold
McBride residents and friends Barb Brabant and Becky Hulka have been fortunate to find a hobby they can do together, and one that brings in a bit of money. Brabant and Hulka describe their craft as playing with colour. The result of their efforts is brightly coloured and unique skeins.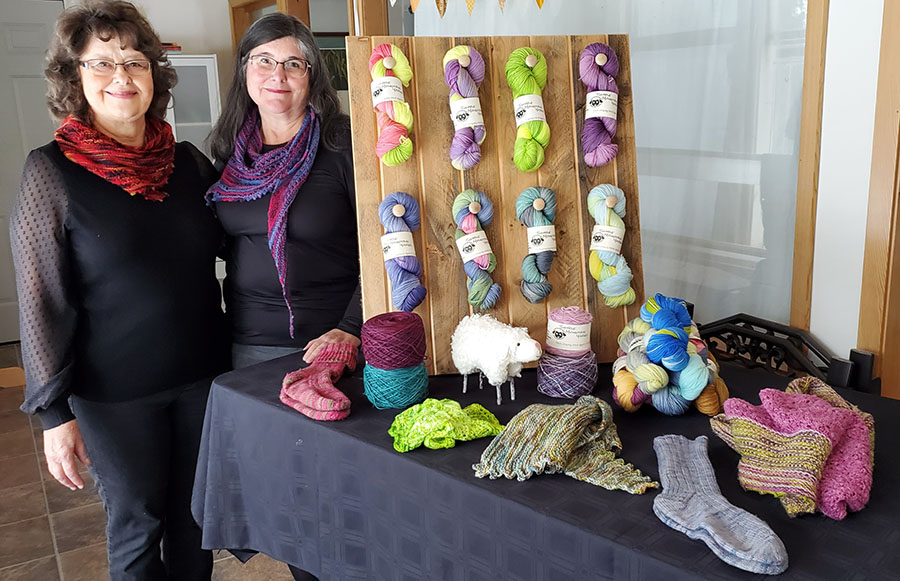 The pair purchases spun wool prepared for dying. It is fingering peruvian highland wool. It is a fine sock yarn that is very versatile, quite soft and has a nice twist.
"A nice twist means it bounces back evenly when you stretch it," said Hulka.
Once the yarn arrives, they prepare it for dye using a closely guarded secret method. They place the yarn into a vat of dye, one skein per vat. Once the strike, or penetration is complete, usually about 15 minutes later, the yarn is removed from the dye, rinsed and hung to dry. In the summer, they hang the yarn outside, and in the winter, the drying takes longer due to the need to hang the yarn inside. The whole process has to be done carefully and with cautious timing. Some skeins of yarn go through the dying process several times to create multiple, layered or overdyed colour effects.
At times the yarn can curl, creating a headache to untangle. The pair is careful to follow their tried and true methods in order to avoid the mess, but they still have skeins go awry sometimes. It is not only tangling that can cause a skein to come out wrong. Sometimes, the dye doesn't strike as well as they expected.
"We will sometimes re-dye the yarn," said Brabant. "We do not make that decision until it has fully dried though. The colour of dry yarn looks very different then wet yarn."
They will use the same vat of dye for several different skeins, producing a gradient effect as the dye solution becomes less concentrated after each use. As with most handmade items, the skeins are each a unique product, no two exactly the same. Each skein absorbs differently, so it is a surprise when they dry, every time.
As knitters, both Brabant and Hulka are aware of what makes a saleable product. They have a high standard, and if they are not happy with the end result, they don't sell it. They either keep it for their own projects, or they redye it. Sometimes they are presented with the opposite problem though. When a colour comes out exceptionally beautiful, that skein is sometimes hard to part with, and never leaves the shop.
"We knit for our own pleasure," said Brabant. "I have sold a few items, but overall, I do not knit to sell. There are 10,000 stitches in a pair of socks using our yarn, so they take a lot of time to make."
"You have to be very special to get a hand-knitted item from either of us," said Hulka. "I don't think my husband has gotten there yet."
"Our funnest days are dye days," said Brabant. "It is a creative outlet. It is very satisfying to make pretty usable things, and to work with our hands."
The pair finds colours that fit the season, and if they are preparing for a change in season, they plan ahead. For example, choosing fall colours in early August. As they have experimented to find all the colours they want to use, they have learned a few things.
"It is amazing how little fuchsia dye you need," said Brabant. "That colour really pops."
Hulka is surprised at the different things they have discovered, trade secrets, that makes the dye strike more effective.
"There are very few ugly skeins of yarn," said Brabant. "You can always re-dye. The result is not always what we think it will be, but almost always, once it is dry, it looks nicer than it appears at first."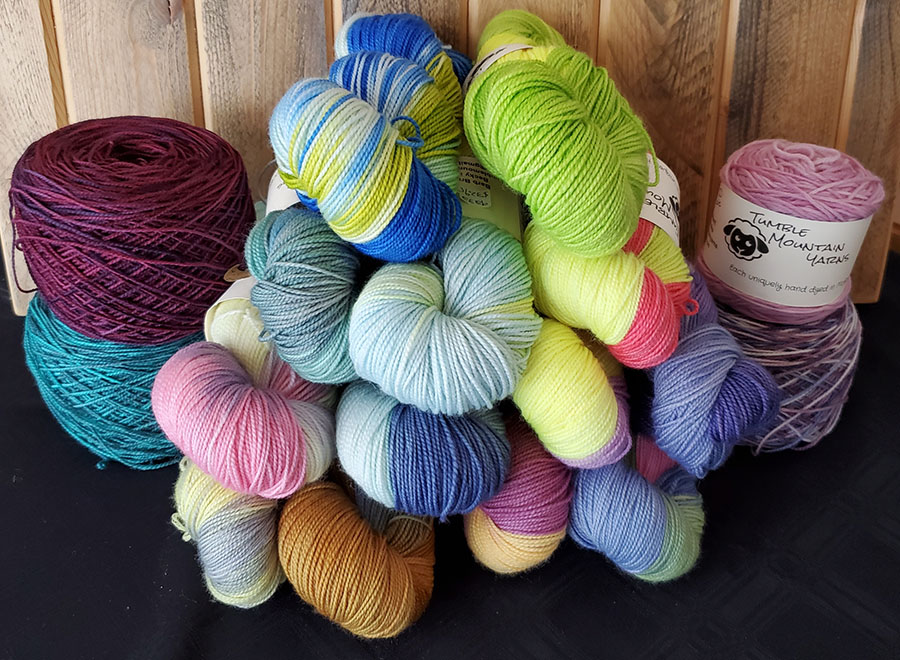 The name Tumble Mountain Yarns is a hybrid of the two names they had worked under before. Brabant and her husband Steve have named each of their homes Tumble Bee Farm for years, and Hulka hand-dyes silk scarves under Mountain High Illumination.
"We combined the names and came up with Tumble Mountain Yarns," said Brabant. "The proximity to Tumble Dick Creek had nothing to do with it, but it fits nicely."
Hulka had been dying silk scarves and was following, through social media, another fabric artist that was getting amazing colours. She wondered if she could get a vibrant result in yarn. However, her yarn knowledge was limited. She turned to neighbour Brabant and asked if she wanted to dye yarn together. Brabant's response was a resounding yes.
At first they created colours for their own use. They started with merino wool, but switched to their current product quite quickly.
"We had to start selling because we dyed more skeins than we could use," said Hulka. "Barb had said when they first moved here that one day she wanted to sell something at the Whistlestop Gallery. So we started selling there right after our big reveal at the Christmas craft fair in 2017."
They also provide yarn to "Top Drawer Yarns" in Prince George. Two other venues that were carrying their product closed due to COVID-19 hardships.
Hulka recently had shoulder surgery, so they haven't had dye days recently. As a result, they will not be attending any of the markets this Christmas season.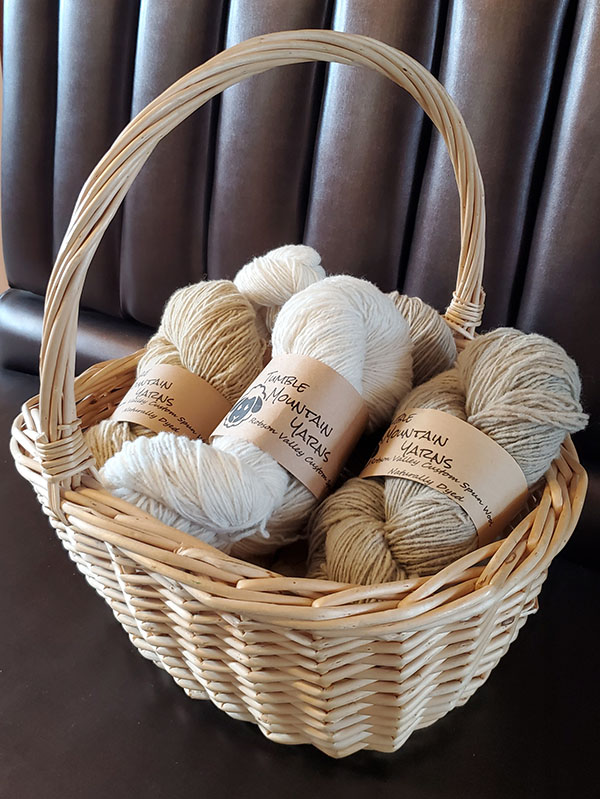 Recently Brabant and Hulka started a new chapter in their yarn dying adventure. They have locally sourced Robson Valley fleece and will continue to send it to a mill in Alberta that spins it into yarn before shipping it back to them. For these skeins, they are using all natural colouring agents found locally through bark, lichen, flower pedals and other gathered items. As this chapter is just beginning, they have a limited selection of this product available at the Whistlestop so far.
The multicolored creations as well as some items that have been knitted with the yarn can be seen on Instagram at tumblemountainyarns. Brabant and Hulka can be contacted by email [email protected] or by phone 250-569-7630.