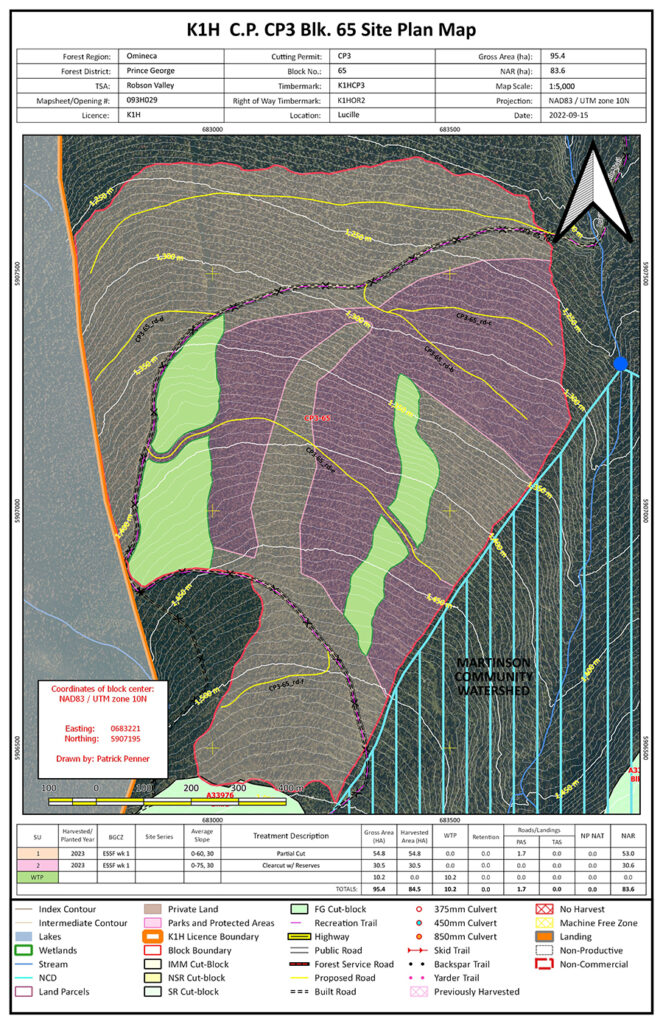 By Laura Keil
A proposed logging block on Lucille Mountain is pitting landowners against the McBride Community Forest due to concerns over their drinking water.
The community forest is planning to log on Lucille Mountain, a partial cut in a dying Balsam stand. They also plan to clear-cut ski runs and restore areas harmed by previous logging practices. The ski runs would be sled-assisted or ski touring only. A community forest map shows the logging block immediately adjacent to the Martinson Creek watershed with a small buffer.
Linda Fry, an area resident and member of the Lucille Mountain Water Users Community, says there are 37 water licenses in the Martinson Creek and Dore River watersheds, both homes and ranches, and the risk of the logging near their watershed is simply too high.
"With things like climate change and the weather events that we're having, the potential for disaster and thinking how many people can be affected by this scares me. I'm a low-risk gambler."
Her biggest concerns are the lack of community consultation and the unforeseen, unintended consequences that could occur.
The three dozen properties located on Westlund road, Westlund West road, Pool road, Museum Road, Red Tail Road, and Dyke Road aren't designated a community watershed since they aren't a town, she says, but it doesn't change the fact many people would be affected should something go wrong.
"They don't recognize Lucille mountain water users as being a community watershed because each one of us has an individual license, whereas the Village of McBride has got the water license so they become a community watershed."
Patrick Penner, the current manager of the McBride Community Forest, says the organization paid for two independent studies to ensure the logging block was not a risk to nearby watershed users. He sais most of the block, originally sketched out in 2019, will retain 50 per cent of the trees, and it's only the ski runs that will be clear cut.
Both the watershed study as well as a geotechnical study came back indicating a low-risk to watershed users from the proposed logging.
"We just wanted to make sure we had done our due diligence," Penner says.
Quoting from the watershed study, he says "it is not likely that proposed CP3 Block 65 will result in an increased risk or hazard to the Dore River or Martinson Creek watersheds."
He says the studies were independent from the community forest and the watershed study was completed by a watershed hydrologist with a company out of Prince George.
The geotechnical assessment, completed by Firth Hollin Resource Science, says any logging roads should be deactivated afterwards, and the old skid roads built in the 50s and 60s should also be deactivated, as they have diverted seasonal streams.
"They are contributing to potential unstableness," Penner says. "When the old skid trails got built, they siphoned in water."
They plan to recontour the landscape back to a natural state, based on old maps and the flow of the streams.
He says retaining trees in much of the block will also help avoid instability.
"One of the reasons why we had decided on that partial cut is (because) the trees are still going to be there to keep everything intact."
The ski runs would be accessed from the existing road that leads to a snowmobiling area further up the mountain. As far as the timing of the logging, Penner says the recreation trails have certain rights under the tenure system and logging trucks would also pose a safety threat to visiting sledders.
"Because of this, we can't just go log in winter and disrupt other tenures."
In summer they can also clean up the stand so it can be more productive going forward.
"There's a lot of brush up there doing nothing," he says. "There's no understory coming up."
Ronald Westlund, manager of the Lucille Mountain Water Users group, says there's only a 120m buffer between the logging and Martinson Creek. None of the landowners present at the meeting with the Community Forest were in favour of logging.
"We are asking for the proposed activities to be put on hold until a more in-depth environmental assessment and management plan, as well as a monitoring and enforcement plan, is presented to the public for consideration and comment."
Westlund and his wife run a third generation beef farm, and like the other water users, get their drinking water from a pipe in Martinson Creek, located to one side of the logging block.
Westlund is concerned that logging could loosen the topsoil which could then flow into mountain streams and affect their water quality.
"For the amount our community water users have invested compared to what they're going to make or for that block, I don't believe it's worth it to take that chance," he says.
Many of the homes on the line were built because of the water system, he says.
"If there's anywhere they want to preserve something, it should be (the source of) our drinking water."
He adds that it's pretty hard to fix once it's been compromised.
Tanya Blixrud owns an acreage on Westlund West Road.
"I'm very opposed to it," she says. "They're talking about logging 120m from our actual watershed. That's concerning because there's over 30 of us on that water line. It's good water, it's consistent water, and we want it to stay that way."
She says she's not against logging, but putting logging and recreational users ahead of local drinking water isn't right.
"They need to take into consideration our concerns as users of the waterline, our concerns should be primary, not the sledders that come into town a few months a year."
She says with climate change wreaking havoc with the environment, there has to be a better way.
An information package containing the geo-technical report, preliminary watershed assessment, draft site plan and draft site plan map were mailed in September 2022 to watershed user members.
The watershed report says climate change analysis done using the Plan2Adapt tool (developed by the Pacific Climate Impacts Consortium) predicts the McBride area will see a 6.4 per cent increase in annual precipitation over the next 60 years, with as much as 42 per cent less precipitation as snow during the winter months. A 5.2 degree celsius temperature increase is also predicted.
"The predicted increase in precipitation may result in greater runoff," the report reads. "However, it is not great enough to be expected to increase erosion potential. The predicted precipitation as snowfall may also result in lessened severity or shifted timing of freshet."
The report also said there is minimal evidence of slope instability throughout the Dore River watershed. "No signs of landslide or erosion were identified along Martinson Creek or within the proposed block. It is not expected that the proposed block will have significant impact on slopes and landslides."
Fry says when they ran the numbers with the community forest, it appeared the community forest would only make about 500,000 in profit – an amount not worth putting dozens of properties at risk.
"We have to deal with the fallout, and they get to make the decision," she says. "They don't have to resell their property if there's no waterline."
She would like to see more community engagement before plans get to an advanced stage.
"We are asking for more consultation, and, you know, how could we mitigate any potential fallout from this?"
McBride Community Forest board chair Harold Edwards says because this is an operational matter, it wouldn't come to the board. The board sets the policy and direction for the community forest, and if people have specific concerns about logging plans they should speak to Penner.
Westlund says right now he's waiting for a reply from the Community Forest.