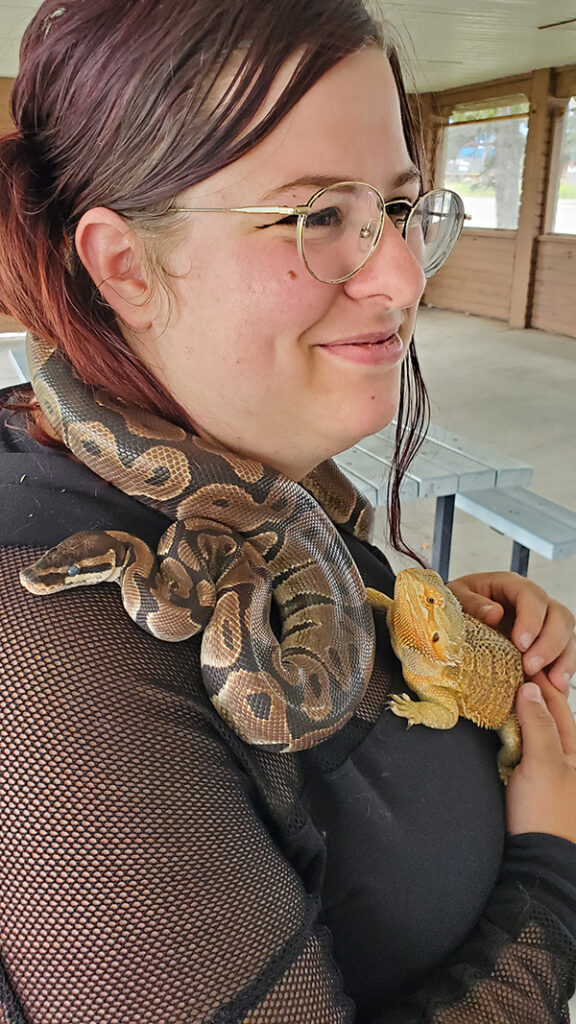 By Andrea Arnold
New McBride resident Sammi Burk has always loved reptiles. 
Zion, a six-year-old ball python and Gruffen, an almost two-year-old Bearded Dragon have been a part of Burk and husband Mark Bengert's family for about two years. Burk has had more traditional pets, but has always been drawn to critters with scales.
"I think they are cute and adorable," said Burk.
"They are cleaner than most traditional pets," said Bengert.
Zion was a rescue that was found in a deserted house, and Burk adopted Gruffen from the pet store she worked at. Gruffen has a neurological issue that causes her to flop to the side and freeze up when she is stressed.
Since arriving in McBride, Burk has been letting the community know she is around and that she loves reptiles. In just three months, Burk and Bengert have acquired a Crested Gecko that was in need of a new home.
Burk would love to help educate anyone who is interested in what reptile ownership is all about. She walks around town with both Gruffen and Zion, though not at the same time. Gruffen has a harness and can run around on leash, and Zion rides curled over Burk's shoulders. While out on their walks, Burk welcomes curiosity. She would like opportunities to bring her creatures to birthday parties, or even into the schools to help spread awareness and knowledge.
She is also willing to pet sit other reptiles but would prefer leaving them in their familiar surroundings.
"They are very sensitive to changes in their environment," said Burk.