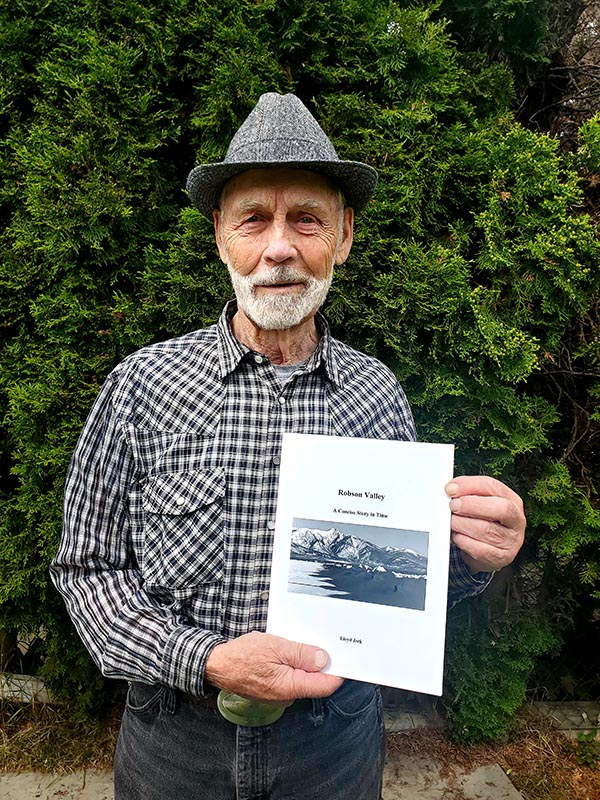 By Andrea Arnold
Lloyd Jeck lived in the Robson Valley for the first 48 years of his life, and now is sharing his life stories in a 65-page booklet called Robson Valley – A Concise Story in Time, complete with vintage photographs.
"The stories included in the booklet are derived from my personal experiences and the recollection of stories passed down to me from older family members," said Jeck.
Jeck began writing as a hobby after his retirement in 1996 and has had three books published in 2000, 2011 and 2017. In late 2021 Jeck heard about a project that the University of Northern British Columbia had conducted: The Upper Fraser Historical Geography Oral History Project. By the time Jeck heard about it, he had missed the opportunity to contribute by several years. He was offered an opportunity to contribute written comments on topics he had a special interest in. These documents would be added to the archives as a separate donation. The booklet was the result of his collection of stories that tell of early and mid-twentieth century conditions and events.
"These compositions are meant to provide another window opening into a lifestyle that had much to offer but not without sacrifices given," he said.
Jeck was raised on the family farm four and a half miles outside McBride along the old Highway 16. He experienced farm life as well as an early introduction to forestry through his father's work.
"Just before my 11th birthday, my brother not yet a teenager, our dad set us up with a one-week contract at his camp," he said. "We were outfitted with a team of horses and a wagon loaded with horse and boy feed (food). It was a 10-mile trip to the camp where we were alone for one week. Our task was to limb and buck, into specific lengths, quite a number of pine trees which had been pre-felled by dad's hired crew before they were laid off at the end of winter season. We then used the horses to move the logs down to the railway 1.25 mile away. No chainsaws, just hand tools like axes, crosscut saw etc. It was springtime at the farm but still winter conditions at the camp."
The pages of the booklet are filled with his personal recollections of times like these as Jeck grew up, running the family farm, a small logging/sawmill business and an RV Campsite and all the other jobs he held. He also recorded stories passed down from older family members.
There is a limited number of booklets available and anyone interested in purchasing a copy can contact Jeck directly through [email protected]