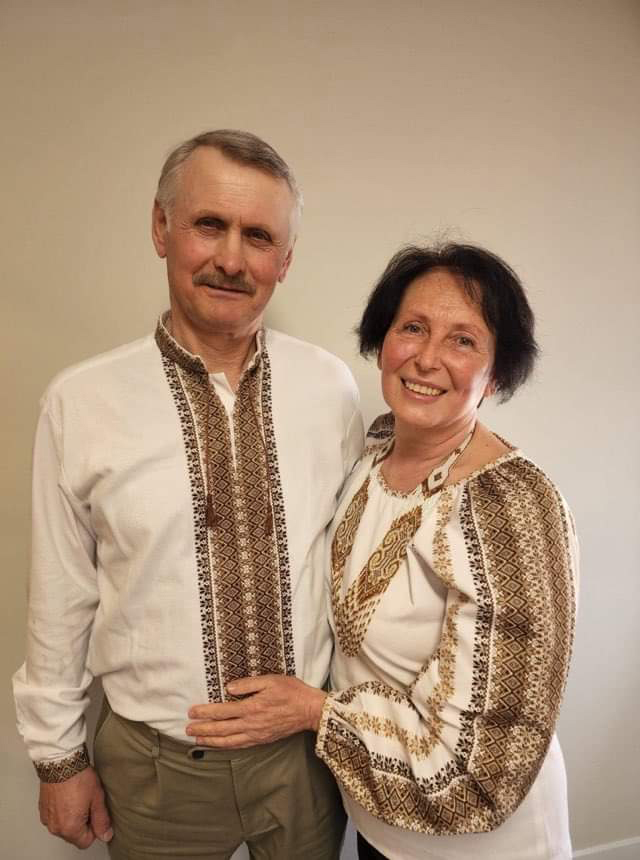 By Andrea Arnold
Ukrainian residents Yaroslav and Mariia Pertyshyn have arrived in McBride and are settling into life on the Westlund family's farm. They agreed to provide their story through a translator. The Goat was fortunate to once again use the multilingual skills of McBride resident Anna McLennan.
Although the circumstances that led them to this point are nothing either of them ever expected, or wanted, they are very grateful to be here.
Their Ukrainian home, in the Ivano Frankivsk region of Western Ukraine, the small community of Horodenka has not been physically affected by the war. Their town is not home to anything that is considered to be a target for the Russians, but it is located 40 kilometres from a military airport. The residents have been living with the fear and uncertainty of what is coming next as the war continues in the eastern part of the country.
Many residents from the communities along the front lines have fled to the west, and beyond.
"At this time, over three million people have made their escape into Poland," said Mariia.
The couple did not intend to leave, but as the frequency of air raid warnings increased, so did Mariia's level of fear and unrest.
"Our daughters were calling every day, worried about our safety," said Yaroslav. "We wouldn't have left if it wasn't for them." Mariia agreed that it was time to leave. Yaroslav wanted to stay and be available to defend their community. Although he is beyond the age limit for military service, he planned to join a group of volunteers to serve however he could.
"Mariia did not want to leave without me," he said. "So on March 18, we packed and took a bus to Poland, to the airport." They left behind their small hobby farm complete with beautiful flower beds in bloom, large vegetable gardens and many varieties of fruit trees. They gave their animals away to neighbours that were staying behind.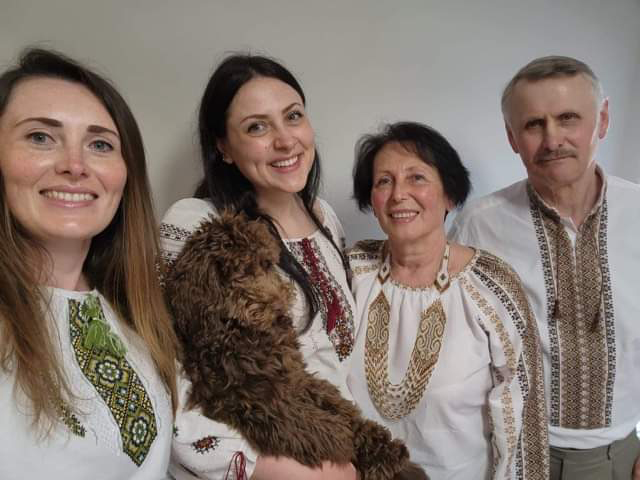 Only one bag per person was allowed, so the pair used some of their allotted space to bring along traditional family clothing and items to preserve some of their family history.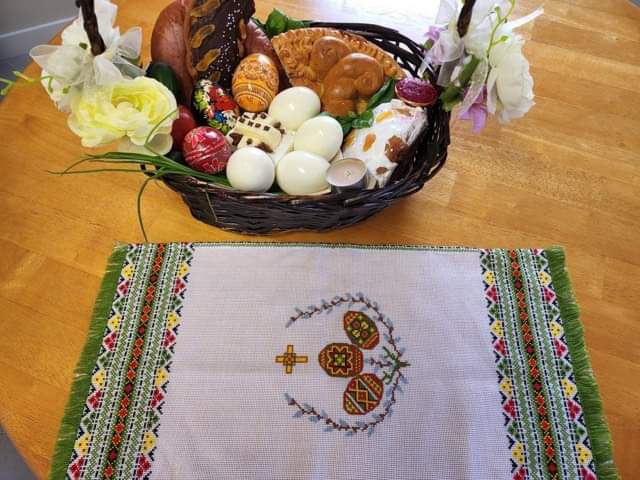 Crossing the border into Poland, they had to wait.
"The line-up of buses was very long," said Yaroslav. "We heard that for some, the wait to cross the border was two or three days. The bus drivers tried to guess which line was going to be the quickest, but no one really knew how long it would be. People were fleeing with their kids and pets."
"There were local people bringing food to those waiting."
Luckily, they got through in about six hours.
Their daughters in Canada set to work finding them the most direct way out of Poland. They flew from Warsaw to Frankfurt, then on to Vancouver. The Pertyshyns were among the fortunate Ukraine residents who had passports and visas prior to the onset of war. With these documents in hand and their daughters working around the clock to find them flights, they were headed to Canada within only 24 hours of having left Horodenka.
Yaroslav had fallen in love with Canada in 1991 during a trip to Saskatchewan. "I was surprised at how friendly and how helpful everyone was," he said. "Even to people they didn't know, and people who didn't speak English."
Their daughters grew up with magazines filled with stories and photos of Canadian farms, and he encouraged them to learn English. As the girls got older, they were encouraged to travel to Canada, and both daughters attended a Canadian University, and have settled in, one in Edmonton, and the other in Burnaby.
Upon the couple's arrival to Vancouver, they stayed with one daughter for a few weeks. Although they saw a lot of the area during that time, they didn't feel like they could settle into city life long term. In Ukraine, Mariia was employed as a pharmacist, and Yaroslav worked as a government employee in a role similar to a Canadian horticulturist, conducting tests on feed crops for livestock. Both of them also worked very hard on their small farm as well. They needed to find somewhere where they could work, be physically active and productive.
Yaroslav was looking online one day and saw a post on "Accommodation, Help & Shelter for Ukrainians in Canada – Be A Host" that McBride resident Renae Westlund had posted offering up free accommodation and a job on a farm.
"Since I was 19, I have wanted to live and work on a farm in Canada," said Yaroslav. "I told our daughters to contact Renae right away."
They spent many hours talking, making sure the couple understood how remote the area is, and what life on the farm involves. When they arrived in McBride on May 4th, they were amazed to see the size of the farm, but quickly settled in and began helping.
As they have been helping, and figuring out ways to bridge the language barrier, Google Translate, charades and common sense being their favourite tools so far, the bond and admiration between host and guest has quickly grown.
"I think they work harder than we do, and they're so eager to learn how we do things," said Ron Westlund.
Yaroslav's love for Canada has resulted in a deep knowledge and understanding of the nation's history. The couple find it amusing that in the 1800's many Ukrainians came to Canada, settling in the prairies. Since the pair arrived in McBride last week, some land clearing needed to be done on the farm, and they joke that they are just like their ancestors who chopped down trees to clear land.
They had planned to come to Canada in 2026 when Vancouver will possibly be hosting games for the 2026 FIFA World Cup. Yaroslav is a huge fan of the sport and was looking forward to making the trip then. This early arrival, and the circumstances leading up to it, was not something they could have predicted. Yaroslav and Mariia have been watching the news and reading about what is going on back home. It is breaking their hearts to see the reports.
"There has been help from European countries and others," said Yaroslav. "Justin Trudeau was in Ukraine a few days ago. The supplies that were sent for fighting were helpful but the people are fighting with weapons from World War II."
"We are so grateful to have found such a beautiful home," said Yaroslav. "Seeing the mountains every day is so beautiful. We only hope that we are being helpful on the farm. Ron and Renae have been so welcoming, we want to make sure they know how grateful we are."
"What the Russians are doing is horrible," said Mariia. "It is not just affecting Ukrainians. It is affecting all of the European countries, and even into Canada and the US. We are so thankful for everything everyone has done." Mariia said that in this area, between McBride, Valemount and Jasper, approximately 95 Ukrainians have been welcomed into homes, dozens have already arrived and many more are in the process of booking travel.