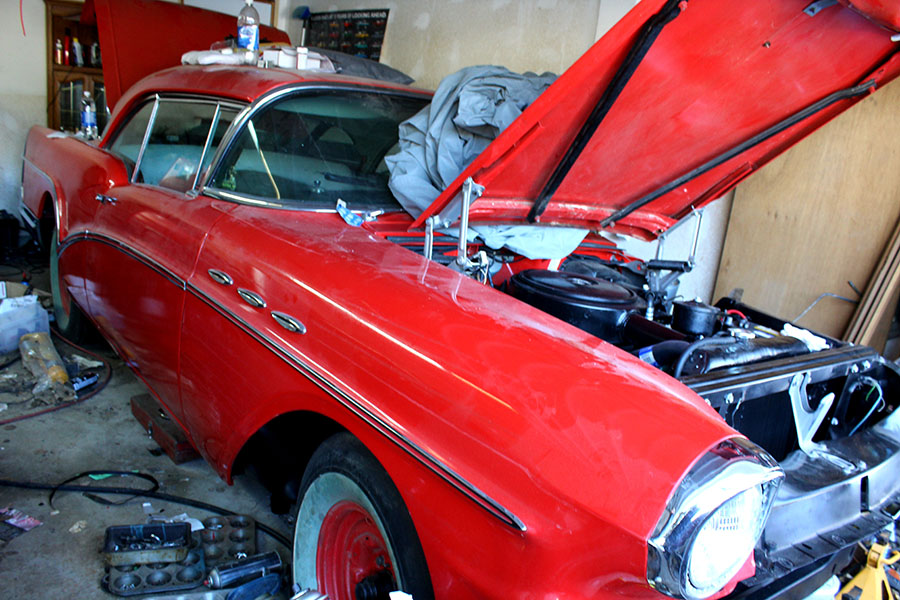 By Sandra James
In 1957 a seminole red Buick Special Riviera came off the assembly line and was shipped to Jenner Motors in Edmonton where it was bought by McBride resident Glen Frear's grandfather. The Buick Special Riviera shares a body style with an Oldsmobile 1988 and has similar back three windows.
It came from the factory with a 364 Buick nailhead engine and automatic drive line. The 30-year-old white wall tires, still mounted on, are no longer roadworthy but add to the mystique and look of the car.
The Buick served as primary transportation for Frear's grandfather till his passing in 1960 in an industrial accident. It was then driven by his wife until 1973. This was the last time the car was licensed for road driving.
In 1990 it was passed to Robert (Glen's uncle) and he started the restoration in 1994. He removed rust, did body work and applied new paint in the same Seminole red. From 1994 to 2004 it had a vacation on Eddy road and in a shop by the recreation centre in McBride.
In 2004 Glen started an additional rebuild of the mechanical systems covering, brakes, front suspension, engine and steering. In 2017 his uncle Robert passed and his daughter inherited the car. By this time the car was disassembled and in parts and in boxes. It was just an engine, with no electrical hooked up and the hood and trim had been removed.
Frear has been working on reassembling the Riviera to its current state since 2018. The biggest challenge he has faced is not having ever seen it fully assembled. There are no previous photos and it came as a pile of parts. Imagine trying to finish a jigsaw without a photo of the end product only knowing the approximate boundaries and not knowing if all the parts are there. This daunting task was made possible by Frear's past experiences working in body shops and on car mechanics. He has also completed a 1969 Ford Mustang.
Normally, some of the important stages of starting a project such as this are to start with an assessment, take lots of photos, make a list while disassembling every part and start from the ground up. This however could not be done for this vehicle.
Despite the challenges, Frear will have the car roadworthy for the summer of 2022. You can follow Frear's progress on the car at Robson Valley Vintage Machines group on Facebook.