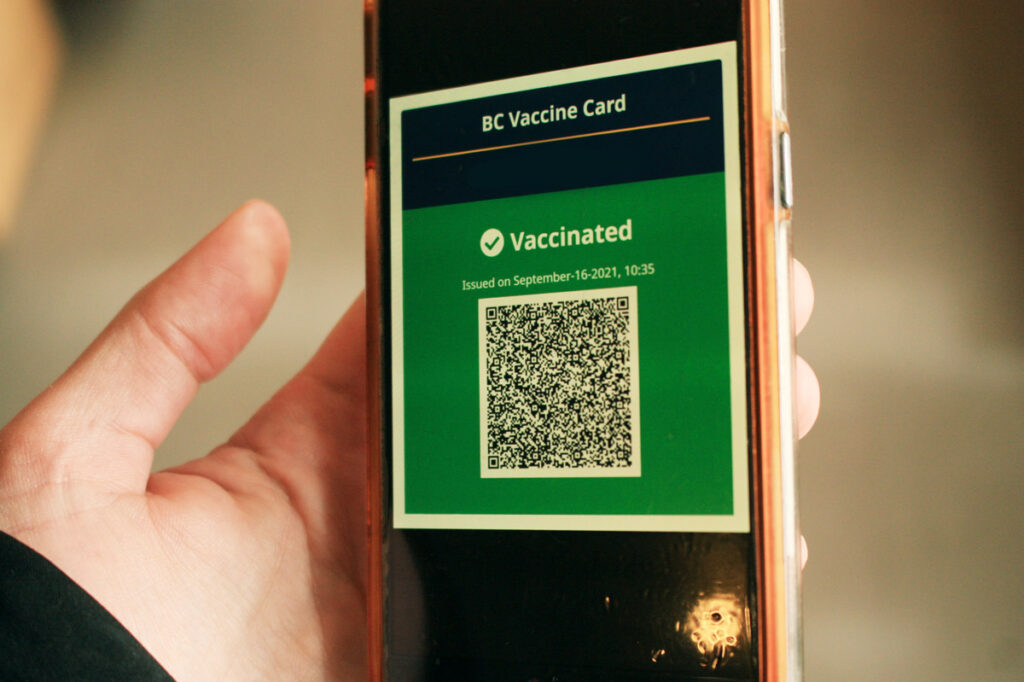 By Laura Keil
New data released by Northern Health show that many Robson Valley residents are choosing to get vaccinated, but just how many is confounded by unclear statistics.
The Nov. 24th numbers released by Northern Health show 91 per cent of people 12 and older in the Valemount/McBride Community Health Service Area have had at least one dose and 80 per cent have had two doses.
In the same dataset, it shows Kitimat is at 105 per cent for first doses. When asked for clarification, Northern Health communications person Eryn Collins said it had to do with temporary workers inflating the numbers. The Goat asked if pipeline workers in Valemount were similarly inflating the numbers, but over the course of a week and multiple requests, Northern Health was unable to confirm.
There are approx. 1300 additional people working on the pipeline in the Valemount area Trans Mountain confirmed again this week. While the pipeline held their own COVID-19 vaccination clinics, some may have visited community clinics as well.
If the numbers don't include pipeline workers, the McBride/Valemount numbers are in line with the provincial average for first doses and a big leap from the Northern Health average. In Northern Health overall only 82 per cent of people 12+ have had one dose, and 76 per cent have had two doses as of Nov. 24th.
But younger people in the Robson Valley are lagging behind when it comes to getting the jab. Only 64 per cent aged 12-17 had received one dose and only 54 per cent had received both vaccinations. Area residents are also lagging behind provincially when it comes to getting their second doses. Province-wide, 91 per cent had 1 dose and 88 per cent had 2, as of Nov 24th.
Last week, Northern Health relaxed its regional orders, but many rules remain in place, such as limiting in-person worship and unvaccinated people from attending events.
In a statement, Dr. Jong Kim, NH Chief Medical Health Officer said the NH Regional Order on gatherings and events is not based on immunization rates, as much as continued COVID activity and rates of ongoing transmission.
"Even in areas with strong vaccination rates, clusters and significant numbers of cases can occur," Kim said.
He said the orders remain in effect pending further assessment of the region's COVID-19 status by NH and provincial public health officials; which includes assessing the impact increasing immunization coverage rates will have on overall COVID activity and risk of transmission.
Canadian data shows that people who are fully vaccinated are up to 60 times less likely to end up in ICU and far less likely to die as a result of a COVID-19 infection, as reported by several studies including the independent Ontario COVID-19 Science Advisory Table, an initiative of the U of T.
While younger people tend to become less seriously ill with an infection, studies have shown that youth are still spreaders of the illness and some youth have reported so-called "long covid," with lingering symptoms of fatigue, joint pain, concentration and memory problems, headaches and other symptoms that last for months. The virus can damage the lungs, heart and brain, which increases the risk of long-term health problems (Source: Mayo clinic).
Health Canada has now approved child-size doses of the COVID-19 vaccine from Pfizer for children age 5-11. BC residents must first register their children before booking an appointment. The first child-size doses began distribution in the Robson Valley this week.