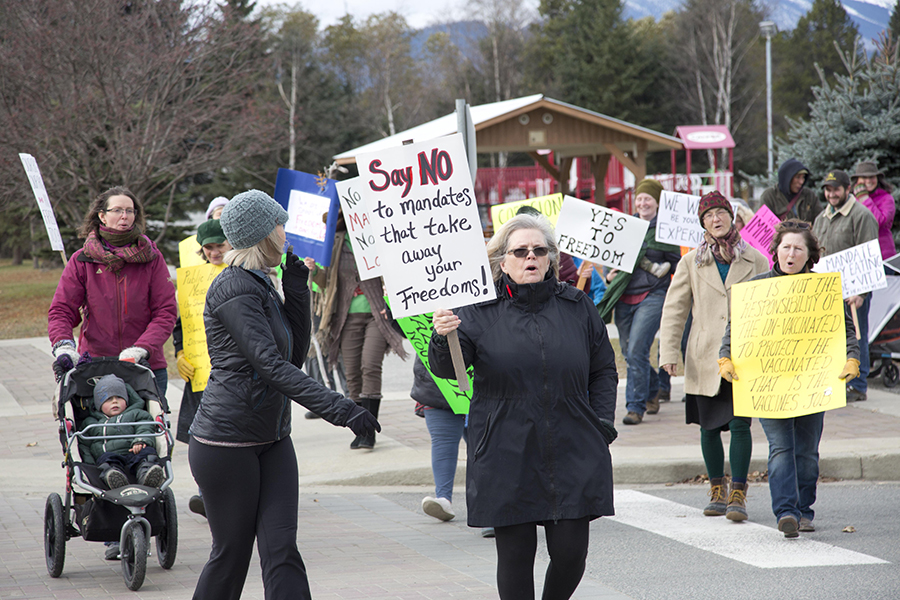 By Laura Keil
About 30 people from across the Robson Valley and as far as Jasper took part in a rally in Valemount last week to protest what they say are loss of freedoms, overreaching mandates, and coercive attempts by the government to force people to get vaccinated against COVID-19 during the pandemic.
The group was led down 5th by Tete Jaune resident Sherral Shaw, who led the crowd in chants of "No More Mandates, No More Losses." When asked what she meant by losses, Shaw said it referred particularly to job losses as many people were facing unpaid leave due to not being vaccinated.
Several cars honked their horns in support and at least one person came out of their workplace to show support.
The group walked from Centennial Park to the crosswalk by the Gathering Tree, and then out to the highway.
Grace, from Jasper, who did not want her last name used, said her husband was losing his job with CN where he'd worked for 32 years because of the vaccine mandate. She insisted she is not anti-vax, but has personally witnessed a vaccine reaction.
"I'm a proponent for safety," she said. "Children don't have a voice, so we need to have a voice for them."
Ingrid, from McBride, who also didn't want her last name used, believes healthy immune systems can handle the virus and also says she is not anti-vaccine, per se.
"I just feel it's important to choose. Having our right taken away is one step away from being forced," she said.
She said the narrative in the media is not complete.
"I'm here to stand for freedom to choose what goes into our bodies."
Valemount resident Brian McKirdy said he felt the gathering was successful.
"Did you notice how many people were smiling?" he asked. "I felt people were in a good mood because they were actively united, rallying for a common cause. We got a lot of great feedback from traffic on the street, smiles, waves and thumbs up."
Worldwide walkout day was initiated by the Children's Health Defense which called on employees to walk out of work Nov. 3rd. The organization is known for its anti-vaccine activism.