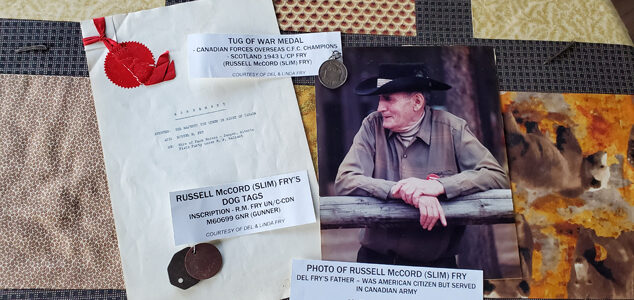 By Andrea Arnold
Russell Fry, more commonly known as Slim, was born on Boxing Day, 1906 in Michigan. Early on, his family moved west to Montana, then into Alberta in 1917. It was there that his love for horses began. In 1926 he even competed in the Calgary Stampede Rodeo.
Slim served in World War II as a gunner with the rank of Lance Corporal and was decorated with three medals. Although the actual reasons for these medals are unknown, one may be due to an injury he sustained while serving. He was struck in the stomach by a bullet. The wound was serious, but not fatal. Another was listed on his discharge paper as a defense medal – Canadian volunteer service medal and clasp war medal 1939-45.
As those who knew him would expect, even his time of service in war was not all work and no play. He toured Britain as a member of the Canadian Tug-of-War team. He reported proudly that they only lost twice.
McBride resident Del Fry, Slim's son, remembers he didn't talk about his time overseas very much. He was a very simple horseman who valued a good horse more than a good house. He worked in camps all around the valley and gained a reputation as an amazing camp cook.
Reportedly, bear grease was his not so secret recipe, and he usually had a beaver tail in his freezer ready to cook.
"He was a pioneer of sorts," said daughter in law Linda Fry. "He worked hard to support those who were working hard to build the Valley."
Although he didn't talk of his time in the service, Slim always had stories to tell. He told of a time the water froze in the tub while he was taking a bath. He had to hop the tub closer to the fire and wait for it to thaw. Another favorite was that during a game of crib, Slim was accused of cheating. He stood, took his 22, and shot the coffee cup out of the hand of his accuser, leaving him holding only the handle.
Slim briefly owned a parcel of land in Croydon, but that was the only time he actually owned property.
"The grass always looked greener on the other side of the fence to me," he said.
After a lifetime of living without creature comforts like electricity, running water and indoor plumbing, Slim lived his final years under a roof he helped erect in Valemount at the Golden Years Lodge. He passed away on November 13, 1996 at the age of 89.