By Andrea Arnold
McBride resident Barry Alexander served Canada for 34 years through time spent in the Army, Air Force and the RCMP.
Alexander started his formal education younger than most. Due to the timing of his birthday and the rules in England at the time, he began school only a month after he turned four years old.
He continued to be a high achiever through school, including after moving to Canada and on to graduation at the age of 16. His dad, a Warrant Officer, pushed him to find a job.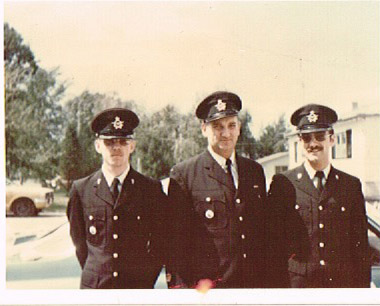 "In Cold Lake there were no jobs available for a kid of 16," said Alexander. "Only dishwashing and pumping gas. Neither of those were a career."
He decided to visit Edmonton where he found the Army Recruitment Office and decided to enlist. However, his experience with the Army was short-lived. Only about five months in, during a training exercise, he, along with 67 of his fellow cadets were hospitalized with serious food poisoning. Following his release from the hospital, Alexander left the army.
His father allowed him to come home with the stipulation that he either return to school or get a job.
"The job situation had not changed," said Alexander. "So I tried to go back to school."
He made arrangements with the principal of the high school and returned to repeat Grade 12. In 1971 at 17 years old, Alexander graduated from high school a second time, this time, at the top of his class.
Following graduation, he hitchhiked back to Edmonton where, this time, he found himself at the Air Force Recruitment Office. There he joined the long list of applicants, many of whom had experienced army food and decided to pursue a career in the Air Force instead.
Alexander was offered a job as an aircraft mechanic. He became a specialized Aero Engine Technician.
In 1976, Alexander was sent to Montreal to work as a mechanic during the Olympics. At any given point during the event there were three of four twin Huey Helicopters in the air, and the ones on the ground needed work.
"I was assigned to work under Major Charlie Leake," said Alexander. "We were on a first name basis. He called me Corporal, and I called him Sir."
Following the Olympics, Alexander travelled across the country, working to repair aircraft where needed, sometimes with only a few moments notice to get ready to leave. He was relocated back to Cold Lake for a tour. By this time his parents had moved and were now stationed in Germany.
After seven years of service, Alexander was promoted to Master Corporal. However, he was also offered the opportunity to return to school on a four year scholarship. Alexander had attended night classes in Toronto while stationed there and had completed his first year of law school. Following the move to Cold Lake, he hadn't been able to continue his studies.
The promotion was held aside as Alexander attended the Royal Military College in Kingston, Ontario. During the four years, as an inactive member of the military, his rank changed to Officer Cadet. He began on an Engineering course but switched directions after his first year showed that theoretical math was not his strong suit.
He completed the four years with a diploma in Political Science, intending to serve with the Military Police. On graduation day, immediately after he was handed his diploma, Alexander was also presented with another promotion, this time to the rank of Lieutenant. He was stationed in Trenton where he oversaw the execution of the Air Security Program for the military. He scheduled Air Marshals and worked to keep the program current. He also scheduled himself into the rotation. This allowed him to travel, while working, all over the world.
In his role as an Air Marshall with a high rank, he was able to orchestrate the return of several cabinet ministers home following an incident of misconduct, such as a bar fight, in other countries.
In his spare time, Alexander competed regularly in handgun competitions. Twice he competed in the Canadian Forces Small Arms Championship. It was through these competitions, Alexander met RCMP Chief Scientist Firearms John Matthews. Matthews tried to recruit Alexander to the RCMP, but the time was not right. However, several years later, Alexander was moved to an office job in Ottawa. It was not long after that he got bored of pushing paper and went to see Matthews.
"I thought I was just there to visit over a coffee," said Alexander. "But Matthews was called away part way through, and another individual came to sit with me and ask all kinds of questions."
After this cycle was repeated several times, and Alexander had been there for several hours, Matthews returned and Alexander realized it had been an interview process.
"A week later I received a job offer, with my rank, seniority and pay grade all transferred straight across. In fact, not long after, I got a raise."
Alexander and his wife moved across the country and settled in Vancouver. Two years later, he earned his Masters in Forensic Science. For 14 years, Alexander served on firearms and tool mark cases. Among many other tasks, he helped match identifying marks such as fingerprints or gun marks on bullets after they have been fired. He was assigned to the northern part of BC and has testified in most court rooms within that area, including the Robson Valley.
When Alexander was nearing his tenth year of RCMP employment, he was offered a job in Nassau, Bahamas. He went down for a couple weeks and helped them solve the murder of a policeman. However, he decided that he would stick with the RCMP and earn his pension.
Alexander's wife was also working in the Lower Mainland, at a bank. About 5-6 years before he retired, Alexander received a call from her. There had been a robbery at the bank, and she had been shot at. Alexander grabbed his keys and responded on his marked motorcycle as fast as he could.
When it came time for him to retire, Alexander researched where the lowest crime rates were. McBride was the lowest at the time for BC. While he was visiting the valley he ran out of gas and was rescued by RCMP officer Pete Berndsen. He left with real estate information, and later that year, in 2004, the couple moved to McBride.
Alexander is very proud of his family's dedication to serving their country. He has been tracing his family tree and has discovered that members of his family have been active in service for over 100 years.