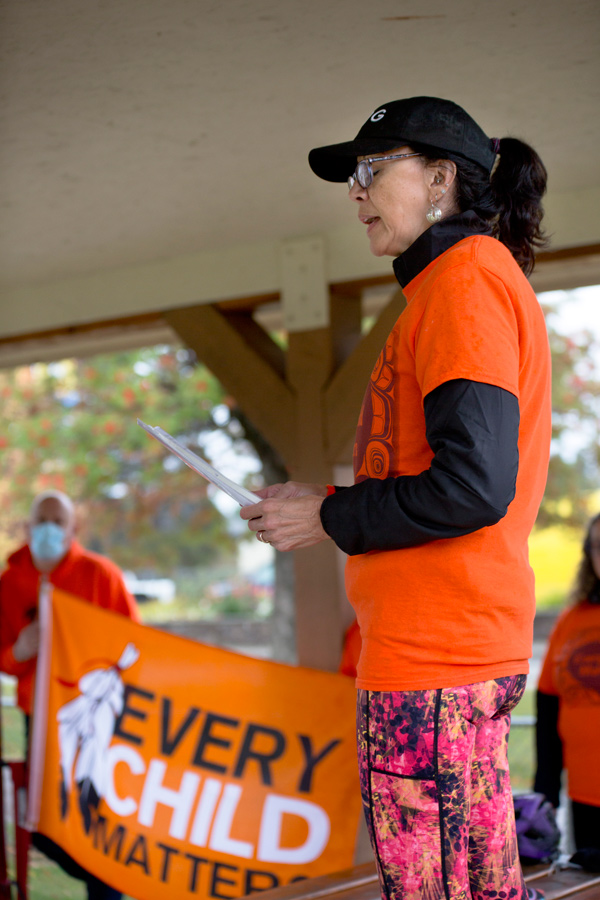 By Sherry Tinsley-Bobke (speech read out at the Valemount ceremony Sept 30th)
Welcome and thank you for being present and showing support on this very first Canadian National Day for Truth and Reconciliation…Orange Shirt Day.
In the 1880's in conjunction with other federal assimilation policies the government began to establish residential schools across Canada.
In 1920 under the Indian Act it became mandatory for every Indigenous child to attend a residential school and illegal for them to attend any other educational institution.
My mother was placed in one of these residential schools.
Where they stole our ancestors…
Our culture…
Our language…
Our way of life.
Imagine your identity being stolen from you. Not the plastic card with a name on it, but rather who you are as a person.
Imagine being punished for speaking the only language you know. For wearing the only clothes you have ever known, for eating the foods you always eat, for wearing your hair a certain way, for praying the way you always pray.
Imagine being kidnapped with a bunch of other kids not knowing why.
Not knowing if they will ever let you go back home.
Imagine hoping every day that your parents would come get you, not knowing that they were unable to.
Imagine being beaten…starved …raped!
Watching the same happen to the other kids and there was nothing you could do about it. Nobody protected you. You cried yourself to sleep many nights …until the sorrow… the sadness… and isolation from your home and family became overwhelming and you no longer cried, you felt numb.
Imagine that mental emotional turmoil. Not being allowed to be who you are.
It is important to teach people the truth of what happened so they can understand the struggles that native people have to face.
This is an ongoing issue…not a past issue.
It has never been acknowledged before and never dealt with.
Trauma lasts a long time but we can begin to stand up for all the truths and respect of the Indigenous native culture the government tried to take away from us.
It is time to reclaim all our Indigenous native customs and beliefs that our ancestors lived by. In honour, love, and respect to all our brothers and sisters who gave their lives for us, we stay strong and respectful to our Indigenous native culture and way of life.
Today September 30 was declared Orange shirt day in recognition of the harm the residential school system did to children's sense of self-esteem and well being and as affirmation of our commitment to ensure that everyone around us matters.
Today September 30 , 2021 marks the first National Day for Truth and Reconciliation.The day honours the lost children and survivors of residential schools, their families and communities.
For Indigenous people it's a day of mourning our family members we have lost and mourning what was taken from those who survived. Despite everything, our people are strong and are still here practicing our culture.
It's time to honour the children and the unrelenting spirit of these ancestors.
It's time for the healing of the Indian Residential School survivors who carried the burden of knowing where these children were buried.
It's time for the healing of the families and communities whose children did not come home.
Help us shine a light on the truth—the pursuit of justice and peace.
BE HEARD.
BE SEEN on behalf of the children.
Mussi Chou