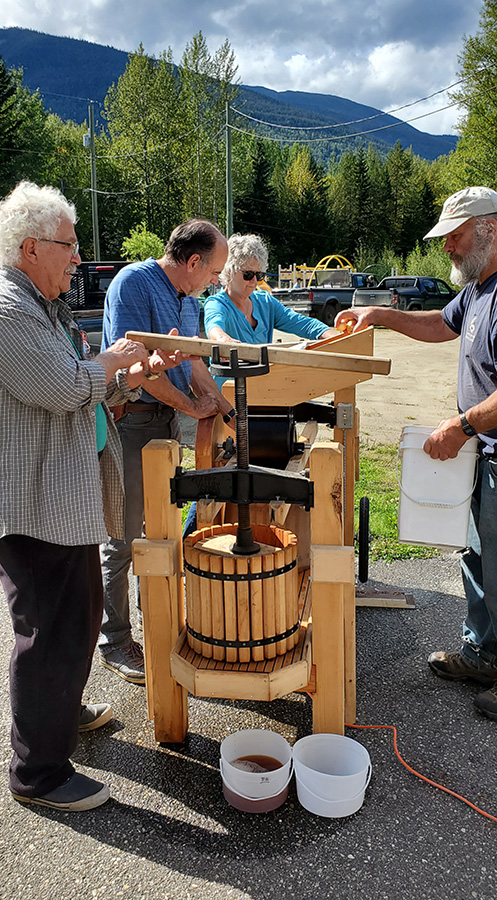 By Andrea Arnold
A small group of valley residents met at the Dunster Schoolhouse on Sunday afternoon to press apples and make apple juice.
This annual event, hosted by the Three Valleys Community Development Cooperative, allows anyone with apples to come for a couple hours of teamwork to produce gallons of fresh apple juice.
The Cooperative was formed 15 years ago and encompasses Dome Creek to Valemount. Pete Amyoony, a founding member, said they had funds they wanted to put toward the purchase of an apple press.
"The price was still too high," said Amyoony. "So we ordered the parts and Dave Salayka put it together."
The first press event was held five years ago. Over the years they have averaged 1000-3000 gallons per season.
"Last year was strange," said Amyoony. "Trees didn't produce like they usually do."
There are many types of apple trees. At the pressing event on September 5, 2021,
approximately 15 different types of apples were processed. Apple trees can grow to heights that require ladders for picking, but Amyoony keeps his orchard selection to the semi-dwarf and dwarf size allowing for easy picking.
Trees can take 7-10 years to reach maturity and full production. Some only produce for 10-20 years and others produce for 200 depending on the variety. There are some trees in the region that are over 100 years old and they continue to produce.
Trees can also bear multiple types of apples as a result of careful grafting. Jeff Corbett has explained the process of grafting to 60 residents in past years.
Amyoony explained the results of his successful grafting attempt: "I have trees with yellow, green and red apples," he said. "There are five or six different kinds on one tree. It looks really strange."
Saturday September 18, 2021 is the next scheduled event. The plan is to host apple pressing events every two weeks until the end of October. A donation of $1 per 5lbs of apples is requested to help cover the maintenance costs of the press. If you want to participate, please sign up by contacting Amyoony at 250-968-4334.