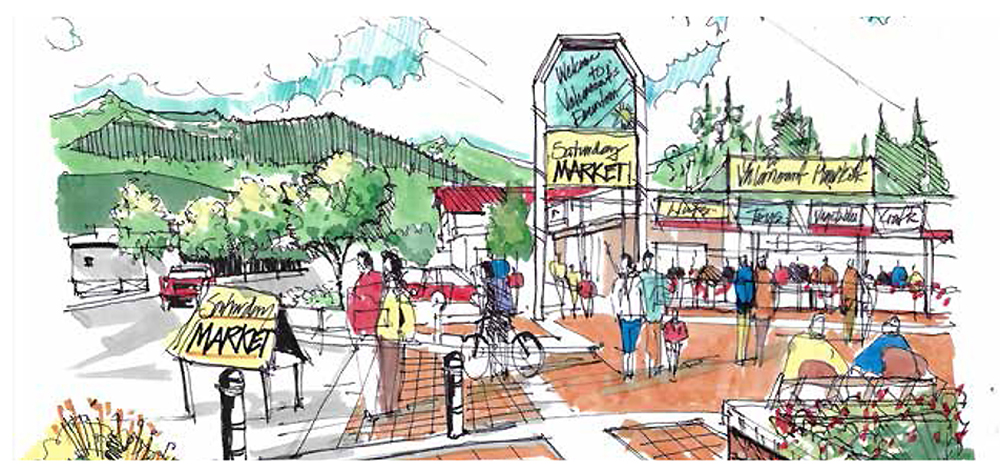 In Part 2 of our coverage of Valemount's new Official Community Plan (OCP), we look at the overarching 14 Big Moves and community-wide land use policies for affordable housing, parks/trails, and transportation/parking. Next week we will look at the OCP's implementation strategy and timelines.
Valemount's official community plan is a 100-page document that outlines the future vision, priorities and laws about land use and Council priorities and was officially adopted by Council at their May 11th meeting.
The new OCP addresses some significanchallenges facing the village including increasingly unaffordable housing, homeowner and development limitations due to out-of-date regulations, limited pedestrian and transportation connectivity, the lack of industrial and employment lands for job creation and economic diversification, flat population growth, minimal development and commercial investments and far-reaching infrastructure with a limited taxation base, which increases property taxes and utility fees per capita over time.
The OCP tackles these issues by increasing flexibility and permissions when it comes to land-use rules. Valemount CAO Wayne Robinson says the policies in the OCP are not yet enacted as bylaws yet—Council still needs to pass the updated Zoning Bylaw before many of these recommendations or policies are permitted. Mayor Owen Torgerson says he expects the Zoning Bylaw to come before Council soon and, given four readings and a public hearing, will likely be finalized within a couple months.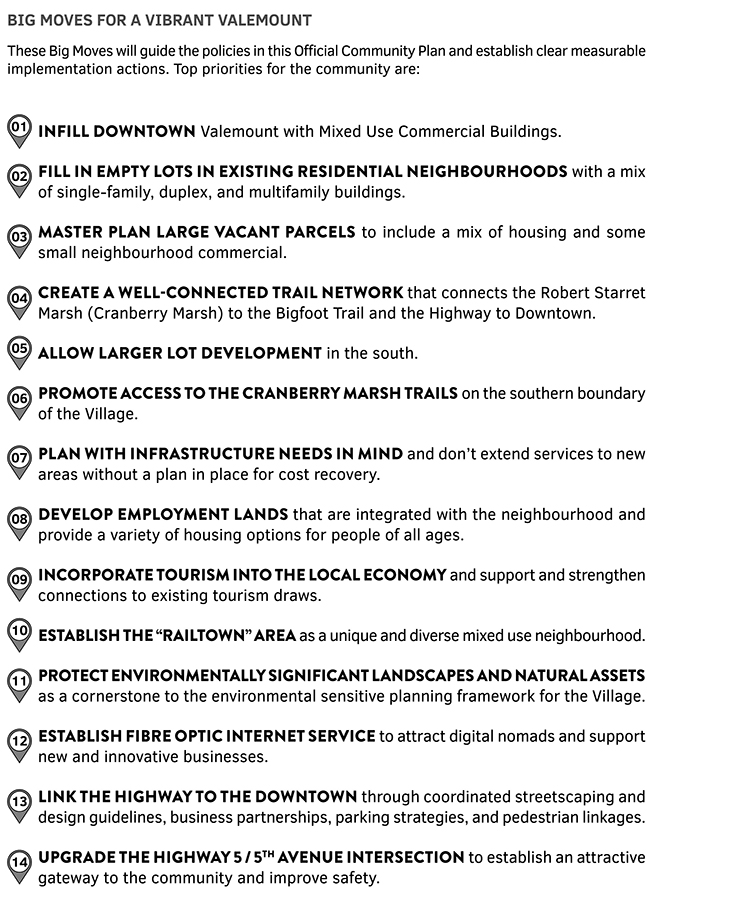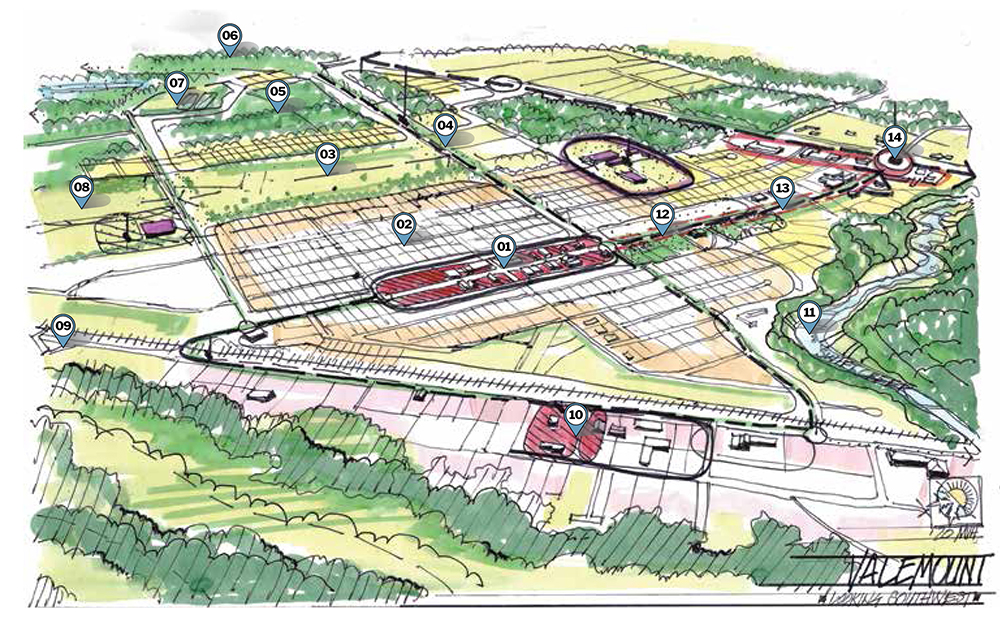 Transportation/Parking
The Village shall complete a Village Centre Parking Strategy to address parking of large vehicles (e.g. RVs, snowmobile trailers) and safety of vehicles, bicycles and pedestrians.
The Parking Strategy should consider the following policies and be guided by Appendix B Long-Term Parking Strategy (see related appendix map above).
a) Designated parking areas for large vehicles and trailers;
b) Time restricted parking areas on 5th Avenue's busiest blocks;
c) Accessible parking stalls that are designed and located in accordance with universal design best practices;
d) Designated employee parking areas;
e) Recommendation on cash-in-lieu of providing parking in the Village Centre;
f) Integration of a way-finding strategy for 5th Avenue;
g) Shuttle options from the highway hotels to downtown for tourists (e.g. golf carts, vehicles, mini-bus, e-bikes);
h) Quality bicycle parking areas that are safe, accessible, and designed for modern styles of bicycles.
Highway Commercial Area:
During the peak of summer travel there are approximately 10,000 vehicles per day passing through Valemount on Highway 5. As tourism is Valemount's top industry, establishing a high-quality gateway to the Village is vital to maintaining and growing the Village's local economy, the OCP says, and recommends that the Village should create a Gateway / Highway Access Management Strategy that outlines the Village's long-term planning, in collaboration with the provincial Ministry of Transportation and Infrastructure (MOTI), for the following:
a) Long-term primary and secondary highway access locations including consideration for round-abouts at primary access locations (e.g. 5th Avenue & 17th Avenue);
b) Welcome / gateway signage to direct the traveling public to downtown
c) Strategy for a multi-modal greenway along Highway 5;
d) Strategy for private signage along Highway 5;
Major big box developments shall be only located on the east side of Highway 5 and limited to 4,645 m2 (50,000 sq.ft.) in floor area.
The OCP says the Village should also continue to create public spaces geared to the traveling public to support them stopping in Valemount (e.g. rest stops, parks, picnic areas, and washroom facilities).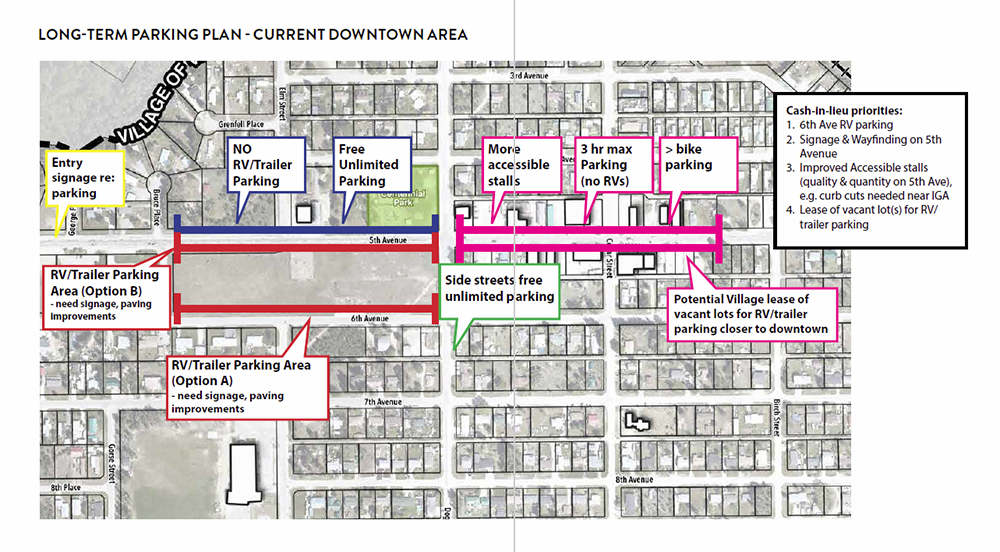 Parks and Greenways
While Valemount is surrounded by forests and rec areas, the OCP notes it's important to have local parks, open spaces, and rec opportunities that can be accessed within the Village by walking, biking or a short drive. These local opportunities for exercise, relaxation, or active transportation help create a complete community for citizens of all ages, it notes. They also take some pressure off destination sites such as the bike park or marsh.
According to the OCP:
Large, undeveloped parcels of land currently provide informal trails and recreational opportunities. Future development on these lands should replace what will be lost by creating a formal network of parks and trails.
The key strategy for the Village is to dream big and create a Marsh to Mountains network of parks, trails, and open spaces. Connecting these two amazing destinations (marsh and mountains) achieves a grand vision through small, incremental improvements. "It is vitally important that every Village resident has an opportunity to walk to a local park or open space or be able to ride or walk safely to their favourite coffee shop or store."
Every residential lot in the Village should be within 400 metres of a public park or similar open space.
All new Master Planned Parcels (1.0 hectare or greater) shall include public park or open space.
All new residential lots within the Urban Service Area shall be within 100 metres of either a primary trail, secondary trail, or paved pathway.
The Village should strive for all existing residential lots within the Urban Service Area to be within 100 metres of either a primary trail, secondary trail, sidewalk, or paved pathway.
The Village should create a looped trail system that connects the George Hicks, Cranberry Marsh, and Bigfoot Trails together.
The Village should enhance north-south connectivity by creating a multi-use trail on Dogwood Street to connect RN-3 to downtown via an off-street trail.
The Village should ensure safe and efficient connectivity to the Bike Park by working with private land-owners to connect the Valemount Bike Park via Hillside Drive and Swift Creek Trail.
The Village should consider additional sidewalk or multi-modal trail connections in the following areas:
a) On Dogwood Street connecting downtown to the Cranberry Marsh
b) From Centennial Park along 5th Avenue to the Bigfoot Trail on the west side of Elm.
c) On the south side of 5th Avenue from west of Dogwood Street to Highway 5.
d) On the north side of Main Street from 5th Avenue to Dogwood Street.
e) Along the east side of Ash Street from the High School to 5th Avenue (Downtown).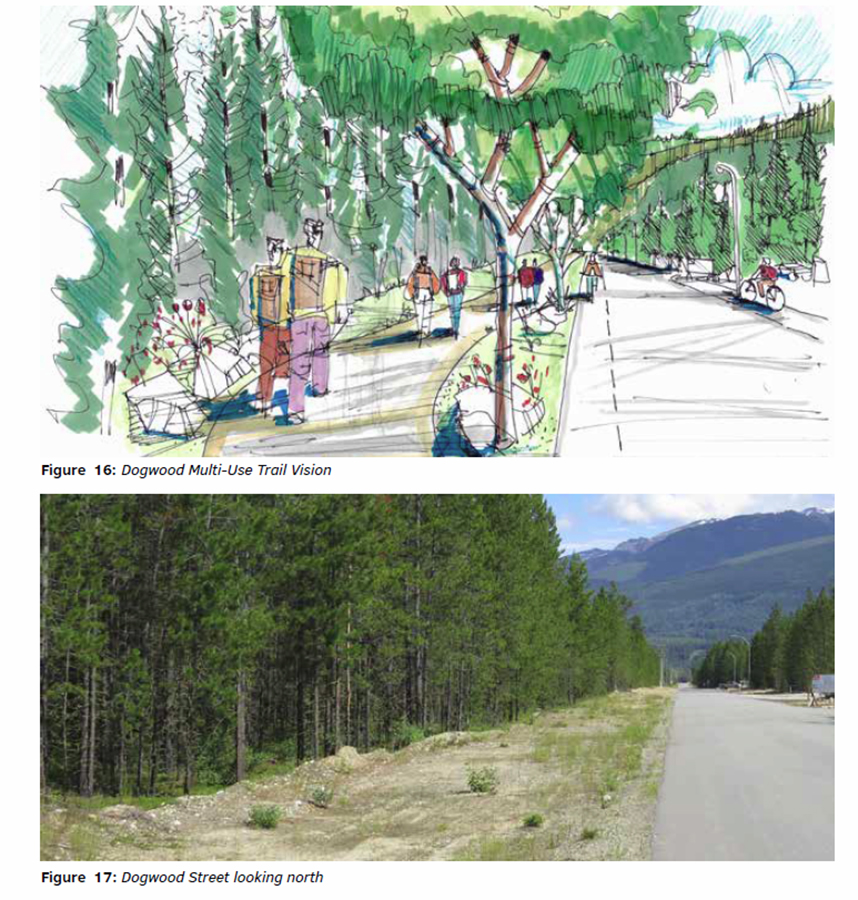 Affordable Housing
A vacant land analysis was conducted for the Village during the OCP process. The major discovery was that approximately 65% of the Village can be considered vacant land. 6.5 % of all land (10% of the vacant land) in the Village is owned by the Village itself, presenting various opportunities.
The OCP notes that the Village is missing out on tax revenue by having vacant properties, as annual tax revenue is much higher with developed lots. A single-family lot with a house on it earns the village more than five times more annual tax revenue than the same property without a house on it, according to the OCP.
The Village must still pay to maintain infrastructure (water, sewer, roads, etc.) to or past vacant properties. Without the tax revenue from developed lots, the rest of the community must cover the costs to maintain existing infrastructure, the OCP says. This often results in budget shortfalls for infrastructure and future tax increases or the further deterioration of infrastructure.
According to the OCP:
If Valemount wants to improve its overall affordability and use land more efficiently to cover the costs of providing infrastructure to residents, it should encourage more compact, mixed use, and mixed density development.
Diversifying the housing stock ensures that there are different types of housing for people throughout their life, allowing them to build community as they age in place.
The OCP says "the Village shall support pilot projects that demonstrate innovative models of affordable housing, such as modular housing and co-housing."
To achieve net financial gain from new growth, the OCP recommends taht development be focused on vacant lands within the Village where existing infrastructure (water, sewer, roads) is already established. The Village has already invested millions of dollars into existing infrastructure, it notes, and throughout the Village there are vacant lands that can be serviced with minimal new infrastructure.
The Village of Valemount Housing Needs and Demands Assessment Report (VHNDAR) (2016) showed that an overabundance of single-family dwellings has contributed to affordable housing challenges for the Village, particularly for single parents and low income earners. The 2016 report estimates that up to 20 per cent of households in Valemount are likely to be currently in need of affordable housing. Housing speculation has led to an increase in seasonal/ recreational home ownership which is estimated to be approximately 20% of the housing stock.
The goal for short-term vacation rentals (STVRs) is to keep them between 5 and 10% of the available housing stock.
The OCP has included several recommendations for improving the diversity of housing stock including allowing laneway homes or garage suites in the RN1 residential area, increasing the number of units allowed above or behind commercial buildings downtown, and allowing denser housing in more locations (duplexes may be built on regular town lots). In the largely-undeveloped RN2 zone, the OCP states that 30 per cent of new homes will be "attached" (ie: duplexes, row houses, townhouses). The OCP also limits the number and the location of short-term vacation rentals in each residential zone.
Interesting facts:
76 per cent of Valemount's population is in single-detached houses, while the 1-2 person households could be served by smaller unit types (duplex, row house, apartment).
28 per cent of houses in Valemount are rental units (140 of 500 total units, as of 2016)