By Laura Keil
---
Roughly 3000 customers between Avola and Dome Creek experienced a prolonged power outage that began March 29th at 3:50pm and didn't end until March 30th at 6pm, the longest outage in recent years.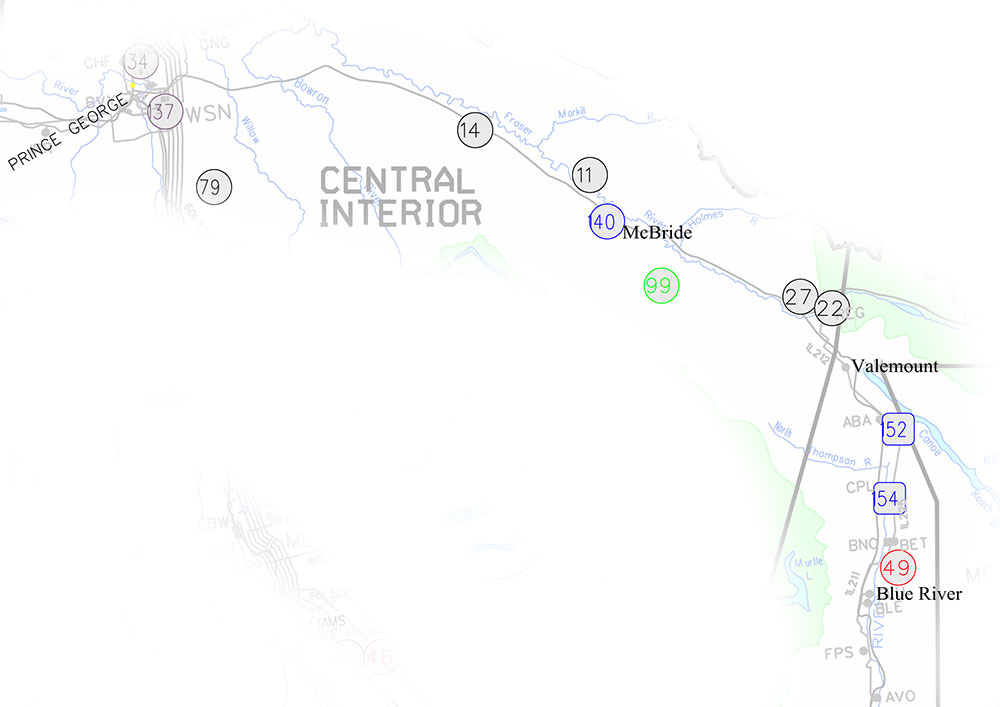 Many customers had power sooner, however, thanks to local run-of-river independent power projects (IPPs) that were able to feed back-up power to much of the Robson Valley.

McBride residents experienced only a brief outage, before the "McBride Island" power system kicked into gear. By Tuesday morning, many customers south of McBride, including parts of Valemount, had back-up power as well.
Electrician and Castle Creek IPP Co-owner John Wheeler—who also does work for BC Hydro—said all the IPPs in the valley contributed what they had for available power. BC Hydro's diesel plant in McBride was the governing control plant.

"As that plant is not big enough to power much more than McBride alone, it was a process of adding a section of load that had an IPP generator in it, and then putting that generator online," he said. They did that in sections to get the valley powered up from Dome Creek to Valemount.

"Unfortunately there was not quite enough power available to get the last couple of sections of Valemount energized," he said. "It is about the lowest flow time of year for the area's creeks so it was good that as many customers were re-energized as there were."

Plants south of Valemount —Serpentine, Clemina and Bone Creek—are not on the 25kv distribution system and therefore can't be used to supply power to the Robson Valley power "island" during outages. Being connected to the Transmission Line, they also had to be shut down because the Transmission Line was under repair.

BC Hydro spokesperson Jen Walker said two mills in McBride voluntarily shut down in order to allow that power to flow south to Valemount.

Blue River was without power for the full 26 hours and ran out of running water, due to the pumps being down.
The outage initially knocked out power to customers from Dome Creek all the way to the edge of Kamloops, a distance of almost 500km, which is fed by a single transmission line. Multiple issues along the line between Clearwater and Kamloops delayed re-booting power for northern residents. It took a helicopter fly-over of the entire stretch to ensure they had pin-pointed the last problem.

BC Hydro spokesperson Jen Walker said there were _ issues on the line that had to be resolved. The final issue—a broken cross-arms on the transmission line near Birch Island—took three hours longer than expected to repair, due to its location.

"Crews (had) only ATV access to the damaged pole and this slowed them down a bit," Walker-Larsen said.
While many homes had access to wood stoves or generators, those without were largely left in the cold, with temperatures dropping to -8 outside overnight and remaining below zero the following morning. Back-up power did not kick in for the first set of Valemount residents until late morning, more than 18 hours after the outage began.

The previous day's COVID-19 restrictions meant no businesses with generators could open their doors to the public.
The Village of Valemount enacted Stage 4 water restrictions, but thanks to back-up power at the Valemount pump stations, the water reserves were able to increase despite the outage, said Valemount Mayor Owen Torgerson.

Many people found themselves without access to cellular data for a period of time during the night of March 29th and morning of March 30th, leaving them with the ability to make phone calls and send text messages but with no access to the internet.

Telus did not respond to the Goat's inquiries by presstime.