By Andrea Arnold

---
The second Amber Light Parade to honour health care workers took place Friday, March 26, 2021.

"March is the one-year anniversary of the pandemic being declared," said Brock Maguire Quality Assurance and Safety Manager for Lake District Maintenance (LDM) Robson. "We felt that this was a good opportunity to again honour our front line healthcare workers."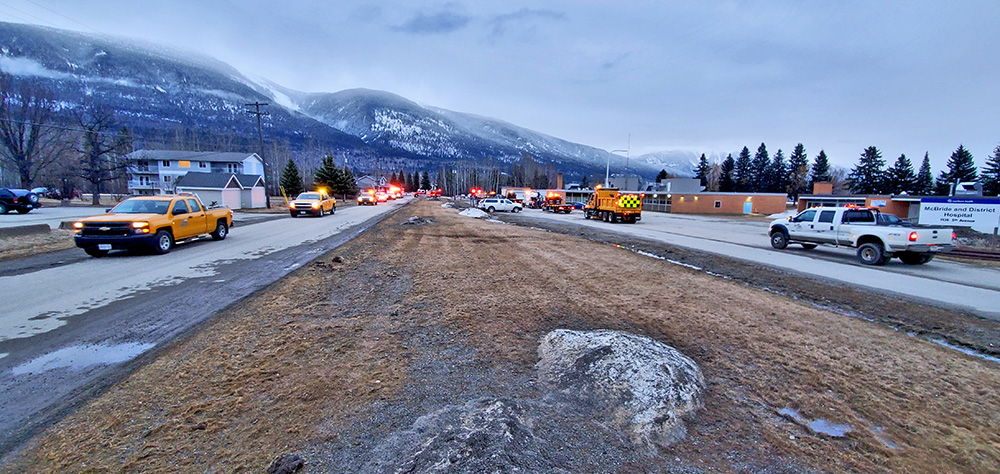 The parade made its way from the McBride LDM yard to the hospital where they circled through the parking lot three times with lights flashing, horns honking, and sirens yelping. This year, 14 vehicles participated, from LDM, Commercial Vehicle Safety and Enforcement, McBride District Fire Department and Rich Boyz Mechanical.

"Health care workers already have a stressful job," said Maguire. "With COVID, they've had more heaped on. We want them to know they are in our hearts and on our minds. This is a small thing we can do to show them."

Rich Boyz owner Joseph Rich said his crew had several reason for wanting to be involved.

"All of us at Rich Boyz have been involved in some form and level of humanitarian support over the years," he said. "We relate to the effort required by our healthcare workers in these tough times we are all living in, and want them to know that we appreciate their service."

McBride District Fire Department Chief Dave Hruby agreed.

"It is a good opportunity for us to show our appreciation to some of the people on the front lines looking after the rest of us," he said.

Laboratory and Medical Imaging Technologist Sheila Anderson watched from the parking lot as the parade made its rounds.

She said everyone is still facing challenges, whether at work or in their personal lives.

"The pandemic goes on and restrictions and regulations seem to be ever-lasting or ever-changing."

She said the Amber Light Tributewas a very moving event for her.

"Having other essential services take time out of their busy lives meant so much as it is comforting to know that we are not forgotten. To everyone who participated in the drive through parade, I want to thank you."