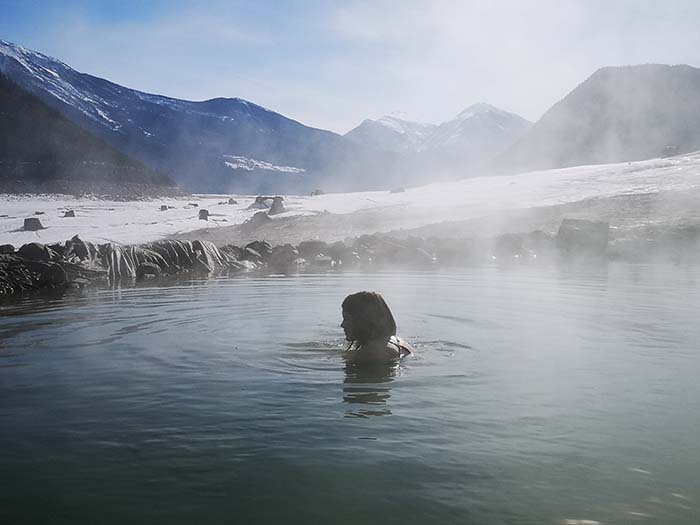 By Andru McCracken
---
A hot spring close to Valemount could soon be uncovered thanks to decreasing levels in the Kinbasket Reservoir, according to BC Hydro's weekly reservoir report.
An April 1st report forecast the reservoir level to be 720.6 m on April 3 and down to 719.5 m on April 10. Another forecast April 9th said the water was forecasted to drop down to 718.4 by April 17th.
The forecast is just that, a forecast and the levels are not set in stone.
A large geothermally-heated pool sits at about 719m above sea level, in a hard to find location roughly 26km down the west side of Kinbasket Lake. The best way to find the hot springs is to tag along with a local, and be prepared for a good hike over rough ground. Several mud slides were reportedly blocking the road as of last weekend.
The verdant natural hot springs was a hidden natural wonder prior to the construction of the Mica Dam and the flooding of the Kinbasket Reservoir in 1973. Historic photos of the area show a lush landscape and a steaming homemade cedar tub. According to local lore, the temperatures were too hot to bear and the water had to be diluted by a nearby stream to cool it off.
Now, when the springs aren't completely submerged, they exist against a stark moonscape, devoid of plantlife, which refuses to grow in the ever-changing conditions. The decaying stumps of once-massive cedars are one of the clues to how things were before.
Death by two nations
The area's fate was sealed when Canada and the United States signed the Columbia River Treaty in 1961. The object was to prevent flooding in increasingly populated areas downstream. A terrible flood in 1948 claimed 30 lives and caused millions in damages. The Treaty has been a financial boon to British Columbia. Millions have been paid to the Province by the US to tame the flows of the river, and the nations cooperate and time the release of water to maximize the amount of power and money they generate.
The level of Kinbasket Reservoir is modulated by the action of the Mica Dam, 100 km away from the Reservoir's northern edge near Valemount. The dam stands at 244m tall and produces about 2805 MW of power. The level of the reservoir rises and falls in relationship to rainfall and also the demand for power.