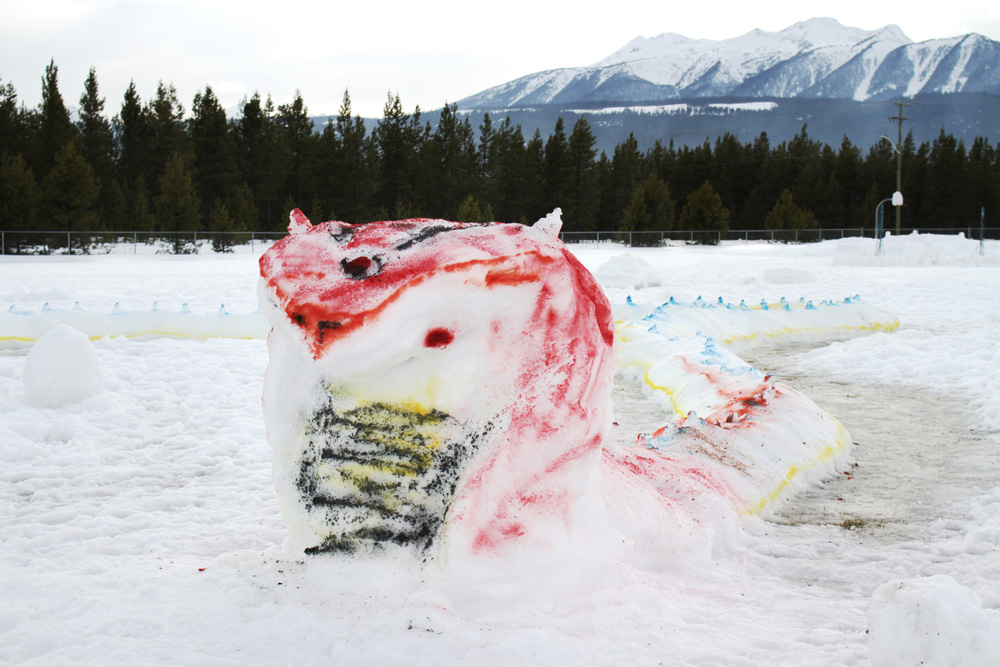 By Laura Keil
---
Valemount high school students got to play with alligators, cobras and castles last week—of the snow variety.
Principal Derrick Shaw said he was keen to get students outside after what has felt like a very long winter. He said zoom sessions don't replace the face-to-face interactions and activities that usually help break up the year.
"Field trips, sports teams—none of that is happening. So it all adds up to a lot of stress and anxiety. I can definitely see it in our kids."
Even though everyone can be in the building, the school isn't allowed to congregate together inside under current COVID-19 regulations.
"I thought we need to get exercise, we need to get some sunshine, and have a little bit of fun," Shaw said. "I looked at the forecast and Thursday was supposed to be beautiful. So I just told the teachers, whatever you've got planned for Thursday afternoon, shelve it. We're gonna go outside and have a little bit of a fun competition."
Students rose to the challenge creating some truly awe-inspiring creations that towered, slithered, meandered or sprawled across the high school field. The finishing touch on many designs was coloured spray paint.
"It was absolutely amazing," Shaw said. "Kids were together problem solving and actively working together to build a vision of what they were going to do."
"That's exactly what we all needed. And the kids all had fun," he said. "Hopefully we can figure out additional things to get outside."
In order of appearance (see photos below list):
1 – Stegasaurus creature (Gr. 12s)
2 – Pingu the Penguin (cartoon character) (Gr. 10s)
3 – A rose on the way into the "village" (Gr. 11s)
4 – Igloo (Gr. 10s)
5 – model village based on Valemount (Gr. 11s)
6 – cars (and turtles – not visible in photo) (Gr. 9s)
7 – castle with moat and alligators (Gr. 8s)