By Andru McCracken
---
Council held their regularly scheduled meeting on February 9, and a special council meeting on February 12.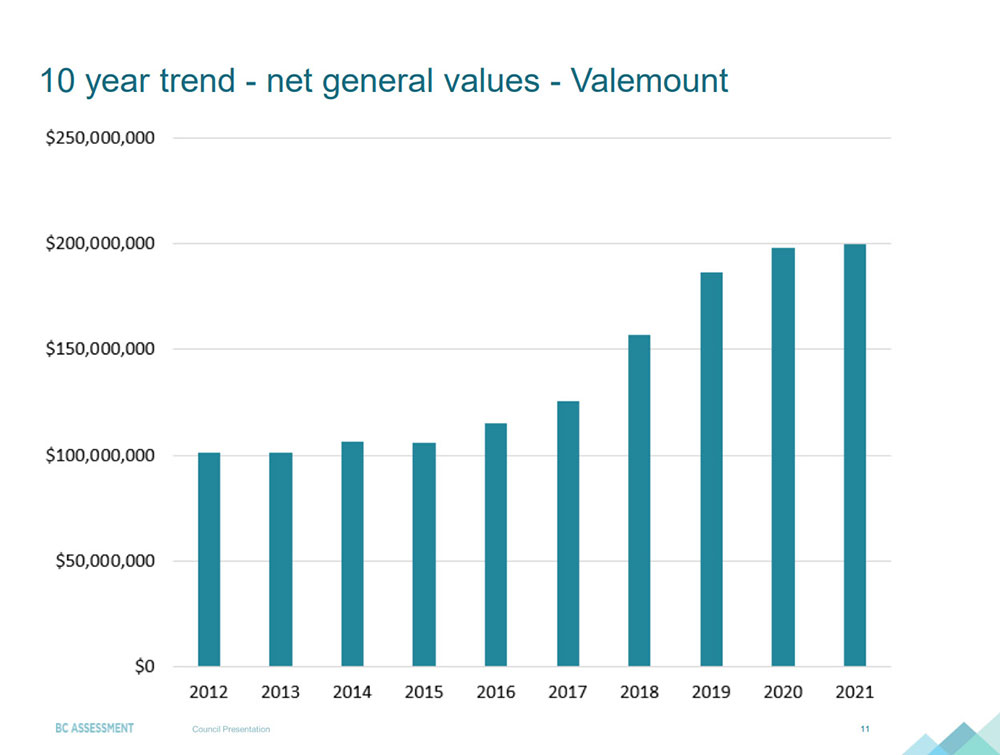 Assessment value doubles in 10
Council began with a presentation by Darin Johnson from BC Assessment on this year's property assessments. Over the last ten years the total value of Valemount's real estate, including new builds, residential and commercial, has doubled from $100,000,000 to $200,000,000. See our story in next week's edition.
COVID Restart money deployed
Council approved the use of about $364,000 worth of funding from the provincial COVID restart grant.
The funding will be used to acquire a permanent generator to run an Emergency Operations Centre.
$100,000 will be used to build a new public washroom at Centennial Park (if another grant is not approved).
They will provide $62,500 to the Columbia Basin Trust's Universal Broadband Fund 5% of the forecasted infrastructure costs to leverage the established wholesale internet backbone infrastructure and to extend last-mile services to underserved areas.
$15,000 will go to reopening and sanitization of the visitor information centre and its public bathrooms in a COVID friendly manner. "This will allow staff to interact with travelers and encourage them to stay in the community and visit local businesses." – staff report.
$18,000 will be used for Janitorial Costs to be compliant with Worksafe BC at all municipal buildings. "The Village is unable to recover these costs from users/renters as contracts have already been set or the additional increase in fees would deter use." – staff report.
The funding includes $2500 for an enhanced microphone system for the council chambers.
"As we encourage residents to join council meetings virtually, it is required that the
sound system be enhanced for better listening capabilities." – staff report.
Council approved $20,000 for new laptops and software.
"As more employees are encouraged to work from home, it is imperative that they are equipped with technology that is compatible to those in the office." – staff report.
Council approved $18000 for portable electronic sign boards "to provide current information to
both residents and visitors at areas throughout the community as needed."
And $26,000 for a stationary LED board.
There is another $137,000 in the Safe Covid Restart program.
Mayor Owen Torgerson said that the remaining money may be needed later.
Getting connected
Council entered into a Memorandum of Understanding with the Southeastern BC Regional Connectivity Committee. Their mission is: "World class connectivity throughout Southeastern BC that enables sustainable livelihoods and quality of life for our residents; and resilient, prosperous communities."
Childcare construction
Council directed the Chief Administrator Officer to enter into a partnering agreement with the Robson Valley Community Services for the construction of a new childcare centre at 1451 5th Ave. Council also agreed to enter into an agreement with the Ministry of Children and Family Development Child Care Capital Funding Program.
Childcare zone
Council adopted a zoning amendment bylaw allowing site specific commercial daycare at 1451 5th Ave.
Council gave their verbal reports.
In Camera
Council then proceeded in camera to deal with two items: relating to labour relations and receipt of advice subject to solicitor-client privilege.