By Fran Yanor
---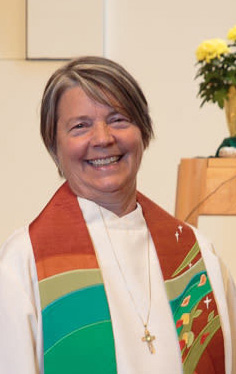 The Goat recently sat down—via internet—for a Q and A with Rev. Kim McNaughton, United Church Diaconal Minister from the Robson Valley Shared Ministry, to learn how she and her parishioners have kept connected during COVID-19 times and what keeping the faith in a pandemic has taught them.
How have you changed how you've reached out/kept in touch with congregants during the pandemic?
The biggest change has been not being able to visit people in their homes/residences, particularly seniors. We have written more letters, emails, and had phone call visits—parishioner-to-parishioner, and between myself and congregants. Certainly, the internet has been a blessing.
What are the challenges you've encountered trying to keep people connected?
One challenge, is how tired people are of screen time. Many are being inundated with emails, online worship and prayer opportunities, Zoom invitations.
The other obvious challenge is that we have members of our faith family who are not online or do not use computers.
Have any interesting innovations sprung up?
Absolutely. Thanks to Michael and Valemount Community TV, in April 2020 we were able to televise and have our services on the internet. Our online worship "congregation" went from averaging 15 people per week, to 60 people. We found out how technology can keep us connected and expand our circle. The most important information for us has been that online worship and our faith community are more accessible to people when online.
The pandemic has made us more willing to try new technology. Although we've faced a challenging learning curve, we've learned to use the internet to our advantage and been able to carry on as usual with church board meetings, worship services, prayer groups, and bible study group.
How have your parishioners fared under COVID-19?
Parishioners have, for the most part, kept their spirits up and held out hope for others. The Christian faith is all about hope and offering compassion to others. It is about new life when we least expect it and not giving up, even in the face of isolation, illness, and death. It is trusting in the Divine who is always loving with us. So, our faith has helped us in this COVID time.
We have found ways to keep serving our wider community as we look after our own faith community. We have created phone trees and mail outs to stay in touch. We've cooked and delivered meals. We have worked safely at keeping our thrift sales going, when safe to do so.
Not to say that it hasn't been difficult, especially for those who live alone and who do not have family close by, or are not connected to the internet. We miss each other, we miss being together. It is the small, everyday conversations we miss and that help us stay connected, the conversations that happen before church, or after, at our coffee hour.
What is your message to your members who are anxious or upset about the public health orders or their own futures related to the pandemic?
My message would be simply this: God is with us, we are not alone. Reach out by telephone to me, or another faith family member, if you want someone to talk to, to pray with, to sit in silence together. We are here for each other even as we keep distancing and work to stay safe and healthy.
What is your view of the public health orders?
We all know this is a complicated, unusual time and that everyone is tired, sad, frustrated, and often discouraged. My view is that we follow public health orders and that we dig deep in order to be graceful and thankful.

"All are invited to join this community of faith. All are welcome, and we hope, feel included," McNaughton said. "We are a community seeking connection and meaning through faithful living and we are thankful that COVID-19 has not changed that about us!"
Call Rev. Kim McNaughton at 250-968-4467 to connect.
Answers have been edited for clarity and brevity