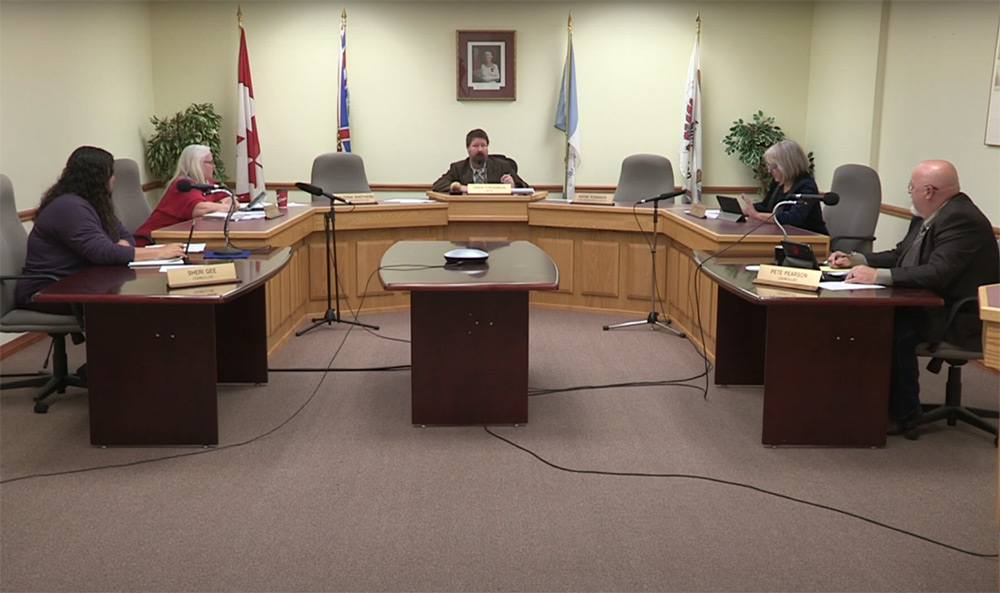 By Andru McCracken
---
Council proceedings on October 13 began with a public hearing on the rezoning of 1300 2nd Avenue, currently known as the Swift Creek Motel from central business to high density residential. There were no comments from the public or questions from council. For more on the matter see "Swift Creek Motel" section in this story.
The regular council meeting was then called to order by Mayor Owen Torgerson.
Public comments
Rashmi Narayan spoke to the rezoning of Ash Street.
"I want to say thank you to the village staff that brought this along so quickly, Megan especially."
Chamber member Tony Bielec made a presentation to council regarding the pandemic asking the village to cut back all unnecessary spending in a bid to lower the tax burden on businesses. Seniors programs
Council offered a letter of support to Robson Valley Community Services for a seniors outreach program. See related story.
Radon results
The Village of Valemount received overall results from the Take Action on Radon program. Council directed staff to look for grant funding opportunities for homes that have high levels of radon.
He said some residents may be on a fixed income and could use help mitigating radon in their homes.
2020 tax payment
Council received a report outlining the amount of taxes paid and what was still owing. Interestingly, there is less outstanding this year than there was at this time last year.
"It's nice to see the numbers aren't quite as bad as everybody was anticipating," said Pearson.
Council received the building inspectors report and accounts payable.
Council found that there are less taxes owing at this time then there were in 2018 and 2019.
New equipment
Council awarded contracts for three pieces of equipment:
A sand and salt spreader attachment for $8758.
A 2019 backhoe loader for $136,666 (with trade in of the other unit).
A trackless 51" boom flail attachment for $37,240
Ski hill bridge
Council submitted a grant application for the Community Economic Recovery Infrastructure Program for a forestry bridge which would facilitate access to a planned community ski hill near the Airport.
Facade program
Council applied for the Business Facade Improvement Program to NDIT for $20,000.
Wood Stove Exchange Program
Council updated the program to include exchanges on certified wood stoves to alternative heating options.
The exchange program will also be open to include replacements of uncertified wood appliances used as a secondary heat source.
Bylaw
Council received a report from Bylaw enforcement services.
Bike storage at the Best Western
Council agreed to provide a variance to allow the Best Western to use a seacan for bike storage for hotel guests.
Ministry of Family and Child Development New Spaces Fund
Council voted to have a lawyer to draft an agreement between the village and Robson Valley Community Services.
"It's critical we have a bullet proof agreement to protect the village," said Pearson.
The agreement should address concerns about the village being liable for costs arising from the project on 5th Avenue.
Lease Truck
Council approved the Village purchasing a 2020 Regular Cab 1500 4×4 pick up.
Swift Creek Motel
Council changed the Zoning and Official Community Plan to change the Swift Creek Motel from commercial to residential.
"This property has been a family owned and operated motel for over 20 years. The current owners are now looking to sell, and the prospective buyer would like to rezone the property to high density Residential," said a report from Planner Megan Vincente. "The subject properties are surrounded by residential use, so from a long term land use planning perspective, this zoning and OCP amendment works well with the adjacent properties and uses."
The planner noted that this will bring more long-term rentals to the village.
"There is a lack of housing and rental options in Valemount, identified in the Valemount Housing Needs & Demands Assessment Report, 2016, as well as in two surveys that have been conducted in the last 18 months, by both the Village of Valemount Housing Committee, and the Seniors Housing Committee. The addition of 12 relatively affordable, long term rental units will have a significant, positive impact on our community."
Permissive Tax Exemptions
Council gave three readings to a Permissive Tax Exemption Bylaw. Clubs and societies that own property were given a 10% exemption. See related story P2.
Ash Street zoning and OCP change
Council gave two readings to change the OCP and zoning of village-owned property on Ash Street to accommodate a proposed Seniors complex. A public hearing will be forthcoming.
Procedure Bylaw
Council gave first and second reading to a procedure bylaw aimed at maintaining transparency while following COVID-19 protocols.