Many B.C. residents plan to vote against, rather than for, a party; Race tighter in North; Horgan deemed best leader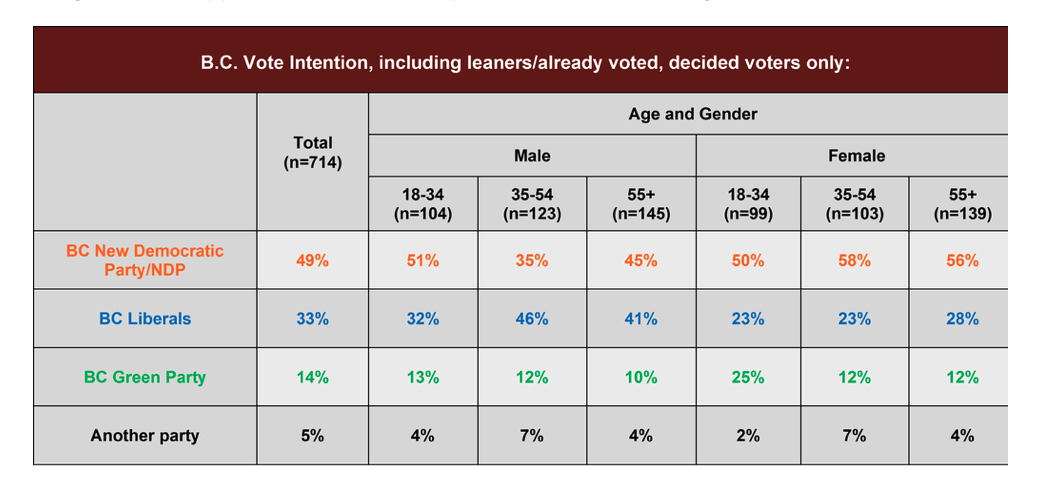 By Fran Yanor / Legislative Reporter
---
The polls are flying fast and furious leading up to election day and according to a recent one, 67 per cent of those who intend to vote Liberal in the upcoming B.C. election won't be voting for the party so much as against the alternatives.
Among those who intend to vote NDP, 42 per cent said they were doing so out of dissatisfaction with other options, with 45 per cent of those voting BC Green for similar reasons.
"Overall, half of residents say they are ultimately voting for one party because they dislike the others more, not because they are overly drawn to their chosen party," reported the latest Angus Reid poll.
The poll, conducted following the election's only televised leaders debate on Oct. 15, revealed 49 per cent of decided voters provincewide intend to vote for the NDP, with 33 per cent saying they'll vote for the Liberals, and 14 per cent for the BC Greens.
NDP Leader John Horgan was rated as having performed the best in the debate by 29 per cent of viewers, followed by Furstenau at 23 per cent and BC Liberal Leader Andrew Wilkinson with 15 per cent.
Leader appeal
When asked how appealing each of the leaders were regardless of party affiliation, Horgan led the pack again with 54 per cent saying he was very or quite appealing, versus 46 per cent saying Furstenau was appealing and 24 per cent saying the same for Wilkinson.
Whereas the appeal of Horgan and Wilkinson increased slightly following the debate, Furstenau's appeal nearly doubled. She was also the only leader who had more viewers say their opinion of her improved rather than decreased following the debate.
Despite her perceived strong public showing and subsequent upshot in appeal, the Greens so far have not transformed her momentum into more party votes.
"Just 14 per cent say they will vote for her party, unchanged from before the debate," stated the Angus-Reid post-debate analysis.
Also interesting was the percentage of British Columbians who found each of the leaders not appealing. In this unenviable category, Wilkinson led the leaders at 69 per cent, compared to 41 per cent who found each Horgan and Furstenau unappealing.
In an Ipsos poll released two days before the debate, 52 per cent of decided voters favoured the NDP, versus 34 per cent the Liberals and 11 per cent for the BC Greens.
The top issues were COVID-19, cost of living, jobs and the economy, housing affordability and health care.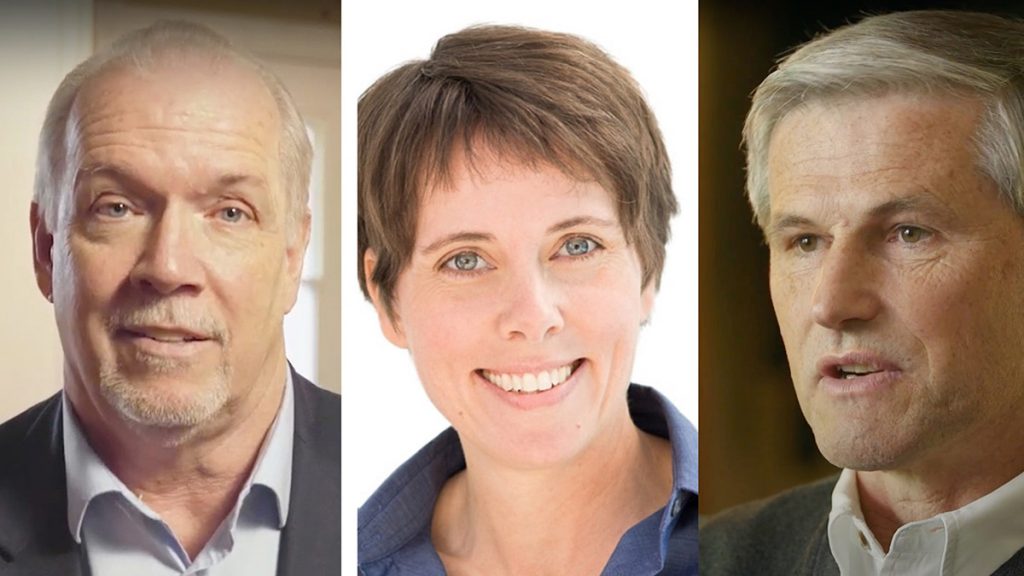 Race may be closer in North
Geographically, the polling was broken down to regions: Metro Vancouver, Fraser Valley, Vancouver Island, Southern BC and Northern BC.
According to the Ipsos poll, the NDP were leading by a thread in Northern BC, comprised of several ridings, at 44 per cent compared to 42 per cent support for the Liberals. The Greens polled best at 17 per cent on Vancouver Island.
Horgan was rated the best choice for premier by 45 per cent, versus Wilkinson at 16 per cent and Furstenau at six per cent.
In a much smaller sample size of slightly less than 700 people, an online survey conducted in early October by Business in Vancouver showed 50 per cent of decided voters in Northern BC would vote Liberal, 41 per cent NDP, three per cent for the Greens, and three per cent for 'other' candidates.
Among northern residents (loosely defined as northern B.C.), the party's ideas and policy were the most important factors in deciding how to vote, followed by the party leader, a desire for stability, and the local candidate.
The Greens picked up the most support due to "disgust with other contending candidates."
Twice as many British Columbians (48 per cent) thought John Horgan was better suited to handle health care than former doctor Andrew Wilkinson (24 per cent), with eight per cent choosing Sonia Furstenau.
In the North, Horgan was rated best able to handle health care; Wilkinson was seen second most capable, and a whopping 35 per cent of those polled were unsure who would be best.
Northerners most confident in Horgan
Horgan garnered the most confidence from Northern voters in almost every category: jobs and the economy, education, crime and public safety, and housing/poverty/homelessness.
On the environment, British Columbians were more confident in Furstenau (followed by Horgan and a distant Wilkinson), while Northerners placed Horgan as best suited to handle the environment (followed closely by Furstenau).
On the energy file, Horgan garnered the most confidence from British Columbians, while Northerners had equal confidence in Wilkinson and Horgan.
On matters related to COVID-19, Horgan belted it out of the park, with more than double the confidence of people province-wide and in the North, compared to the Liberal leader.
Fran Yanor / Local Journalism Initiative / [email protected]