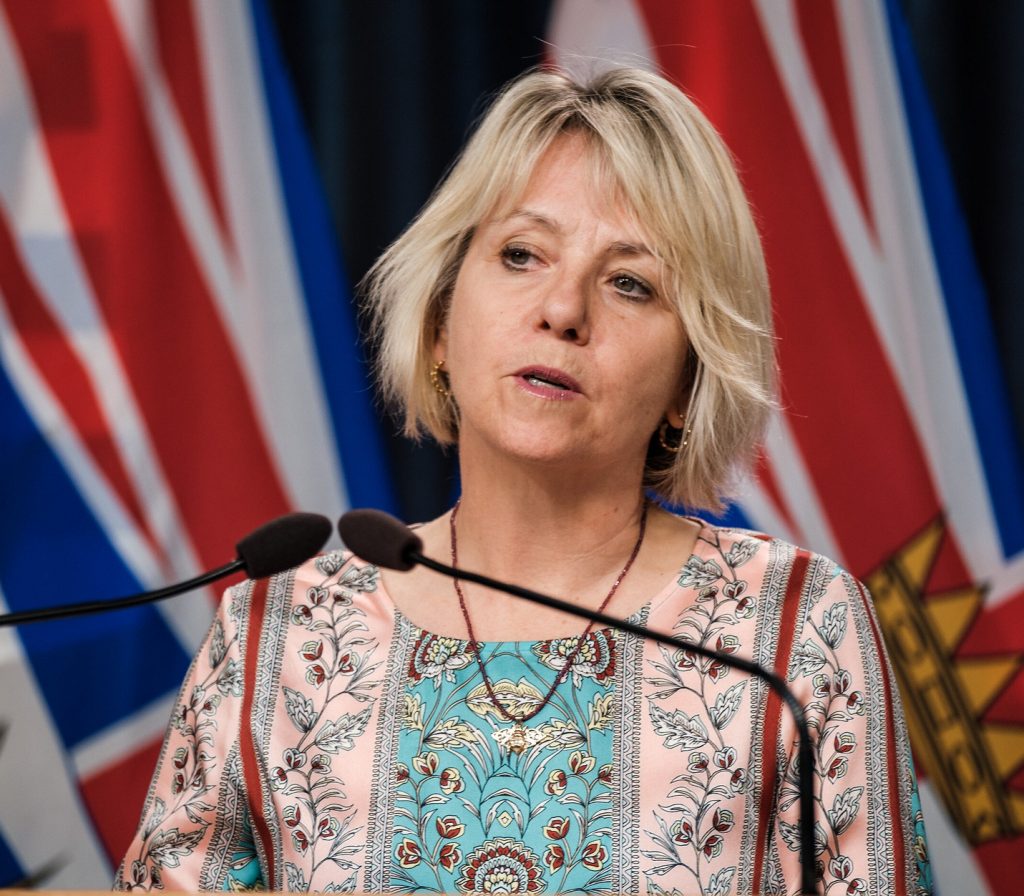 By Fran Yanor / Legislative Reporter
After a summer spike of COVID-19 cases throughout the province, one Northern family suffered a 'tragic death' this weekend when a woman in her 70s became the first person in the region to die of the disease.
"Our thoughts and condolences go to the families and communities and the people who care for these loved ones who they have lost under these most difficult circumstances," said Provincial Health Officer Dr. Bonnie Henry on Sept. 14. Visibly moved, Henry revealing that six British Columbians in all had died during the last three day reporting period.
According to Henry, the Northern woman died in hospital after contracting the virus at a community event, but out of respect for the woman's family, wouldn't reveal the event or what community the woman resided in.
As of Sept. 14, the total number of people diagnosed with the disease in Northern Health was 216. Of those, 184 were recovered and 31 were active, including seven people in hospital, with three in ICU. From July 1 through mid-September, COVID-19 cases increased 60 per cent provincially and 70 per cent in the North, where cases doubled in the past month alone. Adults between 20 and 39 years old accounted for the largest portion of new diagnoses.
Part of the increase was attributed to the summer testing strategy which encouraged everyone with symptoms to get tested, versus testing in the spring which targeted high-risk individuals, such as health care workers, and urged all others with mild or moderate symptoms not to seek testing and to, instead, self-isolate at home.
Last week, the Province revealed its intention to ramp up province-wide testing to a capacity of 20,000 testing a day. On Sept 11, Northern Health reported its highest daily test count so far in the pandemic when 290 people were tested, while the province also registered a daily high, administering 6,535 tests. Previously, testing in B.C. hovered around 3,000 to 5,000 tests a day, and there were often less than 100 tests conducted daily in Northern Health.
Around that time, contact tracing had accelerated to record levels too, according to data from Northern Health and the B.C. Centre for Disease Control.
For instance, as of Sept. 11, there were 28 active cases and 130 people being monitored by Northern Health officials.
"That doesn't seem like a lot in many communities," said Public Health Officer Dr. Bonnie Henry the previous day. "But we know the North is stretched, and the resources we have in public health to follow up with everybody is being stretched."
A large portion of the late-August and September diagnoses and hospitalizations related to people who had attended an evangelical gathering a month earlier in Alberta, a community exposure in the Prespatou area, and a scattering of other cases and clusters across the region unrelated to the publicized exposures.
"There are a couple of clusters and exposure events that happened in various areas in the north," Henry said at a Sept. 10 briefing. "We're watching that very carefully."
One of the important indicators also watched by public health is length of hospitalization stay and turnover of people admitted.
"The number has creeped up. But it's been different people," said Henry. "So there's been people admitted and gone home, then new people coming in for periods of time."
A big challenge is just having more virus transmissions generally. With more cases, more people become ill and transmission naturally spills over into long-term care homes, workplaces, and contacts with older family members and people in the community, said Henry.
"We need to take a step back and reset," Henry said, "and make sure that we're ready for the fall, and that we're doing those things that we know work to protect our seniors and our elders."
Fran Yanor / Local Journalism Initiative / [email protected]