By Andru McCracken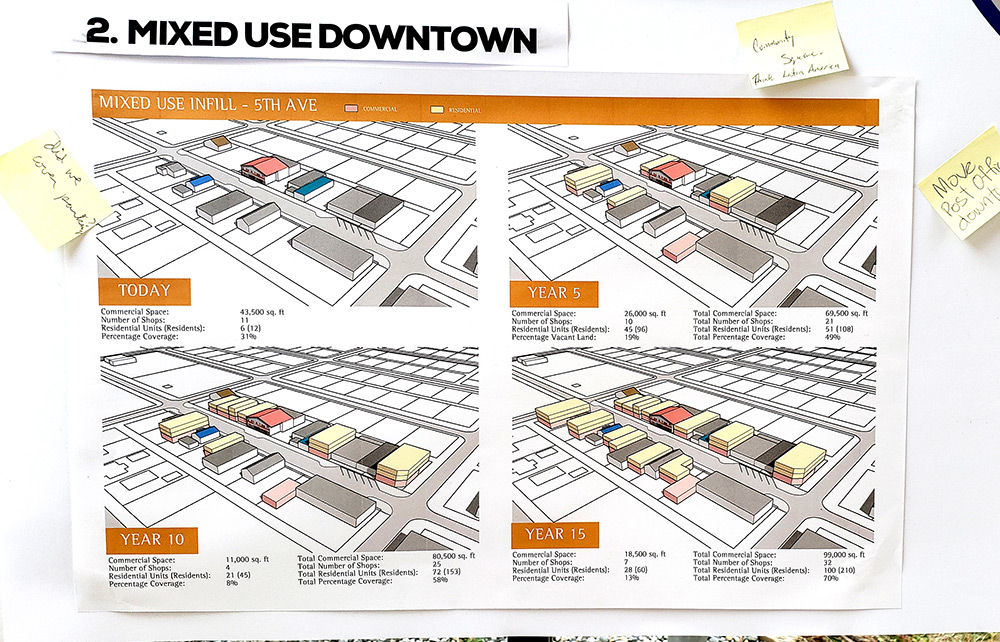 A more vital core, infilling vacant residential and commercial lots, creating a sense of connectedness and community, spurring the development of housing stock and growing the local tax base… according to the planners tasked with reviewing and renewing Valemount's Official Community Plan, the village has plenty of opportunity to encourage these things, if they choose to.
Planners laid out strategies to build up Valemount's downtown core on 5th Avenue between Dogwood and Birch, showed possibilities for village-owned vacant land next to the high school (some of which is slated for a seniors' residence), and tested some ideas for connecting the community and encouraging walking and biking.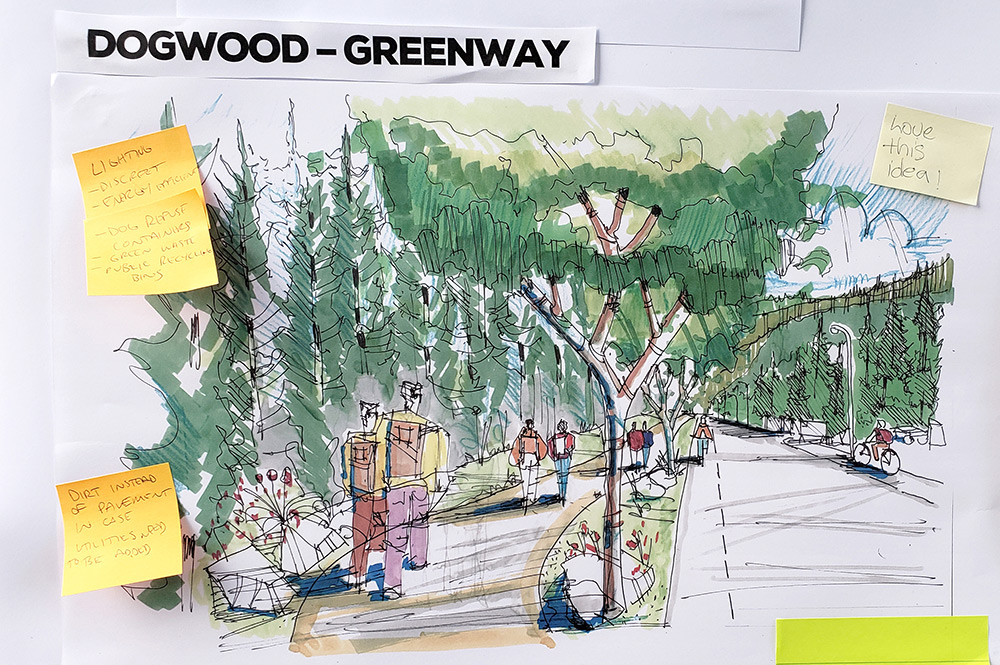 "We use this analogy of cooking," said lead planner Michael Von Hausen. "We're selecting the ingredients, we shake them up, add a bit of spice and see if this is too hot, too cold or just right."
From the community, the main themes the planners have heard so far are keeping the village feel, adding housing diversity and affordability, making the community more connected through trails, encouraging a vibrant economy and local job creation and securing essential goods and services.
"We truly engaged with the community," said Von Hausen. "And we're really listening, that's why we're probing now. We're coming back in October or November with a draft."
Von Hausen said he lived in Whistler for a number of years and watched it change from a small community to an essentially urban environment. He believes Valemount can choose to keep the things that make it an awesome place and let go of what is holding it back.
"When I'm planning a weekend, I want to actually go to a community of common values," he said.
By what power?
While it is generally agreed that the Village of Valemount shouldn't become a developer, there are things it can do to get development started according to Fraser Blyth, an urban designer based in Revelstoke.
"There are things you can control, as a resident, as a community, or as a local government," said Fraser Blyth. "You can set the table."
Blyth showed a mock-up of different styles of residences next to the high school on village-owned land, including a senior's home and tons of housing.
Developing a plan is one way the village can encourage that kind of growth.
"It's not to say it's going to happen like this, it's just a possibility," said Fraser.
He's watched opportunities to influence community growth in his own hometown pass by.
"I can speak from watching Revelstoke grow over the last 12 years, probably providing a good example of what not to do," he said. "We didn't build any affordable housing, we didn't plan for anything."
Von Hausen said that the Village is in a great position to set the course for the future.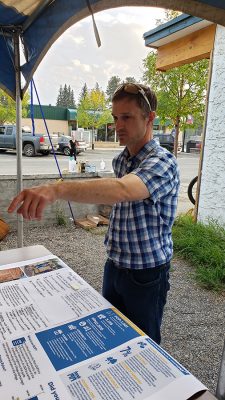 "It's a very unique village and it hasn't been overrun yet … sometimes when there is stagnation it is a great opportunity to plan for the future … The best, most successful communities have a clear vision of what they want to be," said von Hausen. "Sometimes you have to ask yourself, what we don't want to be."
Jonathan Schmidt, an Okotoks-based planner and part of the OCP review team said that a lot of their work focuses on where development will happen and where it might be incentivized.
"It's our hope that at the end of this process council and the community have this mutually agreeable guidebook that is going to guide future decision making in the village," said Schmidt.
The plan is in its early stages and there is still an opportunity to comment on the direction you think the village should go in a what the planners call a Community Circles Kit: OCP and Zoning Update. Contact the village to get yours.
You can also find the kit here: tinyurl.com/circlevalemount