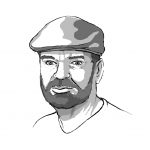 By Andru McCracken, EDITOR,
---
A good letter from a resident sent council into a tizzy at their last council meeting. It was as if the councillors had suddenly realized they weren't dressed in their finest clothes, but were, in fact, naked.
In the letter, a resident asked council to reconsider two expensive measures: the purchase of a newer backhoe and hiring a new employee.
The resident is knowledgeable and his letter was more than fair. It came from a good place and the message was simple: be prudent because COVID-19 will have an unprecedented impact.
The decision to go ahead with the purchase and the new employee appears indulgent. It's not a good look at a time when everybody else is tightening their belts. But residents don't manage the water plant. Residents don't look after the sewer and the complex set of aging systems that gets sewage and water across town. Most residents don't know all the buildings, control systems, pipes, roads or what infrastructure is required for Valemount to function every day. But the Village staff do know and need to maintain all of it. They are the ones on the hook if there is raw sewage pumping into people's basements because public works didn't have enough staff to keep up with scheduled maintenance.
I'm not proposing village staff be anointed dictators, but the CAO needs to be consulted before Council overrules proposed spending. Councilors didn't ask him a single question about what the machinery or personnel was for or what the repercussions would be if public works had to do without. Council didn't seem to know that the administration had, for example, postponed a quarter million dollar resurfacing project in light of the pandemic, and when they were told, they weren't particularly interested.
Regardless, they passed a motion that the village not purchase a backhoe. The new employee? They appear to have forgotten that altogether during the five minutes they discussed the motion.
Only Mayor Owen Torgerson spoke up about the steps staff had taken to keep the village on track and prepared for disaster. He tried to spark some dialogue between council and staff. It didn't work, but it was a good move.
Staff often bring bad news, because aging villages fall apart, but they aren't the enemy. Residents, letter writers, taxpayers, editorialists all know council is spending our money, and we all know our taxes are going to increase: we just want reassurances that our money is being spent wisely.
The justification piece falls on council, not staff. A resident wanted reassurance that his money was being spent wisely and that village assets were being cared for prudently. For that to happen, Council needs to know what is happening and why. It's time for them to start asking questions – out loud during council meetings – before making decisions.