By Al Birnie
---
Sandy and I made our dash home amid the Coronavirus epidemic from a remote part of French Polynesia (FP). The island of Hiva Oa is in the Marquesas group on the far eastern edge of Polynesia, three hours by air from Tahiti.
We left Vancouver on March 9 and figured since there were no reported cases of COVID-19 in French Polynesia, we would actually be safer there than staying in Canada!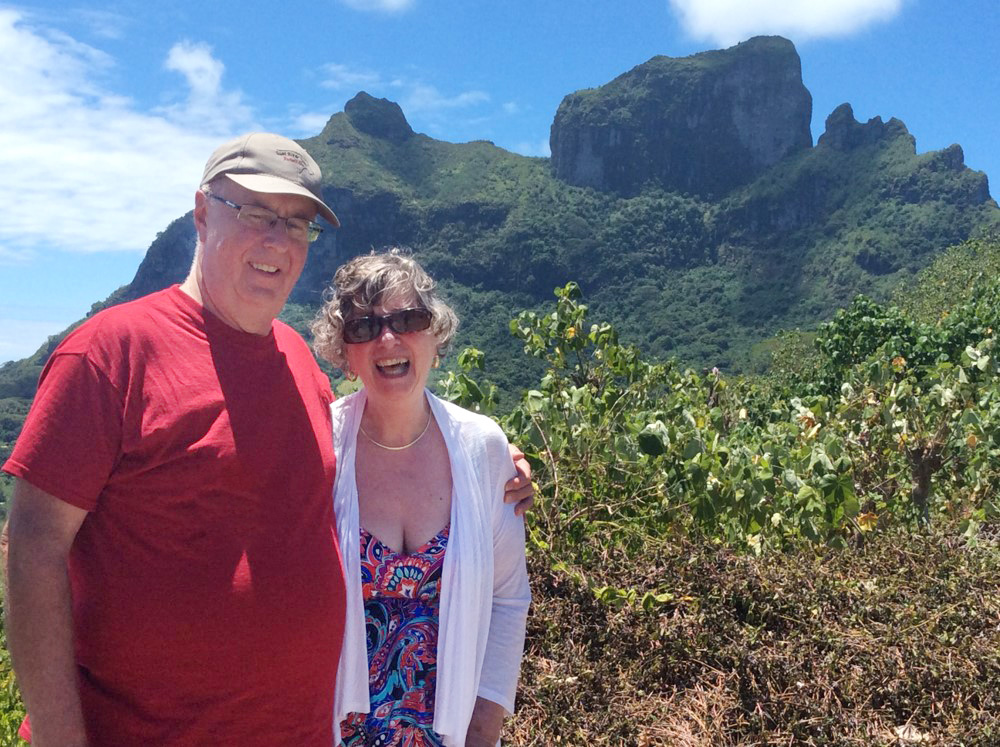 Hiva Oa was gorgeous beyond belief! The Marquesas are lush volcanic islands with high mountains in the interior (about the height of the Rockies) with many narrow valleys extending like fingers down to the coast. They are similar in size, climate and vegetation to Caribbean islands, but with only 1% of the population (2,500 on Hiva Oa), development and pollution!
We had a chalet on a hill overlooking the main bay at the largest (only) town of Atuona; spectacular views of breakers crashing into the dark volcanic cliffs, lush vegetation, sunny skies and 30-degree temperatures, cooling breezes and lots of sailboats in the bay.
As the week passed we alternated days between sightseeing tours over roller-coaster roads across the island, going to "town " to the Paul Gaugin and Jaques Brel museums, and enjoying spectacular views from our deck and relaxing in the pool. We were in paradise; sunrises are a Monet painting; what could be better?
The Wednesday we arrived, French Polynesia recorded its first case of COVID in Tahiti — a local member of the French National Assembly who had picked it up in Paris. She's in isolation; nothing to worry about! But by the following Tuesday things started to go crazy! Our hosts told us at breakfast that foreigners are no longer allowed to fly from Tahiti to the "outer islands" like the Marquesas; but since we are already here, we can continue on to Nuku Hiva on Sunday as we planned; no problem!
And on Wednesday things really got serious! FP went from no COVID awareness to full alert in 24 hours; after two tourists tested positive on Moorea island next to Tahiti, and the French government wanted all foreigners out as quickly as possible! Any foreigner getting on a plane in the "outer islands" could now not fly to another island, but had to return to Tahiti to get on a plane home!
Thursday morning we rented a car for a short trip to a secluded bay one valley over (great swimming on a black sandy beach, and a huge ancient archeological site), but on the way stopped at the local Air Tahiti office and changed our Sunday ticket destination to Tahiti.
Friday morning the bird droppings hit the propeller! At breakfast our hostess announced we were to return to our rooms and start packing, because Air Tahiti had phoned to say that since 16 more tourists had tested positive on Moorea, all foreigners were to leave now, and we were on the 2 p.m. flight! Air Tahiti put on two extra flights from Hiva Oa, to make sure all the foreign devils they could catch were expelled!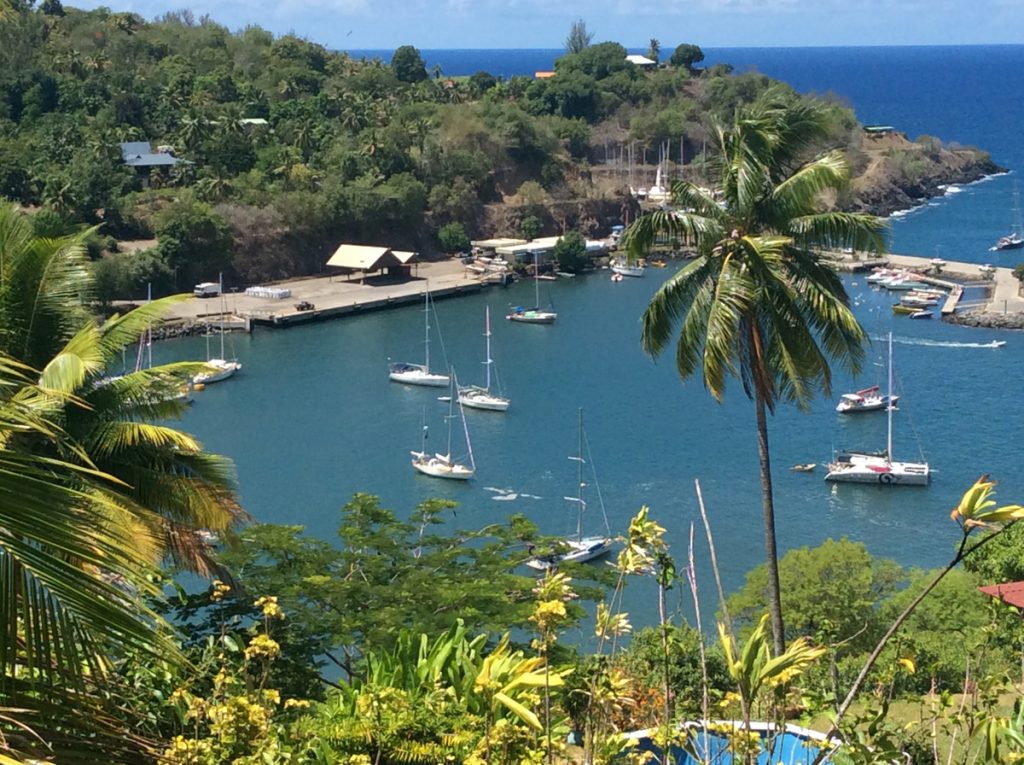 We arrived in Papeete International Airport at 7 p.m., and the fun began! The tiny airport was swarming with 400 people, mainly Americans, wanting to board the huge daily Air Tahiti airbus heading for Los Angeles at midnight. Sandy and I didn't have valid tickets, of course, so we were shunted to the Standby Desk, which turned out to be a major blessing, as they just took our names and told us to return at 11 p.m. to see if we could board. So we found a secluded part of the airport to sit down; while ticketholders spent the next five hours standing in huge crowded lineups which moved excruciatingly slow (despite the emergency, everything moved on island time, mon).
Between this and the crowded plane, it was a miracle COVID didn't spread like wildfire throughout the throng, as who knew who might be infected! With only minutes to spare, the
Standby Desk issued boarding passes for all 16 of us (it didn't matter that the tickets Sandy and I had were dated three weeks later – "just get aboard and get out"!). We actually had an empty seat between us in the window row. Almost nobody on board had masks, including the crew!
Landing in LA around 11 a.m., Air Canada again issued us boarding passes without any fuss, and we had a half-empty flight back to Vancouver; mainly full of well-tanned seniors plucked from the various islands around Polynesia, or Mexico.
We spent the next two weeks in McBride sitting and eating in front of the TV (now an Essential Service; use it!). Despite everything, we can't wait to get back to Polynesia and complete our experience – but who knows when!
Do you have a COVID-19 story to share? Email it to [email protected]