By Fran Yanor, Local Journalism Initiative Reporter
---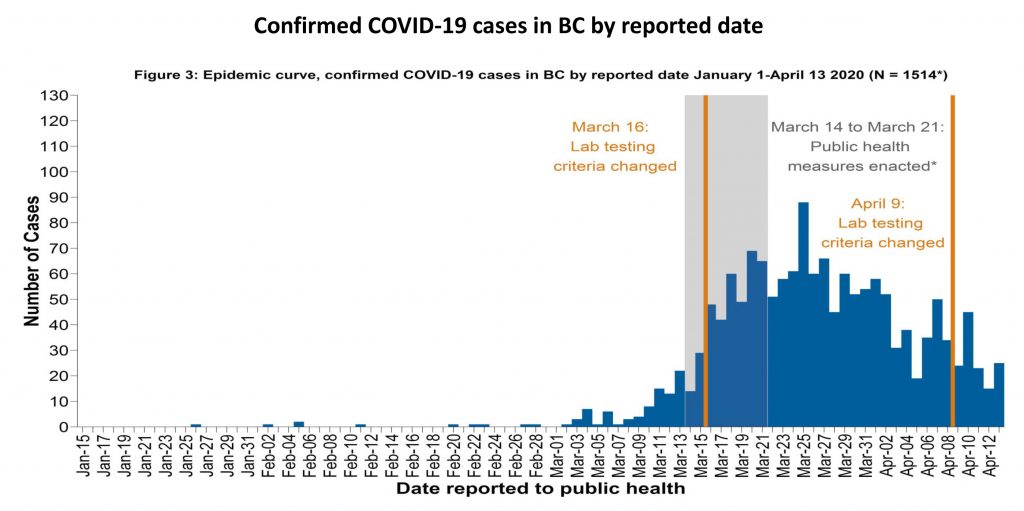 B.C. has pivoted COVID-19 testing from the health care front lines to all B.C. residents to seek out pockets of infection, and unveiled faster testing in the North.
"We have capacity in our system to start broadening our testing again," said Dr. Bonnie Henry, Provincial Health Officer last week. "To make sure that we aren't missing pieces… and clusters in our community."
Up until mid-April, advice to those with mild-to-moderate symptoms was this: you don't need to be tested; just stay home for 14 days. Last week, that messaging changed abruptly. New testing criteria allows physicians to test more people. Anybody with symptoms should call the Northern Health online COVID-19 information clinic for an assessment and possible testing at 1-844-645-7811.
The move was welcomed by some frontline health professionals.
"They essentially quit testing the community a few weeks ago," said Dr. Jeff Carter, head of anesthesiology at Royal Inland Hospital in Kamloops. "So the daily numbers that show up on the evening news looking really good are largely because we just stopped testing (in the broader community)."
He said having to conserve tests or deciding to limit tests to the highest risk populations is reasonable.
"Just don't tell the public that the numbers they're seeing now are real," Carter said. "People think, 'Oh, we're doing great,' and we are doing great, but it's not reflected in those numbers."
As of Apr. 17, 150 people in the Interior had tested positive while 33 had tested positive in Northern Health.
On Apr. 20, the government announced faster testing was on the way for rural, remote and Indigenous communities, including for Northern Health, the Interior and the First Nations Health Authority. Timely access to tests and lab results has been an issue for the north. The GeneXpert test kits earmarked for the health authorities will take less than 45 minutes to complete.
The Province also announced an additional 55 ground ambulances, with 6 expected to go to Northern Health. As well, seven fixed wing aircraft and helicopters operated by BC Emergency Health Services, will be on call for medical transport.
Trajectory of testing
In late January when the first person in B.C. tested positive, the Province conducted wide-ranging testing across B.C., focussed at that time on travellers returning from a handful of countries deemed high risk. By early March, the virus had reached into communities and long-term care facilities and testing narrowed to care homes, community outbreaks and frontline health workers. Almost 30 per cent of people who have tested positive in B.C. were under 40, which Henry attributed to the high number of health care workers tested. By mid-March, several long-term care facilities in the Lower Mainland had outbreaks and Henry unleashed a cascade of public health measures, including hand and coughing hygiene, travel restrictions, social distancing, business closures and suspension of in-class learning.
Meanwhile, British Columbians stayed away from each other physically, and Ministry of Health officials cleared hospital beds preparing for a worst-case scenario in case the pandemic took a tragic turn.
Hospitalization rates are the 'real numbers,' said Carter, adding Interior Health is in good shape. "We've just had people trickling in."
Provincially, hospitalizations have been in a stable decline for a couple weeks. This followed the first bending of the proverbial curve when, around Mar. 28, new case rates slowed from a projected 215 cases per million to 130 per million.
By April 9, with the rate of new cases continuing to drop, Henry decided to pivot testing back to the communities to find infection pockets.
Test, test, test, said World Health Organization Director General Dr. Tedros Adhanom Ghebreyesus. Ghebreyesus urged countries to test all suspected cases and follow up on every one. He said countries should not ease restrictions until they have the ability to do that.
"The most effective way to prevent infections and save lives, is breaking the chains of transmission. And to do that, you must test and isolate, " he said.
B.C. seems to be following that advice.
As of mid-April, B.C. had tested 60,668 people.