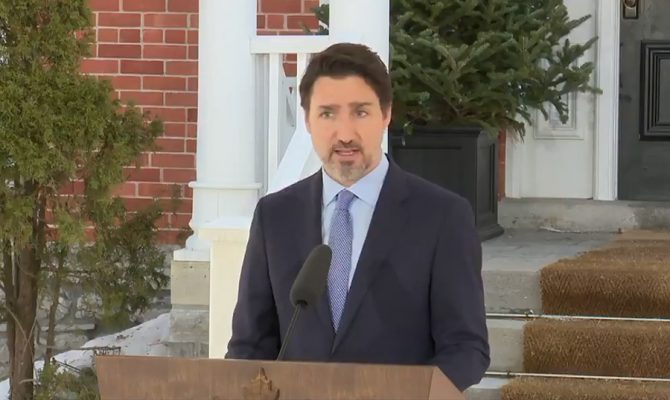 By Fran Yanor, Local Journalism Initiative Reporter
---
Mar. 18, 2020 – To mitigate the spread of COVID-19, the federal government will leave the international border slightly ajar for returning Canadians, Americans, and business and trade, even as he called for people to return.
"I want to be clear. If you are abroad at this time, it's time to come back home," said Trudeau in a press conference outside his home where he and his family are self-isolating after his wife, Sophie Gregoire Trudeau, tested positive for the new coronavirus. "If you have just returned (from outside the country) you must self-isolate for 14 days."
Canadians must come home, and stay there, he said so their health can be protected.  "At home, we can not only protect your health and the health of your family," he said. "But also ensure that our health care professionals and our healthcare system can provide more support to those who truly need it."
Effective today, Canada's borders will close to all non-Canadians, except Americans. Nearly all incoming international traffic will be routed through four airports in Canada: Montreal, Toronto, Calgary and Vancouver. 
Domestic flights, as well as, flights from Mexico, the United States, and the Caribbean are not included. Yet. None of the travel restrictions applies to the movement of trade and business.
Any travellers presenting at airports with symptoms will not be allowed to board, regardless of whether they are Canadian citizens.
"We also recommend all those who are currently aboard to return to Canada," said Trudeau, adding somewhat ominously, "While it is still possible to do so."
For those who will be unable to immediately return to Canada, a loan program will be set up to help with subsistence costs until they are able to do so.
The government had previously committed $1 billion in funding to the provinces and territories to support the extra burden of the pandemic on provincial health care systems across the country.
"The economic impact of this pandemic is shifting hourly," said Trudeau. "And we recognize the stress and anxiety that is causing."
An additional $10 billion fund will be made available to Canadian businesses to weather the uncertainty and inevitable economic downturn caused by the pandemic. 
"This is a tool that has worked before in difficult circumstances. And we're confident that it is going to work again," said Trudeau.
"From the very beginning Canada's response has been based on the latest available science and advice from our world class health professionals," said Trudeau. "Today to today's announcement is no different. These measures will help save lives."