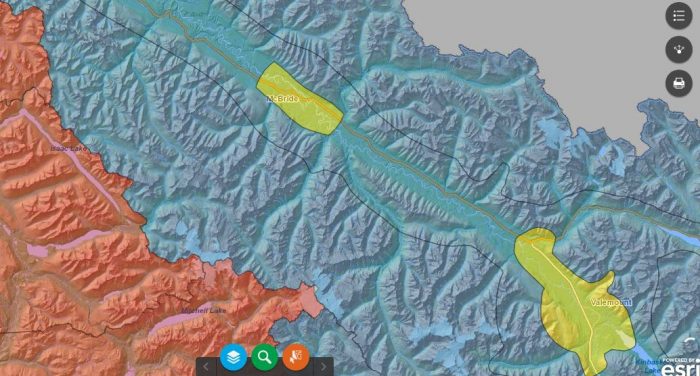 By Laura Keil
---
BC has issued open burning restrictions for all "High Smoke Sensitivity Zones" March 26th, 2020, including McBride, Valemount and Blue River until at least April 15th to help reduce air pollution that could aggravate cases of COVID-19. The Ministry of Environment and Climate Change Strategy says no new fires may be initiated and no new material may be added to existing fires. The ban covers Category 2 and Category 3 burn piles and does not include campfires.
The Village of Valemount has also issued an outdoor burning ban within village limits until further notice and encourages people to take their yard waste to the Transfer Station free of charge.
"Burning outdoors and impacting our air quality will further impair the health of those people most vulnerable to COVID-19," said a Village of Valemount press release from March 24th. The release went on to say that outdoor burning (other than campfires) may result in fines.
---
A map of affected areas can be accessed on the provincial Interactive Venting Index webpage.
Real-time air quality observations from Valemount's air quality station can be found here: http://www.env.gov.bc.ca/epd/bcairquality/data/station.html?id=E234293
There is currently no government real-time air quality monitor in McBride, Blue River or Clearwater.
High Smoke Sensitivity Zones are areas in and around communities.
---
"There a very direct cause-and-effect relationship between ER visits by people with respiratory illnesses and increasing PM2.5 emissions, so that's what we're trying to get at here," said Dan Bings, Acting Director, Compliance Ministry of Environment and
Climate Change Strategy.
A government press release states that deterioration in air quality may lead to more COVID-19 infections, more severe COVID-19 infections, adding further demand to our healthcare system and that improvements to air quality may help to protect the whole population.
"Evidence suggests that air pollution from combustion sources is most strongly associated with increased risk of viral infection, particularly vehicle emissions and biomass burning," the press release says.
The BC Centre for Disease Control strongly recommends that open burning of biomass fuels (a source of PM2.5) be restricted in areas with high or moderate risk of population exposure to the smoke.