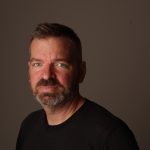 By Andru McCracken
---
This weekend marked the departure of Naomi Balla-Boudreau, McBride's revolutionary librarian. Naomi played an integral role in moving the community's library from a rundown leaky undersized facility to a spacious bright building in the very centre of the village. Literally and figuratively.
Now McBride has a well used community space emanating positive can-do energy in the middle of the village.
It's extraordinary.
More than 100 people showed up to Naomi's send-off.
What makes her so special?
The librarian's superpower is clear to me: When she engages with community members she engages as if they are valued and worthwhile. She humours them and is interested in them and seems to be waiting to see what great gifts they will bring to the community. Without fail, the engaged, valued, humoured, interesting person delivers.
It's incredible.
Naomi reflects the positive in the people she is engaged with. It's like seeing yourself in the mirror, only much more brightly, not bent by hardship but facing forward and looking up. Not constrained by consequence and old injuries but looking forward and aware of the potential for and expecting great things.
As this super librarian departs it's clear there is going to be a hole in the community. Who else can do that?
It's easy to praise her, but who can do what she has done?
Are we going to continue to shine as though she's here, or slowly start to pale and stop glowing?
My daughter Locklan and I travelled to Naomi's farewell party.
Locklan was game to visit the 'big library,' even if she didn't fully understand the trip would be bookended by two hour-long car rides, a smidge of car sickness and the inevitable race for the washroom.
It was a riot for us to be there, to see 119 people celebrating Naomi's contributions. Admittedly for many folks, it was more of a time of mourning than celebration, but like the best wakes, it was still fun. Locklan was enchanted with the library. She loved the stuffies, the dolls and the giant tubs of Lego and blocks, and she enjoyed her cake too. She quickly became comfortable in the friendly crowd, but the place was new enough she stayed at my heels.
Naomi was beset upon all sides with people wanting to connect, not being a McBride resident I didn't feel I could steal too much time, so on our way out the door I introduced Locklan and extended a hand and said, 'Thanks!'
Naomi dismissed the hand and gave me a hug. As I turned for the door, I was confident that Locklan was right behind me. She wasn't.
When I turned around the two were having a conversation. I didn't overhear what was said, but I saw that Naomi was down on Locklan's level looking her in the eyes and Locklan appeared to be holding forth.
If I had to guess, like the rest of us, Locklan was made comfortable in a heartbeat and earnestly engaged.
When we buckled up for the long ride home, Locklan had a question.
"Dad, can we come back to the big library again?"