By Andru McCracken
---
Resident Walter Matwee hasn't finished putting up the siding on his shed behind his house on 7th Avenue and it has netted him two tickets under the Village of Valemount's Good Neighbour Bylaw so far.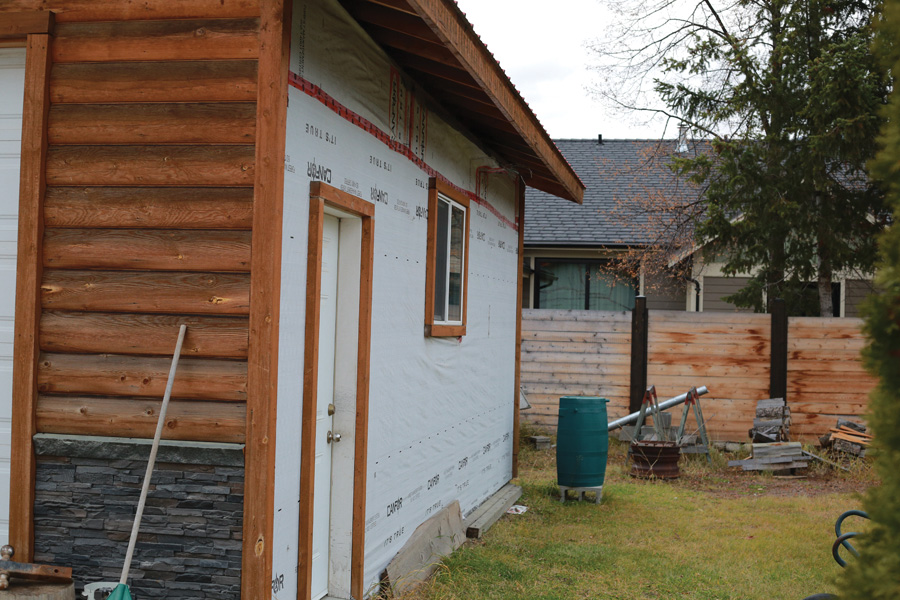 The first ticket dated October 4, 2019 was for $160 if paid early (otherwise $200, or $240 if paid late). He paid it and shortly after he received a second one for the same amount.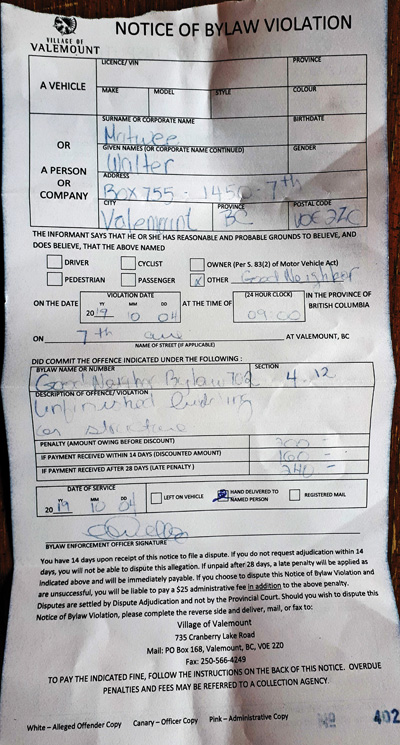 Matwee feels he has been singled out.
"There's a dozen places like this," said Matwee, listing a number of buildings throughout town that have unfinished siding.
The dispute stems from two years ago, when a new bed and breakfast was built on 6th Avenue, backing onto Matwee's yard. The B&B is owned in part by the Village of Valemount's Building Inspector and Bylaw Services Supervisor, however, the Bylaw Services Supervisor didn't file the complaint.
Village of Valemount Chief Administrative Officer Wayne Robinson said that where there is the possibility of perceived conflict of interest, he ensures that only appropriate staff are involved.
"I can appreciate, especially in a small community, where a perception of, or even real bias can exist," said Robinson. "The Village wants all community members to be treated fairly and will go to great lengths to ensure this."
Robinson said the Bylaw Services Supervisor has been kept off the file.
"When bylaw issues with a potential for bias or a perceived conflict of interest arise, another staff member, which can include myself, will take on the file," he said.
He said that the intent of the Good Neighbour bylaw is to facilitate good relations between neighbours by establishing what one person can expect from the other people living in their neighbourhood.
"This includes how people maintain their grounds, buildings, storage of garbage and so on. The bylaw sets conditions that people are expected to abide by and like all other bylaws was passed by Council in an open meeting," said Robinson. "Although not everyone agrees with every law that is in force, they are expected to follow those rules and unfortunately there are consequences for not doing so."
Robinson said the goal is compliance and that fines are unfortunate, undesirable and only used when other efforts haven't been successful.
"The Village has worked with other property owners to address the lack of exterior finishing on their buildings which is addressed in the Good Neighbour Bylaw. I can assure you that the person you have identified in your email is not being singled out and other people have received bylaw notices and even fines for not meeting the provisions of this bylaw," he said.
He said he plans to finish the shed eventually.
"I will [finish it], but it takes money," he said.
Robinson said it was regrettable the situation came to the point of fines.
"As with many bylaw infractions, fines can be issued every day as a separate offence until compliance has been met," he said.